Favourite Tools
Baby Names
Week by Week
I'm expecting a baby!
I would love to know what's happening to my baby every week.
My due date is...
Your Voice
Can loving children unconditionally help to raise them into happy individuals?
Communities
Newly Added
Have a look at our recently added channels with whole lot of information on dealing with various issues of parenting and raising children. Find how this newly added stuff can help you to deal with numerous parenting issues.
Gudi Padwa Festival
Puja is done on the day of Gudi Padwa to welcome prosperity and happiness. Know how to do Puja on this occasion.
This Week in the Spotlight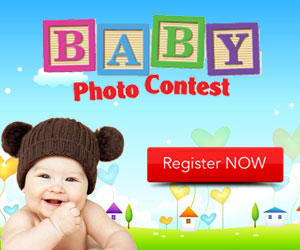 BABY PHOTO CONTEST
Congratulation to the Contest Winners of March 1st to 15th, 2022!
Baby Photo Contest Results March 1st to 15th, 2022

Most Popular Award Winner
Ayushmaan
(Baby #14)
March 1st to 15th, 2022

Popular Award Winner

Rishi
(Baby #3)
March 1st to 15th, 2022

Critics Award Winner
Myra
(Baby #3)
March 1st to 15th, 2022
Baby Photo Contest:
March 1st to 15th, 2022
12 Adorable Babies
Three will be the winners.
The choice is yours.

Looking for a photo

Register for a contest!
To enter your baby's photo for the contest,
Click here
BABY VIDEO CONTEST
Congratulation to the Contest Winners of Baby Video Contest
Baby Video Contest Results for the Contest for 1st July 2020 to 28th February 2021
Coloring Page Contest
MOM & ME PHOTO CONTEST
Congratulation to the Contest Winners of August 2021
Mom & Me Photo Contest Results August 2021
PARENTING CHANNELS
ARTICLES IN FOCUS
Is your child getting adequate sleep? Know the reasons why adequate sleep is necessary for children.

How to help children get adequate sleep? At what time should children go to sleep every day? What are the ways to develop a good bed-time routine for children?

Channel in Focus
Child's Healthcare


Basics of Immunization

Childhood Illnesses
Beauty Buzz
There are wide variety of nail polish colours available. However, choosing the right nail polish shade is quite difficult. Find tips for
choosing right nail polish
.

Just for Kids

Rhyme time
Hickory, Dickory, Dock
is a short and sweet nursery rhyme for kids. Recite this rhyme with your child and tell him how mouse ran up the clock.

Story Time
Is your child aware of Sindbad the gallant sailor? Read an enthralling story on
Sindbad's First Voyage
to your child right away.

Recent Listing
Today's Recipe
Moong Salad
Moong Salad is one of the healthiest food items. Find a quick recipe of power packed Moong Salad right here.
Know More

Calorie Counter
Calorie Cou...
more
Healthy Cooking
Cooking ...
more
Ask an Expert
Join a Due Date & Baby Club
Share your thoughts with other expecting parents.

When are you due?


------------------------

Find support and discuss issues.
Your child was born in...