Favourite Tools
Baby Names
Week by Week
I'm expecting a baby!
I would love to know what's happening to my baby every week.
My due date is...
Your Voice
Can loving children unconditionally help to raise them into happy individuals?
Communities
Newly Added
Have a look at our recently added channels with whole lot of information on dealing with various issues of parenting and raising children. Find how this newly added stuff can help you to deal with numerous parenting issues.
Dussehra Activities
Find top 10 activities that you can carry out with your children on the auspicious occasion of Dussehra.
This Week in the Spotlight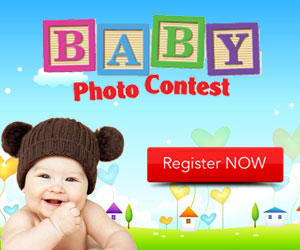 BABY PHOTO CONTEST
Congratulation to the Contest Winners of October 1st to 15th, 2020!
Baby Photo Contest Results October 1st to 15th, 2020

Most Popular Award Winner

Maryam
(Baby #31)
October 1st to 15th, 2020

Popular Award Winner
Rudrakshi
(Baby #14)
October 1st to 15th, 2020

Critics Award Winner

Kartik
(Baby #23)
October 1st to 15th, 2020
Baby Photo Contest:
October 16th to 31st, 2020
36 Adorable Babies
Three will be the winners.
The choice is yours.

Looking for a photo

Register for a contest!
To enter your baby's photo for the contest,
Click here
BABY VIDEO CONTEST
MOM & ME PHOTO CONTEST
Congratulation to the Contest Winners of September 2020
Mom & Me Photo Contest Results September 2020
PARENTING CHANNELS
ARTICLES IN FOCUS
The festival of Navratri will be celebrated between 17th to 25th of October in the year 2020. Read about its significance and celebration.

What is the significance of Navratri? How do you and your family celebrate Navratri? Do you take your kids to play Dandiya or Garba during Navratri?
Beauty Buzz
Your lips are the most exquisite and sensual part of your body. Make the most of them. Know how to take right care of your
lips
.

Just for Kids

Rhyme Time
Making paper boats is a fun activity which children love the most. Teach them the nursery rhyme
Naav Humaari
while they are enjoying this activity.

Story Time
Tell your child a moral based story from Aesop's fables called
The Flies and the Honeypot
. It will help you child understand the consequences of being greedy.

Recent Listing
Today's Recipe
Bharva Bhaigan
Here is a quick recipe of brinjals stuffed in South-Indian style. Try this recipe right away!
Know More

Calorie Counter
Calorie Cou...
more
Healthy Cooking
Cooking ...
more
Ask an Expert
Join a Due Date & Baby Club
Share your thoughts with other expecting parents.

When are you due?


------------------------

Find support and discuss issues.
Your child was born in...