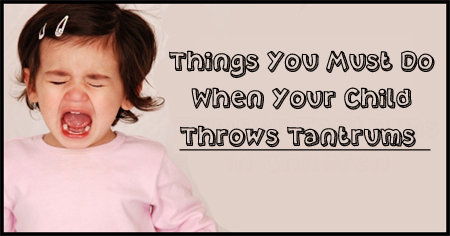 Every parent finds it difficult to handle child's tantrums. The main reason is that kids do not listen to anything and make a scene that makes parent feel embarrassed and annoyed. Read on to learn how to control child's tantrums.
Child's tantrums are loud, annoying and embarrassing for parents. It is because they feel that it is their responsibility to make their kids behave the way they think is right. Also, parents do not want anyone to make any kind of judgement on the way their kids are
behaving
. But, the main problem is, they do not know how to handle when their kids are out of control.
Why Kids Throw Tantrums
As soon as a child reaches the age of two, you can expect
tantrums
anytime and anywhere. Just keep in mind that tantrums are normal for child's development. They show their dislikes and frustration through this. Usually, tantrums happen when kids are hungry, tired or uncomfortable. Sometimes if kids do not get what they want, they throw tantrums.
Tips to Help You Control Your Child's Tantrums
The best way to deal with tantrums is to avoid them from happening in the first place. You understand your child better and you might figure out when she is going to get out of control.
1. Distract Your Kid
Children forget things very easily and very fast. If your child has started to throw tantrum, distract her immediately and in such a way that she does not understand. Start a new activity or simply change the setting.
2. Find Out The Reason
Kids throw tantrums only when there is a reason behind it. Find out whether your child is hungry, angry or wants something very strongly. However, it is not good to surrender to tantrums because this will only increase the frequency.
3. Give Your Childs Options
If you want to stop your child from doing something, offer other options. It will distract him or her from the things that you do not want him or her to do. Ask your child about options when it is a meal time or when it is time to choose from his or her dresses. If you want your child to make the right choice, give him or her options which keep him or her well no matter what she chooses.
4. Positive Attention
Give your child positive attention as and when she needs it. Praise your child whenever she does something good.
5. Allow Few Things For Your Toddler to Do Independently
Children like to do things independently like their parents. Provide things which would not harm your child and let him or her arrange or stack or pretend to work with them just like you. This will make them feel special and frequency of tantrums will automatically decrease.
6. Help Kids Develop New Skills
Sometimes when kids do not listen and make it a habit of throwing tantrums, it is advisable to help them stay busy. The best way to do this is by making them learn new skills and praise them on their smallest achievement so that they move on to more challenging tasks.
7. Recognise Your Child's Limit
Children are very much predictable. If your toddler is tired, you should not opt for going out. This will irritate your child further and chances of tantrums are at the highest level.Besides the above tips, there might be situations where you find things
out of control
. If it is happening time and again, accommodate and choose your battle with your child. Make her sit and explain why she behaved in the wrong way.If there is a safety issue and your child is repeatedly not listening to you, hold your child firmly or use a time-out. No matter what, do not give in to your
child's tantrums
especially on safety issues.
What are the common causes of tantrums in children? What to do when children start throwing tantrums? How to prevent tantrums in children? Discuss here.