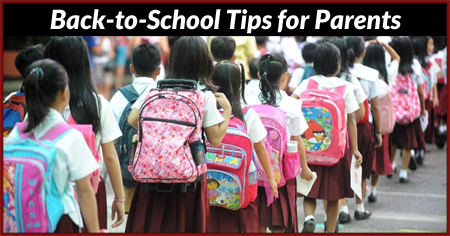 During vacations the disciplined routine of children is disturbed and it becomes difficult for them to get back on track. Find some back-to-school tips right here to help children get ready for the new school year.
It becomes a great concern for parents especially the mothers when the vacation in school of the kids are about to end. How to bring the kids back to the daily routine becomes a headache for mothers. During the vacation, the strict regime in the daily routine for kids as well as the parents, changes and they begin to live in a less routined way. Waking up late in the morning, staying up late at night, eating all sorts of junks are all parts of the vacation.
But this cannot be the routine round the year. Vacation will end some day and kids are to be brought back into the disciplinary life. Here are some
back-to-school
tips given which parents may follow for preparing their kids for school again.
Early to Bed
Send kids to bed early. Let them know that vacations are over and they are not allowed to stay up late at nights anymore. Start this at least seven days before school reopens.
Wake Up Early
Going to bed early would definitely mean that your kids need to wake up early. This is applicable for parents too. Wakeup your kids just at the time when they need to wake up for going to school. Practice this well in advance so they again get used to these disciplines.
Healthy Diet
End of vacation should also end consumption of unhealthy and junk food stuffs. Get back to healthy and nutritious diets.
Health Check Up
Before school reopens take your child to the doctor for a routine check up, especially an eye check up. Kids sometimes do not complain about the uneasiness that they are facing with eyes, so it is the responsibility of the parents to take care of the kids. Some schools also require a written consent of the doctors about the physical fitness of the students before the commencement of the new session.
Talk to Your Child
Kids, when they are about to go to a new class often face some kind of awkwardness and fear. They fear about the new environment in the new class. So to overcome this fear you may talk to your child and prepare him or her for the new academic year. This will eliminate the awkwardness as well as boost your child's confidence.
You may contact with the parents of other kids who are in the same class as your kid. This will help you know more about the happenings in school and also will allow you to find more friends for your kids.
Have a Look of the School
If you are planning to admit your kid in a new school then it is very important that before the school starts take your kid to have a look of the school beforehand so that he or she becomes familiar with the surroundings.
Safety
To make your child adapt to the new surroundings make sure he or she is safe and can take care of himself or herself in times of emergency. Make him or her memorise your phone number and your residential address so that you may be contacted when your kid is in danger. Also teach your child to report any kinds of mishaps that he or she may face to his or her teachers.
Make Him Familiar with School Activities Beforehand
It is a very good idea to sit with your kids and discuss about the activities that are done in school, before the school starts. Make them familiar with things like the compass, coloured pens, maps, atlas etc which he or she may have to use in class the very next day.
To put children back to the disciplined routines of school is not a tough job if you follow some guidelines. Your kid will soon come back to the disciplined life which you want your kid to be in touch with.
How to prepare children for the new school year? Why do children find difficult to adjust to the school routine after vacations? What kind of back-to-school measures can parents follow? Discuss here.