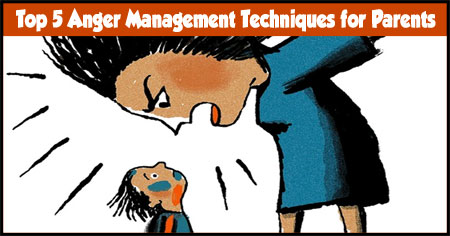 Most of the parents try their best to control anger but sometimes situations go out of control. Here are top 5 anger management techniques which parents can follow to deal with such situations.

Anger management techniques are widely discussed and debated amongst parents but very few actually succeed at practicing them effectively in appropriate situations. The art of managing your anger is probably one of the most important life skills that any human can possess. And when it comes to parenting, anger management can help you from yelling,
hitting
or verbally abusing your kid. All of these activities are prone to harming your child and so as a parent it is in your best interest to learn the art of
anger management
. Here are some techniques that will make anger management easy.

1. Get to the Heart of the Issue
Instead of blindly focusing on anger learn to identify the situation or trigger causing the anger. For example if the constant whining of your child is making you upset then focus on why he or she is whining so that the situation can be rectified in a healthy manner. Maybe the cause is as simple as physical discomfort or hunger. Meeting the requirements of the situation will help you focus on nullifying your anger rather than expressing it in an unhealthy way.

2. Write Down the Anger
Psychiatrists recommend maintaining an anger journal for parents who tend to lose their cool and become angry over small issues. This basically means that you jot down whatever makes you angry and the way you react along with the date and time in a journal. Do this for a month and then when you assimilate the results you will be sure to identify a pattern. Maybe there is a particular time of the day you get angrier in or some particular situation which irks you. Once the triggers are identified it becomes very easy for you to manage your anger.

3. Try Talking to Yourself
Talking to yourself is a powerful way of reasoning out things and calming the mind. If you find yourself in a situation which can make you fly into a rage then try to justify the situation or the behaviour of the offending person to yourself by talking aloud. For example, if a person suddenly dashes across the road while you are driving in the car with your kids it can make you angry. But when you talk to yourself saying that the person who cut you off so rudely must have had a pressing emergency etc and you are not going to let this incident ruin your mood. The moment your mind registers the justification it will cool down and anger will begin ebbing away.

4. Engage in Productive Activity
Find something that you love to do and engage in it wholeheartedly when you find yourself getting angry. Productive activity here could mean painting, playing a musical instrument, cooking, gardening etc. Basically any activity which helps drain out excessive energy in a creative way is good. At the end of the process you will feel calmer and more peaceful. In case you are more the outdoor type then you can simply go for a run or jog to take your mind away from anger.

5. Remind Yourself of the Past
If you have had anger management issues in the past then you must have faced some pretty deep feelings of guilt in the past especially if the
anger outburst
has been directed at your kids before. Use those feelings of repentance and guilt of the past to motivate yourself to avoid showing negative manifestations of your anger today or tomorrow. Once you realize and remind yourself of the harm that your anger may cause your kids, you will be more aware and conscious about controlling it in an efficient way.
These are some of the best anger management tricks every parent can easily follow. Remember, taking your anger out on kids can only harm your kids. Such
behaviour
can deeply impact their development. So, it is better to avoid such behaviour by following effective anger management techniques.

Why do parent take out their anger and frustration on kids? Which are the best anger management techniques for parents? How can parent avoid getting angry at kids? Discuss here.