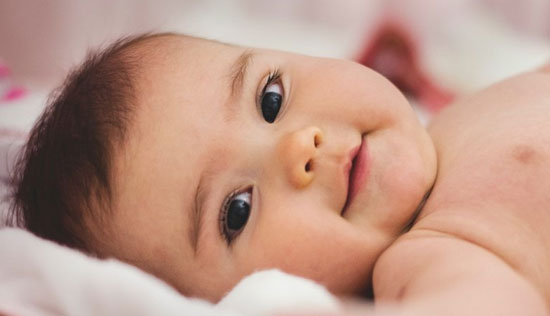 Being aware of various facts about baby's development can help parents to ensure proper growth and development of the baby. It also helps to be aware of developmental delays and take right measure to encourage development. Read on to know more about baby's development.
A child grows and develops very fast. In fact, the first year is full of changes and it is practically difficult to keep track of all. Read on to learn about the importance of knowing more about baby's development beforehand.If you are parent of a newborn, you will find that your child is growing very fast and showing different kinds of development most of which you surprisingly accept. The fact is that an infant turns into a toddler within a year and this incredible transformation is very fast. If you are not aware of the stages of development or the right timing, you will not even know whether your child is developing fast, normal or slow.
Growth and Development of Baby
Infants grow and change at an amazing speed and you will find that every month brings new change in your baby. If you have the baby development checklist you would know what to expect next and how would you know whether your baby is growing normally or not. Tracking the development of your child will not just make you happy, but also an aware parent so that if there is any kind of developmental problem in your child, you can treat it immediately.Surprisingly, your child's cognitive development starts very soon after her birth. As soon as she starts recognising the sound of your voice, the time has started. She also learns to focus her vision and after some time you will find that the language development stage has been initiated. Here you should remember one thing that language development does not mean the time when your child starts uttering sound. It actually begins right from the time she starts recognizing your voice and listens to you.
Milestones of Baby Development
When your child is developing her senses, listening, understanding and knowing the names of people and things, she is going through her language development stage. In addition to all this, your infant is also developing bonds of love and trust during this period. The way you talk to your child as well as the way you hold, cuddle and play with her will determine the way she is going to interact with you and others when she grows up.Are you worried about your baby's developmental milestones? Not sure if her activities are age appropriate and whether she is developing skills to accomplish complex tasks? Well, here we have attempted to answer some of your queries. Read on to know about the milestones your baby can attain as she grows up.
Important Developmental Milestones 0 to 1 Year
As your newborn starts growing, you can find her recognise your voice.With development of her cognitive skills, you will find that her thinking and reasoning abilities, language and memory are developing. She will gradually be able to focus from the corner of her eyes to the centre. As her language starts developing, you may find her uttering words like dada, mamma, baba.At this stage your baby is developing strong bonds with you. She will start enjoying the cuddles and playful sessions with you. Communication skills of your little one develops, as you keep playing and interacting with her. Cuddles are a good way to make her feel secured and safe.Crawling is her first method of getting around. You can expect her to crawl between 7 to 10 months. However, before your baby
learns to crawl
she should learn to sit. The skill of sitting is learnt before the skill of crawling is learnt.
Important Developmental Milestones 1 to 2 Year:
As your baby completes a year she turns into a toddler. Child proofing your home becomes very important, as she starts crawling vigorously.Your baby at the 14th and 15th month is walking with relative ease. But before
learning to walk
independently, your baby will learn to stand and walk with support of the objects like furniture etc. You can look for signs that say she is ready to be toilet trained. If you feel she still needs some time, please do not rush through the process.Apart from trying some steps, she may also start talking a bit. Around 18-24 months she may start saying single words and by 18 to 24 months, she shall be able to use simple phrases.With time, she shall start pointing at objects and recognize body parts, objects and people, she is familiar with.You will find her more intimate with you and friends she knows. She shall grow increasingly aware upon being separated from others.With development of her cognitive skills, she shall be able to find hidden objects and gain better understanding of object permanence.Your toddler shall now try and surpass all your set boundaries and demand more of your attention.
Important Developmental Milestones 2 to 3 Year:
Around 2-3 years, toddlers have some typical things in common.Emotional development of your baby is at the peak at this age. Be prepared for the
temper tantrums
and her separation anxieties. She might get upset whenever she feels left alone.Your baby can now speak quite a number of words and may be 2-3 sentences as well. You will be able to comprehend most what she says. Around 3 years your little one may be ready to hold conversations with you. You can now get plenty of details out of her!Your baby learns while playing. You can engage her in simple household chores like bringing clothes from the closet to help build her self esteem. You will find her getting more independent than before and she may try to accomplish a task all by himself.Reading to your little one can help foster imagination and creativity. It is certainly one of the best ways to bond with her. This shall also help
develop her language skills
better.
How to Encourage Baby's Development:
Your baby's development had started even before she was born. Experts suggest it is never too late to engage in activities to stimulate her development.There is no need for you to arrange the best and the most expensive toys for your little bundle of joy. The quality time you spend with her shall have a direct bearing on her development. Talking to her, playing with her, cradling her,
reading
bedtime stories are some fantastic ways to encourage her development.Make sure you have taken adequate measures to ensure complete safety for your baby. Encourage her budding mobility within the safe confinements of your home and see her grow every single day!
Evaluating Baby's Development
New mothers and fathers often wonder what they should expect next from their infants and how to know if the development of their child is normal. Well, instead of focusing too much on baby's development stages, you should focus on enjoying every moment of the year. It is very important to keep in mind that a child develops at her own pace. There is no hard and fast rule about when it is normal for a baby to reach to a specific developmental stage.
Warning Signs of Delay in Baby Development
The only time when you need to worry and look out for medical or therapeutic help is when your child shows warning signs of possible developmental delays. So, learn more about the signs and if you find any, act early.
Positive Parenting
Parenting can be hard and consistent work. So, look after yourself and your health. You will be able to enjoy parenting only when you and your baby are healthy and feeling good. Talk to your baby. Both of you will feel good. When your baby starts making sound, reply to her in your own way. Read out to your baby. This will fill in interest for books and reading in her.Give your child lots of loving attention and praise her often. You can also play music, sing to your child and dance by holding her in your arms. Spend some time cuddling and holding your child she will feel cared for and secured. The best time to play with your infant or toddler is when she is relaxed and alert. For this, you will have to watch your child closely and pay attention to all small and big activities and signs. If your child is fussy and tired, give her a break.The most important thing is to enjoy your new baby and be a loving and positive parent. Make sure you are there when your child needs you. As far as reaching milestones of baby's development is concerned, she may reach one early and the other later than expected. After all, your child is very busy perfecting one skill and she might take some time for another one. Keep these variations in mind and enjoy every moment of the period of development of your child. Every child is unique and may attain the developmental milestones earlier or later than above mentioned time frames. If you are really concerned about your child's health and developmental milestones, you must consult a paediatrician.
Which are the important milestones in the first year of baby's development? Which developmental milestones are achieved in toddler and preschool years? How to encourage right growth and development in babies? Discuss here.