Manners and Discipline Topics..
Spare the Rod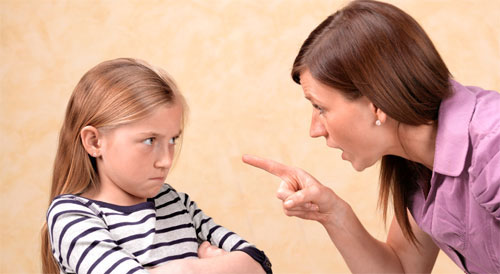 If you thought hitting your children was a good way to enforce discipline, think again. Here are 5 more reasons you should spare the rod.
Can be dangerous

Many parents never learned in their own childhood that there are positive ways of relating to children. When punishment does not accomplish the desired goals, and if the parent is unaware of alternative methods, punishment can escalate to more frequent beatings, which could be dangerous, physically or mentally, for the child.

Anger keeps festering

Anger and frustration are not easily expressed by a child, and keep festering within. One day your child will be old enough and strong enough to display his rage, and such rage is often directed towards parents who hit their children regularly and focus excessively on discipline. Punishment may appear to produce "good behavior" in the early years, but always at a high price, paid by parents and by society as a whole. An angry teenager who has been subject to regular beatings at home may grow up into an insensitive adult, who doesn't think twice before beating up someone else. Such behaviour only increases violence in a society.

May lead to sexually deviant behaviour

Spanking on the buttocks, an erogenous zone in childhood, can create in the child's mind an association between pain and sexual pleasure, and lead to difficulties in adulthood. "Spanking wanted" ads in alternative newspapers attest to the sad consequences of this confusion of pain and pleasure. If a child receives little parental attention except when being punished, this will further merge the concepts of pain and pleasure in the child's mind. A child in this situation will have little self-esteem, believing he deserves nothing better.Even relatively moderate spanking can be physically dangerous. Blows to the lower end of the spinal column send shock waves along the length of the spine, and may injure the child. The prevalence of lower back pain among adults in our society may well have its origins in childhood punishment. Some children have become paralyzed through nerve damage from spanking, and some have died after mild paddlings, due to undiagnosed medical complications.

Gives the message that might is right

Physical punishment gives the dangerous and unfair message that "might makes right", that it is permissible to hurt someone else, provided they are smaller and less powerful than you are. The child then concludes that it is permissible to mistreat younger or smaller children. When he becomes an adult, he can feel little compassion for those less fortunate than he is, and fears those who are more powerful. This will hinder the establishment of meaningful relationships so essential to an emotionally fulfilling life.

Discourages awareness of alternate disciplinary models

Because children learn through parental modeling, physical punishment gives the message that hitting is an appropriate way to express feelings and to solve problems. If a child does not observe a parent solving problems in a creative and humane way, it can be difficult for him to learn to do this himself. For this reason, unskilled parenting often continues into the next generation.
You may also be interested in:
Back to Previous Page | More on Manners and Discipline Index