Health Topics..
Reduce the Sugar in Your Children's Diet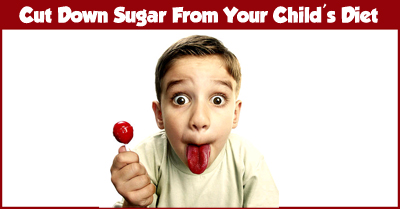 Getting children to eat fewer sweets may not be impossible after all. Here is how you can do so without a tussle.
It is not only children who love
sugar
—adults do too. However, health interests, coupled with the endless struggle to lose weight, mean that most adults need to keep an eye on the amount of sugar they consume. Children however, are blissfully unconcerned with any such adult concerns. They select their food strictly going by how it tastes. As a result, when it comes to sugar, children see no reason why they should not have more of it. Parents who try to cut down on the amount of sugar their children consume often meet with such stiff resistance and non-cooperation that they give up their attempts. The end result is that most children do end up consuming more sugar than is good for them.
Why sugar can be harmful
These are some of the reasons why sugar consumption in excess may be harmful for children.
Foods containing refined sugar, such as colas, aerated drinks, chocolates or pastries amount to a lot of calories, but do not contribute any healthy nutrients to children. Over-consumption of these foods is associated with obesity, a major health concern about growing children today. This problem is further aggravated by the increasingly sedentary habits that today's children are developing.
Excessive sugar consumption is also believed to affect childrens' moods and energy levels. According to child nutrition researchers, this happens more in the case of refined sugar, which enters the blood stream quickly, causing children to experience fluctuations in the glucose levels.
Eating sugar causes the formation of plaque and attracts cavity causing bacteria. Dentists consider sugar to be one of the main causes of tooth decay in children.
How you can cut down on the amount of sugar your child consumes
It is not necessary to eliminate refined sugar completely from your child's diet. In fact, the World Health Organisation (WHO) stipulates limiting refined sugar consumption to 5 to 10 percent of the daily calorie requirement. This works out to around 100 to 200 calories of sugar (5—10 teaspoons) for an adult with an average dietary requirement of 2,000 calories. Here are ways in which you can reduce the sugar in your child's diet:
Ration rather than ban: Parents who are alarmed about their child's sugar consumption often try to impose a near total ban on sugar. This is unrealistic and naturally quite impossible to implement. It is better to ration the amount of sugar they consume.
Eliminate aerated drinks: These are crammed with refined sugar (and caffeine) and have absolutely no nutritional value. Provide your children with healthier substitutes such as fruit juices or milk-based drinks. Remember however, that even these are no substitute for plain water.
Be a discriminating consumer: Check labels before you buy processed or readymade food articles. Always make it a point to choose the ones with lower sugar (and fat) content. You may not even make out the difference in the taste.
Avoid pre-sweetened foods: When buying products such as breakfast cereal or health drink powders, etc. avoid pre-sweetened ones. You can always add sugar according to your requirements later on, or even do without it altogether.
Cook smart: Using certain ingredients such as spices can increase the sweetness in sweet preparations. While cooking desserts you could use cardamom (elaichi), cinnamon (dalchini), and nutmeg (jaiphal) or raisins to minimise the requirement of sugar. Also, adding a minute pinch of salt will bring out the sweet taste, thereby allowing you to do with less sugar.
Mould your children's taste: Sweet foods can be addictive; the more children eat them, the more they may want. You can however, retrain your child's taste buds to enjoy healthier substitutes. Fresh fruits make a healthy and tasty substitute for a sweet snack. Another option could be dried fruits such as dates, raisins, or apricots.
Satisfy with less: While serving desserts, simply use smaller bowls or glasses. Your children will probably not notice the difference.
You may also be interested in:
Back to Previous Page | More on Health Index
Discussion Forum - Recent Posts

Are you concerned about the amount of sugar your children are eating? How do you control their sugar consumption?


Vaishali
In the olden days, people never had this problem. They used to eat healthy food, and never got sick. They also did not make a fuss over whatever was given to them. Nowadays, children eat the wrong foo...

Suraj
You are right when you say that children nowadays want to eat the wrong food. But I ask you, whose fault is it? Children can only consume these items if their parents make it available to them. Today'...

Karma
What people do not realise is that indulging your child leads to disorders later on. Why else are obesity and diabetes more common nowadays? For the simple reason that people are more careless about t...

view more >>

DISCUSSION FORUMS ON
Prevention & Cure
RE:PCOS and infertility
Don't worry. Proper medication and a balanced diet will definitely help. It ... - Aakanksha read >>

Hysterectomy at a Glance
Why is hysterectomy performed? What precautions should be taken after under ... - Editor read >>

RE:Tomorrow you'll die – elimination of fear of death
Hi friend really these days life has become very unpredictable as there are ... - Nela read >>

RE:The Importance of Hygiene
Hi yes these days most of the people tend to eat food from outside. Hence, ... - Pushi read >>

FEATURED ARTICLES
- Poor Immunity in Kids
- Five Fun Ways to Break Fussy Eating Habits in Kids
- Top 5 Easy-to-Make Ice-Candy Recipes for Kids
- Tips for Preventing Pinworms in Children
- Signs that a Child is Anaemic
- Things You Should Never Allow Your Son to Do
- Home Remedies for Cold in Children
- Reasons Why Kids May Start Disrespecting Parents
- Indian Baby Names
- Indian Baby Girl Names
- Indian Baby Boy Names
- Top 100 Hindu Baby Names
- Free Printable Coloring Pages for Kids and Adults