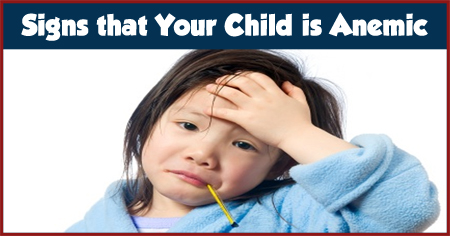 Anaemia can affect the health and well being of children. Therefore, it is necessary to identify its signs and treat it immediately before it takes a toll on their health. Here we have listed the common signs and symptoms of anaemia in children.
Anaemia can be defined as a condition that happens when the blood does not have the sufficient amount of healthy RBCs or red blood cells required for the proper functioning of the human body.The principle constituent of blood is the compound haemoglobin which makes the blood red coloured and helps in carrying oxygen through the RBCs to the rest of the body. If the haemoglobin in the blood is low the cells of the body are not supplied the much needed oxygen. Given below are some symptoms to identify anaemia in children.
---
In this article
---
Fatigue
Fatigue is one of the most common symptoms of anaemia. Sometimes in spite of low level of activity your child may get easily exhausted. A trip to the local store makes him sit down for ten minutes and rest. They might return from school and fall into a deep slumber immediately.It is normal to get tired after some exhaustive activity but kids having
anaemia
tend to be exhausted all the time. They do not feel like going to play, they are reluctant to go to school. Even after a long night's sleep they wake up exhausted. They might be spending all day on the couch or in their beds, complaining of exhaustion. No amount of rest is sufficient to make them look and feel active. You must take them to the paediatrician if such fatigue is observed.
Pale Look
Do you feel that your child is looking paler than usual? Does it seem that their eyes look almost glazed and their skin bloodless? This is also a
sign of anaemia
. Anaemia is lack of haemoglobin. The haemoglobin lends blood its reddish hue.If there is a lack of haemoglobin in your child's blood then it is natural that they will look paler than usual. Their lips might look bloodless, the beds of their nails pale and whitish. You may gently stretch the lower eyelid of your child to see if its paler. If it looks whitish then the haemoglobin content is low in your child's blood.
Dizziness
Have you noticed signs of dizziness in your child? Is it that when they come home they tend to feel dizzy and not sure on their foot? Feeling dizzy or lightheaded is another symptom of anaemia.Haemoglobin helps in supplying oxygen to the blood cells of your child's body. Deficiency of haemoglobin results in lesser oxygen being supplied to the body cells. This makes your child dizzy.It may happen that they feel lightheaded after completing their homework or after coming from play your child crashes on the couch as they feel dizzy. Any work that requires
energy
can make your child feel lightheaded. Even sometimes when they wake up they might fall down because they feel dizzy.
Headache
Has your child been complaining of constant headaches? You might be blaming it on their television habits or spending time in the sun but it can be a symptom of anaemia. Headaches are a result of decreased oxygen supply to brain cells so that even the minimum of exertions can inflict stress on their nerves and cause headache. You must take your child to a doctor if such headaches continue.
Cold Hands
Does your child's temperature seem lower than normal? Are their hands and feet cold even in normal temperature? This might be a sign of anaemia as well. Blood keeps the body warm and a deficiency of it causes coldness of skin.If you observe all such signs it is time to take your child to the paediatrician as soon as possible. He or she will suggest effective remedies to deal with anaemia in your child. Anaemia is mainly caused due to
deficiency of iron
in the diet of children. Therefore, make sure to include
iron rich foods
in your child's diet to prevent such disorders.
What are the common signs and symptoms of anaemia in children? How to prevent anaemia in children? How does anaemia affect the overall health of children? Discuss here.