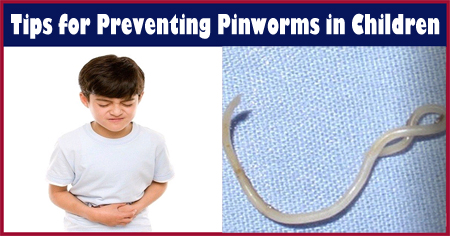 Pinworm infections are quite common in kids and the only hard part is its diagnosis. Once diagnosed, a little medication and precaution can help you get rid of them. Read on to learn about how to prevent your kids from getting infected with pinworms.
Pinworm infection can affect anyone, but children are at high risk. It can spread from person to person and chances of reinfection are also always there. If untreated, it affects overall health and causes some negative consequences also.
About Pinworm Infection
Pinworm infection, quite common one, is in which very small worms enter into the intestine and lay their eggs around anus. This
infection
spread very easily and so if your child is diagnosed with infection, you should treat everyone in the household for it so that recurrence is prevented.The infection is most common among children of 5 years – 10 years of age. Even though people of any age are at risk, preschool age children are most susceptible to
pinworm infections
.
Causes of Pinworm Infection
Usually, pinworm eggs deposited by someone infected with it are the main cause. Eggs get transferred and travel to different places. They survive for several hours because they cling to surfaces touched by the infected child or person and then get transferred to a new host who touches the same surface. For example, if an infected child scratches her anus, the eggs will remain in her fingers for some hours. If within that period she touches your child or her toys, the eggs will get transferred to the toy and hence touching that toy will make your child infected.
Symptoms of Pinworm Infection
Strong itching in the anus area
Frequent scratching around anus
Restless sleep due to itching and discomfort
Rashes or skin infection near anus
Presence of pinworms in stool
Presence of pinworms in and around your child's anus
Some children or adults do not show any symptom.
Prevention of Pinworm Infection
The best way to prevent pinworm infection in your child is to follow good and strict personal
hygiene
regime.
Prevention Tips
Wash your hands with warm water and soap after using toilet, changing diapers and before preparing food.
Inculcate habit of washing hands properly and frequently in your child.
Cut your child's fingernails short and keep them clean also.
Pay attention and do not let your child scratch the area around anus.
Stop your child from habit of nail biting.
Change your child's clothing and underwear daily.
If your child is infected, change the bed linen, towel and clothing daily and clean as well as disinfect them. Wash separately.
Keep the rooms well lit during day. Sunlight kills the eggs.
Let your child have her bath as early as possible in the morning. Showering early helps prevent pinworms from spreading.
Pay attention to cleanliness of drinking water.
Avoid undercooked, raw food and food from outside vendors.
Regular cleaning of the areas and stuff your child touches will also help preventing recurrence.
In addition to above tips, it is important to get the diagnosis done of your child especially if you see any of the symptoms mentioned above. Follow the advice and medication that your child's paediatrician gives. Besides, make sure your child sleeps on freshly laundered bed sheet and wear clean night suit to prevent further infection.It is good to get rid of the infection by following the medication and sanitary advices provided by the doctor. Since pinworms are highly contagious, your child can get re-infected by herself or by other infected person. So it is good to treat the whole household for infection and let everyone practice strict personal hygiene.
What are the causes of pinworm infection in children? What are the symptoms of pinworm infection in children? How to prevent pinworm infection in children? Discuss here.