Fertility Issues Topics..
How to Improve Fertility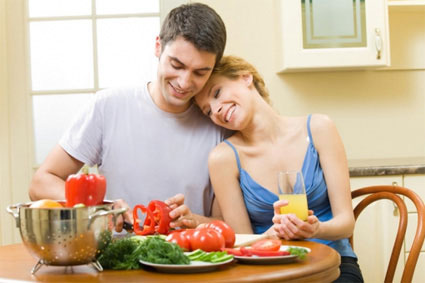 You can improve your fertility by making right changes in your lifestyle. Maintaining proper weight and having a balanced diet are the important factors favourable for improving fertility. Read on and find more about the steps which you can take to improve fertility.
Having one's own baby is the most exciting moment in anyone's life. Both men and women get excited in their own ways. If there is problem in fertility, no matter whether it is with the man or the woman, the journey through the entire period of pregnancy can be filled with complications and worries.
What is Fertility?
Before understanding problems of fertility, you need to know what fertility is exactly. In simple words, fertility means any couple's chances of conceiving. Even though a couple is fertile, pregnancy does not come right away. It is an eventual process. There are certain factors that play a vital role in conceiving and so even if getting pregnant seems very simple, it is actually a complicated issue.
Steps for Improving Fertility
Basal Body Temperature -

Check whether you are fertile or not. There are many factors that affect and different ways in which you can improve fertility. The first thing that you should do is analyze your basal body temperature. You must be aware when your body releases egg and this is judged because your body temperature will increase at that time. If you want to increase the chances of getting pregnant, you must go through the sexual intercourse right before the egg is released.

Diet -

Your diet has a great role in improving your fertility. A balanced diet not only nourishes the entire body, it provides nourishment to the reproductive system as well as regulates the necessary hormones also. Any woman who is overweight or underweight can find it difficult to conceive.

Fertility Boosters -

Vitamin C and antioxidants play a vital role in reducing stress on reproductive system and eggs and also helps prevent sperm defects and boosts up sperm mobility. Calcium, vitamin D and zinc are also considered useful fertility boosters for men.

Cut out or Avoid Some Food Items -

There are some food items and drinks that play a negative role in conceiving. Caffeine reduces the chances of fertility in both men and women. Alcohol, smoking and unhealthy eating habits also reduce the rate of fertility.
If you find problems in conceiving, you can try out the herbs that are especially used to promote fertility and help balance estrogen levels as well as helps in balancing sex hormones too.

Water -

Water helps in improving fertility as it prevents urinary and track infections, dehydration and hemorrhoids. You must drink 64 ounces of water when you are trying to conceive. You can change the taste of water by adding lemon, lime or orange juice to it.

Remove Stress -

Try to remove stress from your life as far as possible.

Exercise and Yoga -

Switch to yoga or try to exercise regularly. Yoga has lots of benefits and it might add up many things improving overall health of man as well as woman.
The tips mentioned here are going to help you improve your fertility. There are some sexual positions that are also said to be useful but for this you should get in touch with some expert or read articles on that. However, if these tips do not work, you should consult your doctor and go through medication or treatment that is suggested.
You may also be interested in:
Back to Previous Page | More on Fertility Issues Index
Discussion Forum - Recent Posts

What are the common causes of infertility in men and women? What steps need to be taken in order to improve fertility? Can fertility be improved naturally?


ruby
infertility does not alwayz mean,that you hav to blame the women, there are many conditions in men which affect there ability to concieve...so its v imp for them to have a complete check up done, and ...

Ilesh
Weight loss can help in improving fertility. The common cause between men and women facing infertility is excessive weight gain or obesity. Therefore, both men and women should maintain proper weight ...

Reshma
I agree with Ilesh. Weight gain can cause infertility problem and it will be difficult for women to conceive because of excessive weight. Therefore, women with fertility problem is suggested by doctor...

view more >>

DISCUSSION FORUMS ON
Infertility Solutions
RE:Urgently Looking For Sperm Donors
Hi I'm medical professional and experienced sperm donor if anyone want my h ... - manish read >>

RE:urgently need sperm donors in bangalore
Hi I'm medical professional and experienced sperm donor if anyone want my h ... - Manish read >>

RE:urgently need sperm donors in bangalore
I will do ... - Ashok read >>

RE:Which one is BESTNULL INDIA or US for IVF
Hello, WE are also looking for a good IVF clinic with donor egg facility ar ... - Rita read >>

FEATURED ARTICLES
- Poor Immunity in Kids
- Five Fun Ways to Break Fussy Eating Habits in Kids
- Top 5 Easy-to-Make Ice-Candy Recipes for Kids
- Tips for Preventing Pinworms in Children
- Signs that a Child is Anaemic
- Things You Should Never Allow Your Son to Do
- Home Remedies for Cold in Children
- Reasons Why Kids May Start Disrespecting Parents
- Indian Baby Names
- Indian Baby Girl Names
- Indian Baby Boy Names
- Top 100 Hindu Baby Names
- Free Printable Coloring Pages for Kids and Adults