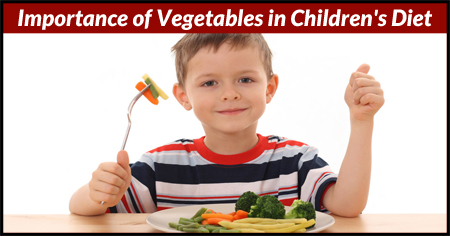 Child's refusal to eat any veggies should not deter you from making veggies a part of her diet. Simple tips to encourage children to eat vegetables can do wonders.

It is a known fact that vegetables are a must for your kid. Sometimes you may get really worried about your child's refusal to eat any veggies at all.
However, make sure you are not
forcing her
too much to eat vegetables and you too should not get upset if she refuses to take any. All you have to do is keep introducing different types of
vegetables
in interesting ways from time to time.
Importance of Vegetables for Children
Nutrients and vitamins contained in vegetables are highly essential to strengthen
immune system
of your little one. A healthy immune system shall help fight against illnesses like flu, colds and other disease.
Leading health experts suggest kids to take vegetables like broccoli, cauliflower, peas, and carrots every day. Listed below are some of the important heath benefits of including vegetables in the diet of children.
Nutritional Benefits
Raw vegetables are known to offer the highest nutritional benefits. You can consider offering grated carrots or sliced cucumber in the lunch box of your kids. Raw carrot is known to be an excellent source of iron, zinc, calcium and potassium. Your kid needs these nutrients during the formative years for proper growth and development. You can try out different
recipes
with carrot and make sure to present it in different forms.
Weight Management

Vegetables are low in calorie that helps in effective weight management. It is better to munch on healthy snacks like cucumber, carrots, tomato rather than munching on the chips. Obesity has become a major concern among kids these days. To combat this problem, it is essential you encourage her to take the healthy option like fruits and fresh veggies daily.
Improving Intestinal Health

As a mother you would be naturally concerned about the intestinal health of your little one. Veggies are rich in fibre and shall help her fight against constipation and indigestion. You need to make sure your kid receives a high fibre diet daily.
Boosting Heart Health

Spring Onion, Red Onion and Shallots are known to be extremely
rich sources of iron
, potassium, vitamin b, and c. These vegetables are also known to ensure a healthy heart. These veggies come in varying taste that might appeal to your kid, so try incorporating them in her every day diet.
Make sure to add garlic in the recipes you cook for her. Garlic is known to be essential for blood and has plenty of therapeutic qualities as well.
Tips for Encouraging Children to Eat Vegetables
It is natural for kids to reject veggies and fruits. Here are some tricks you can try to make her eat the necessary vegetables daily. Take a look.
You can keep a bowl of salad made of cucumber and tomatoes in the refrigerator. This can become a healthy snacking option. However, if she is a preschooler or toddler you must take into consideration the choking hazards as well.


You may allow her to choose her favourite vegetables while shopping. This will make her more interested in eating.


You can grow vegetables in your backyard with her. Ask her to water the plants daily. This shall generate more interest.


You can at times replace the mashed potatoes with the sweet ones rich in vitamin A.


You can cook vegetables lightly and add salad dressings to make it tangier.


You can yourself set examples by eating vegetables daily. She will be encouraged to eat more vegetables, when she sees you eating them every day.
These are some effective ways you can encourage her to take those healthy and fresh seasonal vegetables. Your child will make a little fuss in the beginning to eat vegetable. As you continue to make interesting recipes and explain her importance of eating vegetables she will learn to eat them happily without making any excuses very soon.
Why should children eat vegetables? What are interesting ways of incorporating vegetables in the diet of children? How many servings of fruits and vegetables do children need daily? Discuss here.