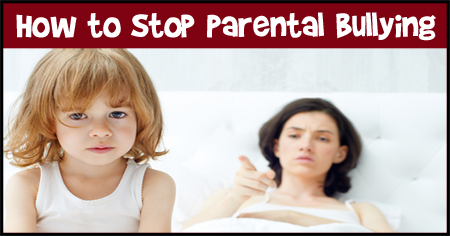 Parental bullying can seriously affect the growth and development of children. Read on to learn how to stop parental bullying.
Bullying parents or toxic parents make the lives of their children miserable. It is important to stop this as soon as possible. Bully parents affect the mental wellbeing of children. It is a time for such parents to understand that only happy parents can raise happy children.
Bullying is often talked over in today's society, but it is often of
children bullying children
. Parental bullying is something many people do not even admit to. Parents with good emotional skills raise children with good emotional skills. If parental bullying is stopped, it will stop many kids from being bullied and many others from being victims.
Usually, parents bully their children by showing them the fear of police or ghost. By doing this they get an increased sense of empowerment. They also make use other strategies to bully their children and the children are not even able to report this.
Parents in Power

Without getting diverted to different types of
bullying
behaviours, it is significant to understand to have the tools to overcome short-tempered, fearful, aggressive or manipulative behaviours that arise from feeling powerless. One of the biggest disadvantage of not stopping
parental bullying
is that it gives rise to another set of bullies because a victim turns out to be a bully when he or she grows up.
Find the Reasons

Normally there is always a specific reason behind any kind of behaviour. When parents bully, it must be due to some pressure.
Drugs
Medication
Drinking alcohol
Weak emotional state
Physically unhealthy
Personal history of being abused
Isolated
Bullied themselves
A bully parent is unable to see other options when dealing with children. It is important to stop the cycle here so that no more bullies are formed.
Personal Development

Personal development is a great solution and it will help the parents give a second thought and look for options. Although this might seem a stretch in the beginning, it will become a second nature after some practice.
Learning to Control Aggressive Behaviour

Parents who are aware of their aggressiveness can seek help from counsellors to deal with issues on appropriate levels. If the parent is not aware, parents can take parenting classes and counselling to help them understand that their behaviour is damaging.
Understand the Repercussions

Parental bullying can have far reaching effects on the growth and development of children. Children who are being bullied by parents never open-up in front of them. They frequently hide things from parents and may show completed distrust. It is very important for parents to understand the repercussions of being a
bully
parent. Whenever you think of bullying your child, remind yourself of the ill effects of parental bullying.

Seeking Advice from Elders

Sometimes parents do not realize their behaviour is damaging their children and once they do, they check their behaviour. If there are differences, talking to elders in the house could sort them out too.
Understanding the Cycle of Bullying

Once the source or reason behind parental bullying is found out, it is important to treat that root cause. Once you know what is making them feel powerless, you can work on making change. If you recognize the feeling, you will be able to stop behaving the same with your children. So, if you find that some or all of the signs of being a bullying parent matches with you, it is time you work out a solution and control your behaviour towards your children.
In any case parental bullying needs to be stopped because it harms the long term psyche of children.
What is parental bullying? Why do parents bully their children? What are the ill effects of parental bullying on children? Discuss here.