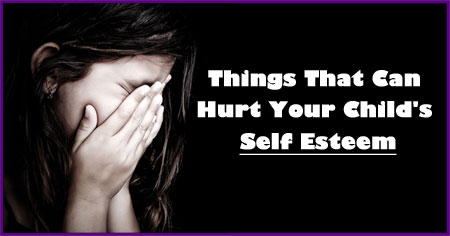 Proper development of self esteem is essential for overall development of a child. Therefore, Parents should avoid doing things that can hurt self esteem of children. Learn about the things that can hurt your child's self esteem.
Self esteem is a very important characteristic in order for a child to develop into a healthy adult. When a person has good
self esteem
life is an endless series of possibilities. As a parent there is a lot you can do in order to build your kids self esteem and as a first step you could start with knowing more about the things that can hurt the self esteem of your child.
Over Planning your Kid's Life
Complete orchestration of your kid's life will gradually squeeze off his or her self esteem and rob off individuality. As a parent you will be justifiably concerned in helping your children get involved in activities and academics but it is important to know where to draw the line. Allow your child some time and space to discover new interests and hidden passions. Over planning your children's lives will only take away their ability to think independently, which is an important constituent of self esteem.
Trampling Over Feelings
Children are sensitive and often
emotional
beings. They have very delicate feelings and it is natural for them to get affected by things which seem inconsequential to you. When dealing with your kids remember to take their perspective into account. When tough times come it is important not to say "just ignore it" or "just forget about it" as these sentences erode feelings of self worth and
confidence
. Giving empathy when needed is a very important part of
parenting
and you should learn how to understand and soothe your kid's feelings. This indirectly lets your kids know that their feelings are important and worthy of acknowledgement.
Doing Your Kid's Work for Them
Everyday challenges like a really tough assignment or a difficult competition are there for a reason. These tough situations will help your children develop mental strength and learn to fight their own battles. If you continue to do their work for them or try to smoothen out their challenges they may never learn how to fight it out in life.Ultimately they will also never develop confidence about their own ability to solve issues. It is natural for self esteem to be hampered in such a situation. The next times your kids face a challenge encourage their ability to conquer the challenge on their own.
Public Humiliation
Public humiliation is essentially one of the worst traumas a parent can subject children to. Scolding, shouting, hitting or saying degrading things in public hurt the self esteem of your kids at a very deep level. Most children never really forget the trauma of being insulted in public and they hold on to the feelings of resentment and hurt well into adulthood. If you are really angry at your kids then speak to them in a strict tone of voice without using insulting words or terms. Never under any circumstances should you hurt the self respect of your children especially in the presence of other people.
Setting Impossible Standards
Aiming for a perfect performance or excellent results each time will only de-motivate your children when they fail to live up to those standards. As a parent you should create a culture of warmth and acceptance in your home where your
children's mistakes
are also accepted along with their achievements. This way when your kids fail or stumble later in life, they will know that it is okay to do so and carry on with an intact feeling of self esteem. On the other hand when you blame your kids every time they do not live up to your standards you hurt their self esteem.Now that you know about the things that can hurt your child's self esteem you can avoid such situations and become a better parent in the process.
How to boost self esteem and confidence of children? How do parents unknowingly hurt self esteem of children? Why is it necessary to avoid hurting self esteem of children? Discuss here.