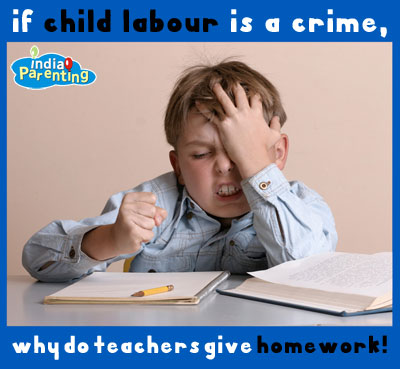 The one time of the day that both parents and children dislike is Homework Time. Procrastination, Stubbornness, Frustration, and Misplaced Stationery during Homework Time are all capable of agitating even the most patient of parents. Learn how you can cultivate a structured, effective, and least time consuming Homework Time for your kids.
If children are taught to follow good study habits from kindergarten, they can become creatures of habit. Teaching them to follow a daily
study
routine when they are young helps them cope better when their homework and study load increases with age.
Tips to Help your Child with Homework
Use the following tips to help your child make the most of his
homework
time:
Confiscate or Switch off all Distractions
Switch off the television, radio and computer when your child is trying to study. Confiscate
mobile phones
, electronic tablets, I-pods and all other devices that stand to interrupt or distract your child when it is time to study. However, do not prevent your child from playing soft music in the background if it helps him concentrate better.
Allocate a Set Area for Your Child's Study
Using a proper space big enough to fit your child's desk, chair, books, etc. is important to help your child focus and give due importance to his homework. Your child should have a quiet place to do his homework. Do not let him sit on the dining table or sprawl on his bed to study. Allowing him to sit wherever he wishes to while doing his homework will prevent your child from taking his homework seriously and affect his concentration level.
Set a Fixed Time to Do Homework
Based on the time your child gets back from school, set a fixed time for him to sit down to complete his homework assignments. If your child participates in
extra-curricular activities
, keep that in mind when deciding the homework time. You should analyse the time your child takes to finish his homework and his capability into account before fixing the time. Most children need a break and
snacks
after they get back from school. So let them take a short break from studies when they come home before making them sit down to study. They may argue or throw tantrums for a few days, but if you remain firm, your kids will soon get used to finishing their homework by a certain time.
Keep Your Child's Study Area Organised
Remember the old adage, "A clear desk signifies a clear mind." In order to prevent your child's mind from wandering, ensure that his desk surface is always clear but for his actual homework book, his reference material and his stationery. In order to prevent wastage of valuable time every day in search of lost stationery and books, design and organise his desk yourself until he is old enough to do it himself. Store his books by topic, subject, or importance as per usage. Keep text books, notebooks and reference books separately to ensure that they are easily available on hand when required. Buy pen/pencil holders, a desk sharpener, etc. to prevent stationery from being misplaced.
Encourage Your Child to Finish Assignments on His Own
While you may feel tempted to go through and correct or even just do his homework for him at times, please desist. Completing his homework for him, does more harm to your child than you are aware of. Your child will begin to feel that his own homework is not good enough, leaving him discouraged and insecure. You should definitely help and assist your child if and when he asks for help, but do not interrupt or look over his shoulder constantly. Encourage use of encyclopaedias, dictionaries and libraries to teach him to clear any doubts on his own.
Allow Small Breaks
You can allow short food, drink and toilet breaks to help your child recharge and refresh himself but encourage your child to finish off his work quickly. If you wish to check his homework, use those breaks to go through it so as to prevent your child from feeling suffocated with your constant looking over his shoulder.
Be Available at the Time of Homework
You should either sit with your child or be just a shout away if you have some urgent work to do. If you have some paper work to do, you could share a table with your child when he is studying. This will not only help your child ask you to clear any doubts as soon as they occur but it will also somewhat diminish your child's tendency to daydream and doodle. One important caveat: pay attention to your child and guard against complete frustration with studies and homework in general. Help him remain organised, follow good study habits, and discuss study assignments daily to help him cope with homework without getting overwhelmed. Encourage him to create a homework diary in which he can take note of all homework assignments in school. As soon as your child returns home from school, review the diary so that you both can jointly decide when and how the homework should be targeted. Explain when which homework assignment should be completed, in order to help your child see the big picture of when all his homework will get finished. Praise even the smallest of accomplishments and do not let small setbacks take centre stage as with your help, they can be overcome.