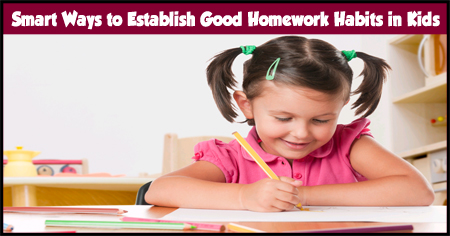 Good homework habits are essential for helping children excel in their academics. Let us take a look at few tips for establishing good homework habits in children.
Homework is a very important part of every student's life, whether they are in kindergarten or in high school. In the early years of a child's life homework helps the child to attain certain skills that will be needed by them for the rest of their lives. But as the workload increases, children start facing difficulties in trying to do their
homework
properly. Therefore it is your duty as a parent to help your child to do his or her homework properly. Here are certain ways in which you can help establish good homework habits in your children by teaching them how to their homework properly.
Designate a Time for Homework
The first and most important step is to designate a particular period of time to your children which will be used to finish the homework given to them. So that, no matter what they do before or after that period of time, the homework should be completed within this period. For example, if you set the homework time from 5pm to 7pm, it will help the child to fall in to the habit of sitting down to do his or her homework as the clock strikes 5pm no matter what day it is.
Designate a Particular Area for Homework
The second step towards disciplining your child into the habit of
completing homework
is by assigning them a particular place where they will finish their homework. They should know that homework is to be done only on their desks. This will put them in to the habit of sitting at the desk whenever they need to study. If they refuse to listen to you, scold them and be stern. But do not be too harsh.
Make a Study Plan
Divide their homework period into little slots for different subjects. This will set a time limit for each subject. Even if you cannot cram in all subjects into one day, it does not matter. Divide it into two days if the subjects are more. It will help them concentrate harder when they know that they have to finish it within the stipulated period of time. The better they concentrate, the faster they finish their work. This study plan and time management also helps them prepare for their examinations.
Do Not Do Their Homework For Them
If your child is struck at something, do not do it for them. Let them do it on their own. If they still cannot do it after multiple tries,
let them ask their teachers. This way they learn to stand on their own two feet. If you start doing their homework for them, they might take their work for granted and in the end learn nothing. So teach them to be independent.
Appreciate Them, Do Not Just Criticize
Always appreciate the parts where your child is doing well. If they are making mistakes then try to talk to them and understand why they are doing it wrong. But while pointing out mistakes always keep reminding them of all that they are doing right. This encourages them to try harder and get better at the areas they are making mistakes in. Homework not only helps the children excel in school but also makes them
responsible
and
disciplined
. They learn how to become independent and become masters at following instructions correctly. They learn to give their best performance within a particular period of time. These are the important qualities that ultimately lead them to excel in all spheres later in life. So help your children to do their homework correctly and ensure their bright futures!
How to help children develop good homework habits? What is the importance of homework in the academic life of children? How to encourage children to complete their homework without making a fuss?Discuss here
.