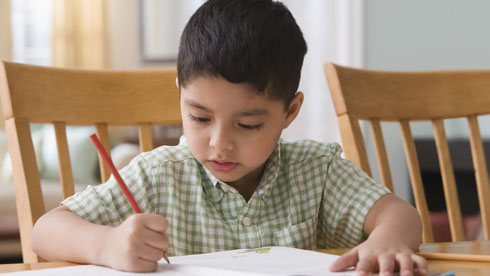 Getting children to do their homework is not easy. Follow these 5 simple steps to get homework done from your children easily.
Getting your kid's homework done is not a difficult job as every parent thinks. You just need to change the approach to homework enforcement and kindle a fire under your child's desire to get her homework done – that is all! All the whining, wailing, dawdling, and dragging during getting the
homework
done will vanish if you can take things lightly and sincerely. Follow these five steps that will help encourage your kids effectively to do their homework easily that you shall stick to.
Step 1: Find a Dedicated Homework Place
Different kids have different ways of doing their homework. Your child may find the bedroom disturbing because of the distracting things around like TV or anything, and find dining room a better place to do homework. She can also find drawing room better or may be disturbing as guests may come and sit there. She may look for a place that is away from family noise or can do homework in noisy places also. It is always better to discuss the pros and cons of different places in your house with your kid and mutually agree on a dedicated area where your child can get her homework done.
Step 2: Organize all the Homework Supplies
Once you find the dedicated area for homework, arrange it as a homework center. Make sure there is a large workspace, good lighting available, and make arrangement for all the supplies needed for getting homework done – pencils, pens, glue, rulers, scissors, geometry box, construction paper, graph paper, cellophane tape, calculator, spell checker, markers, and even a laptop or computer depending on your child's age and need. This will help to cut down a lot of time in arranging all these every day, keep the workplace tidy and organized, and lower the risk of losing things.Allow your kid to decorate the homework center keeping in mind there shall not be any distracting things around. Make sure your child reorganizes the area after her homework is done to avoid mess for the next day.
Step 3: Remove all Distractions
There shall not be any distractions while your child is getting her homework done. Turn off the televisions, phones, tablet computers, put your mobile in silent mode, and also close the door. Do not break your child's concentration until the homework is done.
Step 4: Set Up a Homework Time
Establish a time for your child's homework. She may take some rest right after the school and do the homework later or may find it easy to finish the homework as soon as she comes back from the school and then relax. Depending on your child's preference, set up a
homework time
and you and your kid both shall be available on that time. This will help you save time behind calling your kid repeatedly to get the homework done every day. Try to set the time in the early hours, the later it gets, the more tired your child may become and less interested also.
Step 5: Understand and Plan the Homework
Help your child understand the homework before she jumps into it and then wastes time figuring out what to do and get frustrated. Help your kid plan how to perform the homework step-by-step. Discuss with your child how long she will take to finish each assignment and set a schedule for that assignment. You can keep a bulletin board in the homework area to note down assignments, and tick against them when they are done one by one.Always be available for your child. Let your friends and family know that you do not want to be disturbed when your child is doing her homework with you. You shall plan your activities and appointments much earlier outside this time zone. Show confidence in your child's ability to finish her homework. Review her assignment and do not forget to
praise
or acknowledge or point out the
mistakes
when needed.
Why do children hate doing homework? How to encourage children to do their homework on their own? What are the ways to help children with their homework? Discuss here.