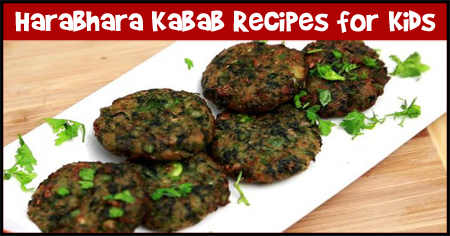 Kababs are one of the delicious snacks which are not only loved by kids but also by adults. Have a quick look at the recipes for making mouth-watering harabhara kababs.
Making children eat green vegetables is a daunting task for almost all parents. You can think about something different while trying to encourage your child for eating fresh and green
vegetables
. Here is harabhara kabab recipes for kids which they are going to love. Try them so that you are satisfied and at the same time your children are also happy.
---
In this article
---
Harabhara Kabab Recipe – 1
Ingredients
Spinach leaves – 2 cups
Medium sized potatoes – 2
Peas – 3/4 cups (fresh or frozen)
Chat masala powder – 1 tea spoon
Dry mango powder or amchur – 1 tea spoon
Ginger and green chilli paste – 2 tea spoon or according to your taste
Besan (gram flour) – 2.5 table spoon
Salt according to the taste and requirement
Oil for frying – 2 table spoon
Procedure
Blanch spinach, drain the water and then keep aside
Stem the potatoes, peel them and keep aside
Roast besan in a pan. Make sure you do not over roast it. It simply has to give out right aroma.
In a bowl take the spinach, boiled potatoes, and peas. Mix them well. Add green chilli and ginger paste and mix well.
You can mash the mixture with a potato masher or use the wire or wooden spoon.
Now add all the dry spices and the roasted gram flour to the mixture.
Mix the entire ingredients thoroughly
Make some round but flattened kabab shapes and keep in a plate.
Now shallow fry the kababs.
Serve hot kababs with green chutney or tomato ketchup.
Harabhara Kabab Recipe – 2
Ingredients
Potatoes – 2 – 3 medium sized
Spinach – a small bunch
Peas – 1 cup
Carrot – 2 medium sized (grated)
Beans – finely chopped – 1/2 cup
Green chillies – 1 – 3
Garam masala powder – 1 tea spoon
Amchur powder – 1 tea spoon
Ginger garlic paste – 1 1/2 tea spoon
Salt as per your taste
Bread crumps – 2 table spoon
Oil for frying – 2 table spoon
Procedure
Boil the potatoes. Peel them and keep aside
Dry roast the gram flour till the different aroma comes out
Blanch spinach and drain the water
Saute the spices and keep aside
Take a separate bowl and mix the green vegetables well. You can blend them together using the mixer.
In a separate bowl mash, the potatoes, add roasted gram flour and the ground paste. Mix well. If you find the mixture slightly sticky, add bread crumps to it.
Take a small portion from the mixture and make it round with the help of your palms. Fill the mixture of vegetables in it and cover just like you do for the stuff parathas.
Now, flatten the filled material by slightly pressing it between your palms.
Shallow fry the kababs.
Serve hot with chutney or tomato ketchup.
When making harabhara kababs, you can make use of gram dal instead of the gram flour. Here you will have to soak the dal for 1 – 2 hours and grind it to paste. You can also pressure cook the dal till it is done and then add other ingredients to it. Now make the kababs following the same process. Before frying the kababs, you can dip them in flour water and roll them over the bread crumbs to get that crispy effect.Harabhara kababs are not just liked by kids, adults also indulge in it with lots of interest. Frying the kababs depends completely on you. You can shallow or deep fry them, as per your taste. However, kababs give out the real taste and flavour when they are shallow fried and can be served occasionally. Have your pick and enjoy the evening
snacks
with kids and with guests. Serve with green chutney or tomato ketchup.
How to make vegetable kababs? Which vegetables are used for making harabhara kababs? Are kababs healthy for kids? Discuss here.