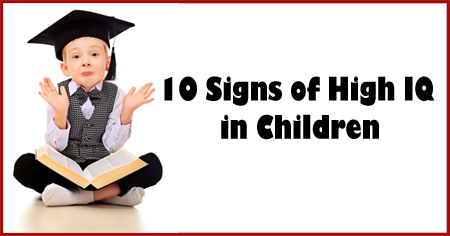 Even children who are average learners can have high IQ. Therefore, it is a must for parents to be aware of its signs so that their potential and talents do not go unnoticed. Let us take a look at the 10 signs of high IQ in children.
Every child is a great pride and joy to their parents. Every parent is proud to say, "My child is advanced for her age." Though all the children are special in their own way, some others are born more
intelligent
and empathetic than others. Most schools believe in conventional methods to test a child's intelligence, such as report cards, group
IQ
tests, achievement test scores, observations and parent-teacher meetings. However, if you see that your child has developed special signs of advancement beyond her age, feel free to check out the following list and have a discussion with your teachers in your child's progress.
1. Your Baby was Born Hefty and Healthy
For mothers who have given birth to healthier babies, this is good news. Babies born with a normal or above average weight are believed to be well-nourished at pregnancy. A study conducted on 3000 babies by the British Medical Journal has concluded that babies born with a higher than normal weight have well-developed
brains
.
2. Knows Multiple Languages
According to a report in a journal
Child's Development
, children who are born to parents speaking many languages have a high IQ. Indian parents are at an advantage, as our children are greatly exposed to at least three languages – English, Hindi and the regional language. Parents can always turn to foreign languages such as Chinese, French and German to teach international languages to their children at a young age.
3. Creativity at An Early Age
Studies reveal that children who can draw well by the age of four are likely to be more intelligent in their teens. A research conducted on 15,000 children at King's College, London found out that children who were able to draw realistic images of humans were likely better to succeed in higher IQ tests. One might extend this to the bad habit of lying. Therefore, if you are tired of punishing your child for lying, cheer up. Researchers credit this to the child's complex processes to conjure up, which requires intelligence.
4. Can Play a Musical Instrument
Children who know how to play a musical instrument are said to be much more intelligent than their peers. Teaching your child a musical instrument makes her more able to cope up with their feelings and with emotional issues and anxiety at a later stage.
5. A Good Reader
Parents who inculcate the value of reading in their children at an early age, and children who grow up to read lots of novels perform better in
higher IQ
tests. This leads to a greater vocabulary, easy and efficient learning, development of order and consistency and having a deep interest in science and literature.
6. The Power of Memory and Originality
Studies have also found out that, children who are able to remember things better and for a longer time have better-developed brains. Such children are also bored with memorization and recitation, but look for creativity. This does not only refer to academic areas but also other experiences of life. Such children also have a greater fluency in oral and written work.
7. Curiosity
Children can also be very curious and love to ask lots of questions. If your child loves knowing about new things, situations and events and is perpetually open minded, she is born with a high IQ that allows her to grasp the concepts of abstraction, complexity and analysis.
8. Is Self-Disciplined
If your child is reasonably well-mannered, uses common sense and is resourceful, you have a bright child. Such children are also reported to have leadership skills and tend to dominate over peers. They may also have a witty mind and are able to give rapid and alert answers to unexpected questions.
9. High Concentration
Some children are born with an intense concentration and attentive mind. Such children are also deemed brighter as they are able to grasp concepts faster and have a deeper understanding of what is being taught.
10. Is Flexible-Minded
Bright children are also able to make connections between distant objects and be able to explain them using astonishing reasoning. Though grades are not an appropriate way for measuring children's intelligence, IQ can also be measured keeping other parameters in mind.Therefore, we see that a child who may be misunderstood as an average learner could well be a very intelligent child. A number of personalized IQ tests should be initiated so that children are well-examined and their potential and talents are tapped in early.
What are the signs of high IQ in children? How to know if a child has high IQ? What are the ways to boost the IQ of children? Discuss here.