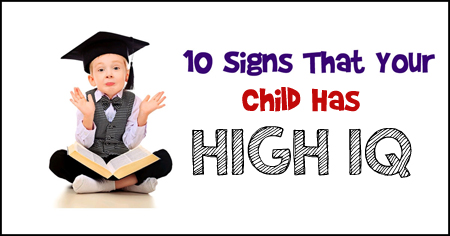 Does your child ask too many questions? Is she creative and has strong imagination skills? Does she have good observation skills? If yes, you must not overlook these skills. These can be the signs of high IQ. Read on to learn more about the 10 signs of high IQ in children.
Parents and teachers can get sometimes get daunted when their child suddenly starts displaying unusual behaviour at home and school? Giftedness is often associated with academic success and excellence in extra-curricular activities, but such cannot always be judged by scores, past grades and IQ tests.
Some psychologists do not agree on the early screenings for children, but concerned parents can opt for such methods. Though all children develop at their own speed, bright children tend to develop faster which can be a source of confusion for parents.
1. Has an Exceptionally Good Vocabulary
Exceptionally sharp children develop an interest in books which increases the number of words they learn in a day. Other children have an ability to pick up words from around their environments helps them to use them in life. If you live in a bilingual household, notice if your child understands and speaks both the languages.
2. Expanding Curiosity and Asking a lot of Questions
Children can develop an innate curiosity for things all around them and want to know a lot more than their peers about events, situations and characters. They also love to use abstractions, conceptualisation and synthesis to analysis a person or event. They also ask their elders many hypothetical questions and refer to sources to quench their curiosity.
3. Has an Amazing Memory
Some children are blessed with an exceptionally good memory and can memorise poems and answers by heart. On the other hand, there are children who struggle with memorisation and recitation. However, both groups actually have high observation powers which enable them to remember things long after they have seen them.
4. Has a Vivid Imagination
Psychologists now believe that if your child is prone to telling lies, it can point towards a vivid imagination. Alternatively, you can notice a highly creative brain at work if she makes unusually good paintings for her age, is able to conjure up imaginary situations or has an art of telling stories.
5. Has Powerful Observation Skills
Your child may not be a very gregarious child, but does she seem to notice things other children cannot observe? Such children often possess a photographic memory or might just be able to remember things that most adults simply overlook. To take a simple example, she might notice small details on the road which you might not even consider.
6. Can Play Musical Instruments
Some children display an interest in music, and thus parents can recognise their giftedness in music. If your child is able to play the piano much better than most, consider signing up your child for special music lessons. Moreover, if she can read novels much faster than average, she will probably excel in her academics as a teenager.
7. Has a Creative Flair
Does your child love to draw or write short stories at a very young age? This ability of hers is classified as 'creative' by psychologists where a child can draw realistic images of humans or can write good narratives by themselves.
8. Problem Solving Skills
Smart children can use their own intelligence and resourcefulness to solve a problem, which makes them very self-sufficient. They can be very determined and refuse to ask for parental assistance in order to solve problems on their own.
9. Has a Sense of Fairness
Does your child has her own opinions on ethics or is interpersonally skilled at school? Is she able to understand different perspectives of people and think about things in a bigger picture?
10. Has a Good Sense of Humour
If your child can laugh at herself, she is smarter than most children. She can also tell and understand complex jokes and have a good comedic timing.
Though gifted children are rumoured to be high achievers and very popular in school, a majority of them actually suffer from self-esteem issues and isolation. This condition is as a result of failure to identify and boost their talents. There should be a joint effort on part of parents, teachers and counsellor to help the child recognise herself and nurture her talents.
What are the signs of high IQ in children? How to boost IQ of children? What can happen if talents of children go unnoticed?Discuss here.