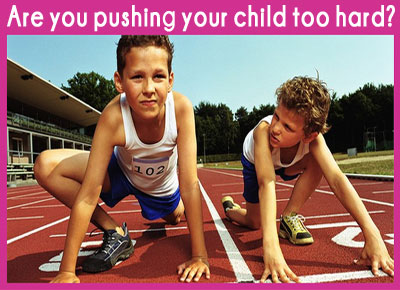 Do you encourage your gifted child to achieve success or do you encourage him to nurture his talents? It is vital to understand the difference between nurturing and pushing your gifted child. For tips on the correct way in which to nurture your gifted child's talents, read on.
The topic of nurturing or pushing gifted children is a hot one. It is really hard to differentiate between the two especially when you have to analyze yourself. In simple words, when we nurture our children, we allow the child's qualities to bloom with minimal involvement; and when we push our children, we want them to follow goals that we have set for them. Although the difference is very simple, many parents continue to wonder whether they are pushing their children or just encouraging them.
Parents have all the right in the world to be proud of their child's abilities and talents. But your goal should be to help your child analyze and do well following his natural passion and interests. Encourage your child to identify their talents and nurture them on their own. Here are some tips that can help you encourage your child to achieve the success he deserves.
Tips for Nurturing Gifted Children
Realize your Gifted Child is a Child first –

This means that even if your child has gifted talents, he is after all a kid and has interests and passions that every child of that age has. He needs your involvement and just like other kids he also needs love, friendship, free time and many more.

Identify Personal and Instructional Needs –

Realize that your child has needs and requirements different from other kids. He will respond well when his interaction is with people of his level.

Bring out the Perceptions of your child –

Talk to your child and find out whether he is a high achiever, high learner or a creative thinker. This will help you understand his needs and help him get along with his gifted talents in a better way.

Provide Assurance your Child –

It is possible that your child feels disconnected with his own aged peers. Help him understand that every individual is different and help him have a space where he feels safe with children.

Motivate your Child –

You know your child better and you can encourage and help him follow his passion and achieve his goals by encouraging him. You need to validate merit of your child as an encourager.

Emphasize on Learning instead of Trophies –

When your child shares his school's work with you, you should interact enthusiastically. Rather than focusing on what grade he received, ask him what he learned doing that work. Similarly if your child is gifted outside the academic world, teach him to learn something new from every new test in his life. It is more important to keep bettering yourself instead of just setting your eye on winning the trophy.

Be a Good Listener –

Be an active listener for your child. Understand his messages and feelings and do not quickly respond to his words. When your child will understand that you respect his feelings, he will give you complete information.

Follow his Interests and Leads –

When your child is trying to achieve his goals, find out the issues that are affecting him especially when you find that he analyzes the consequences. Always remember, his goals may not be the same as yours.

Talk to him –

Proper and regular conversation with your child can help him sort out issues and work on his goals in a better and more constructive way. Talk in natural way and reply to his questions honestly and accurately as far as he is capable of understanding.

Facilitate Real life Experiences –

Read books and enjoy browsing together. Go to places of recreation and share experiences. This will not only help you bond well with each other, it will help you understand each other better which in turn will lead to you respecting one another.

Give Sensible Gifts –

Give books and learning games as presents and read and play together. Researches show that reading books and playing educating games increase vocabulary, memory and critical thinking skills in children.
No matter what your occupation is, your first work and responsibility is your child. Choose a time to laugh or cry every day. Attend all programs associated with parents organized at school. Do not miss any parent-teacher meeting. Discuss issues that have impact on your child with the teacher. Be a supporter and promoter for your child rather than an advice-giver.
Do you think your child is super talented in any field? How do you nurture your child's talents? When does encouraging a talented child become pushing too hard? Discuss here.