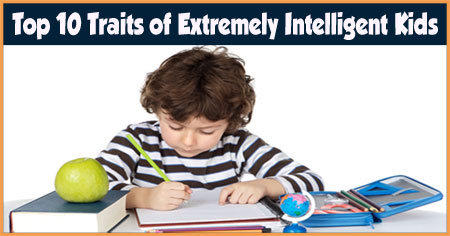 It is important for parents to be aware of the traits of intelligent children. It will help them to boost their child's intelligence by encouraging him or her to imbibe these qualities. Have a quick look at the top 10 traits of intelligent children.
It is the dream of every parent to see their children on the top. They become extremely happy when anyone praises their children. But to see their children reaching this point of excellence needs a lot of sacrifices and compromises on the part of the parents. After all these efforts and sacrificing every little desires for the sake of the children and then getting the result of feeling proud for the kids is a top of the world feeling.Intelligent kids have some special traits which are different from ordinary kids. Here are some traits of
intelligent kids
given. Have a look at this.
1. They are Always Active
Intelligent kids are always active. They never sit idle. They find some kinds of activities every now and then. Intelligent kids are generally most mischievous than other kids. Unless they are tired they will not disturb their parents by whining or crying. They will play or do something on their own.
2. They Maintain a Routine
Intelligent kids understand their routine very well. They know when it is
study
time and when it is their play time. They do not nag at little things. They manage everything very skilfully.
3. They are Creative
Intelligent kids are generally very creative. They have a creative mind. They know how to make extraordinary things out of a simple thing.
4. Their Self Confidence is Boosted
his is the most important quality that everyone should have. Believe in yourself and life will be easier. Determination to do something comes from this
self confidence
. Intelligent kids depend on themselves and they have a strong belief that nothing is impossible if there is a will.
5. They Overcome Challenges Easily
Those kids who face new challenges daily happen to be more intelligent than those growing under their parents' shadow. Kids of working parents become more independent at a very early age.
6. They are Good at Problem Solving
Those kids who happen to
solve their own problems
tend to be more intelligent than others. However, tough their situation is they will find out ways to come out of the situation. They know that however tough the problems are, there is a solution to every problem. And then they start to find out that solution. In this process they learn many things, gain experience and become wiser.
7. They Have Strong Determination
Those kids who have a strong determination to excel in life meet success at the end. They have a strong zeal to achieve long term objectives. Nothing can demoralize them as they have a strong will power and possess the capacity to overcome any obstacles that come their way.
8. They are Happy Always
Those kids who cherish every little happiness tend to be more intelligent than sad and gloomy kids. Happiness is the ultimate key to success. Remain happy and success will follow you.
9. They Respects All
Intelligent kids know how to respect others. Even when they end up with a fight they will not easily start abusing their friends. Instead they will try to solve out the problem and end the issue their only. They do not hurt anyone and know how to keep good relations with everybody. Kids who are intelligent have lesser enemies when they grow up. Because of their
behaviour
they are helped by all.
10. They are Expressive
Kids who are intelligent can express themselves very well. They have nothing to hide. They express themselves clearly and carefully. They make themselves very clear right from the beginning to avoid any confusion later on.Parents need to spend ample time with their kids so that the kids do not feel stressful. Parents should always be supportive in case your child needs help. All these factors are behind the intelligence quotient of kids. It is the surroundings that make a child intelligent and unique.
Are some children born intelligent? What are the unique qualities of intelligent children? How to boost intelligence of children? Discuss here.