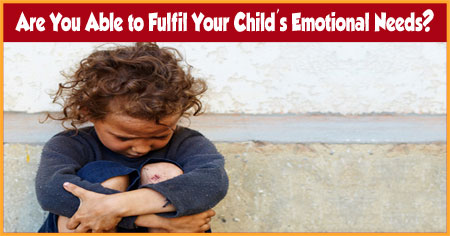 Parenting is not only about fulfilling material needs of kids it is a lot about fulfilling emotional needs. To ensure emotional well-being of kids parents need to provide right care and pay a lot of attention towards them. Have a quick look at the ways to ensure emotional well-being of kids.

Children should be protected carefully in their tender age. Every family needs to give proper care and attention to the kids. This will safe guard their individual and emotional well-being. Gradually this will ensure an emotionally strong and healthy society. This will once again, help a society to become healthier.

Causes of Emotional Disturbance in Kids
On the other side, if majority of people in the society are unhealthy, it adversely affects the society. So, major mental or cognitive disorders are a reflection of large societal disorders.
Children develop
emotional fears
when,
They are abused


When children are unheard


When children are mocked, bullied or called names in the school


When children are constantly compared with friends or siblings about their performance


When they do not receive appreciation for their finest performance

Need of Emotional Security
Frankly speaking, as parents we generally reach out for every need and requirement of our kids. These things will no doubt give them a perfect life. But a child also needs emotional security and attention when they need to improve their grades and become responsible for their own actions. Emotionally confident children can evaluate their actions and make their own rectifications.
It is truly said that, general well-being of an individual can be restored or ensured only when both physical and mental health is properly taken care. Every disorder starts as a very small ailment. They are as small as flu, cough, cold or a stomach ache. If these are taken care at the right time, it will not damage the body. Similarly, emotional well-being of kids depends on a pleasant mental state of mind.
Tips for Ensuring Emotional Well-Being of Kids
Here are some tips which parents can follow to ensure
emotional well-being of kids
.
It is very important to have proper family relationships.


Proper and healthy peer relationship is very important for emotional well-being in kids.


School environment also adds to emotional well-being in the kids.


If a parent is understanding, patiently listening and giving importance to their thoughts, a child will feel very confident.


Kids should be guided towards healthy TV programmes.


Kids should be allowed to play outdoor games in order to gather confidence to perform on their own in the society.


To increase their stamina and patience, kids should be involved in CCA (co-curricular activities) activities like, painting, crafts, stitching and so on.


Kids should be taught new things with interest and attention.


Give them assurance that they are never alone in any situation.


Giving them the freedom to share or discuss their likes, fears and dislikes

Effects of Lack of Emotional Support
Children should be cared, heard and allowed to speak out their thoughts. There are kids who are snubbed, ill-treated or unheard by anyone in the school. If the same kid is treated regularly like this, he or she decides or convinces himself or herself that he or she is the same. They brand themselves and also never object others from calling them by names. This way, they becomes a victim of constant bullying on them.
Such kids lose absolute attention, and grow as confused person. If this kind of atmosphere is encouraged, kids bottle up their fears and feelings. This way, a minor problem unaddressed, it becomes a major issue gradually. In such situations, emotional support from family plays an important role in helping kids.
Every child grows up with a few or many growth related problems. If they are addressed timely, a child grows with confidence and never develops emotional problems in his life. It is very essential for a parent to contribute quality time with their kids and ensure their emotional well-being.
How to fulfill emotional needs of kids? What are ways to ensure emotional well-being of kids? What can happen if kids do not get right emotional support? Discuss here.