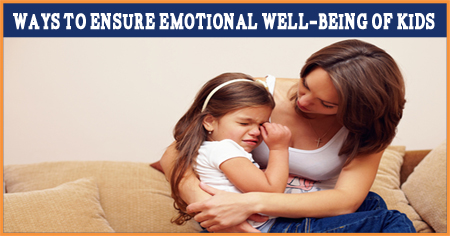 Healthy development of children totally depends on their emotional well-being. Therefore, parents must follow right measures to ensure emotional well-being of children. Let us take a look at the parenting tips for ensuring emotional well-being of children.

While most parents are rightfully concerned about the physical well-being of their kids and plan the nutrition and growth charts very meticulously there is another aspect of health which sees considerably less attention. Emotional health awareness is perceived to be lacking in today's world according to clinical trials supervised by top child psychiatrists.
Often the challenges of parental roles like work stress, marital problems, financial burdens etc stop parents from developing emotional attunement or sensitivity towards
emotional health
of their kids. Here are some factors which can be used to make sure that children are well adjusted emotionally.
Acceptance of the Child's Temperament Type
Many parents have a fixed vision in their mind about the kind of child they wish to raise. And when their own children show basic differences in temperament and nature; parents panic and stubbornly try moulding the children according to their preferences. This attitude ultimately causes a lot of emotional stress to the child and prevents mental adjustment. Accepting the basic temperament of their children in an honest way is sometimes the biggest favour parents can do.
Categorise your child into one of the four basic categories of temperament like easy going, difficult, slow to react and mixed and then learn how to deal best with what you have got. Psychiatrists advise parents on non judgmental acceptance as this will promote emotional well-being.
Spending a Lot of Time with Kids
As parents one of the best things you can do for your kids is to spend lots of time with them. Time in this context does not mean only going to picnics and movies together. Unless you spend ordinary time with your children helping them do their homework, talking to them at meals or playing together you will not be able to construct an emotional bond with them. Children like their parents to be involved in their lives as this gives them a sense of security and contributes to their emotional well-being. Kids need fun times with their parents as well as ordinary times which let them know that their parents are a part of their daily activities.
Building the Value System
Building the moral construct and the value system of their children is one of the most important responsibilities parents have. Often parents tell their children to simply ignore or brush away any negative emotions like
fear
, worry, stress that crop up in their minds by stating things like "do not feel that way" or "just forget it". Rejection or non acknowledgement of their negative feelings leads to feelings of hurt and
emotional unrest in kids
.
With time children who are subject to such behaviour grow up to be emotionally vulnerable and unhappy. As a parent you need to make your children understand that it is okay to experience these emotions and then teach them effective ways of managing these emotions. Anger management and stress management techniques need to be inculcated in the child from a very early age.
Demonstration of Tenacity
A large part of the emotional well-being of kids stems from how secure they perceive their home base to be. As parents you need to demonstrate that you are capable of weathering any kind of storms be it financial or psychological, together without letting the trouble affect the family structure.
When your children comprehend that as a family you are strong and tenacious enough to stand beside each other without giving up under the worst circumstances they will automatically feel more secured and confident. This also lets them know that it is expected for a family to stand together both in good times and bad.
Emotional well-being of children also largely depends on the relationship between parents and how parents respond to the behaviour and feelings of kids. If the relationship of parents is not stable, children will surely face emotional problems. On the other hand if parents use techniques like hitting, spanking or yelling at kid to discipline them, they will definitely get
emotionally hurt
. So maintaining a healthy and a happy environment at home is very necessary to ensure emotional well-being of children.
How do children develop emotional problems? What can happen if child's emotional health is not taken care of? How to avoid hurting kids emotionally? Discuss here.