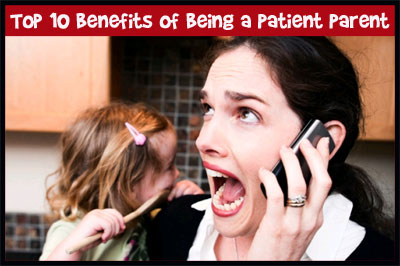 Patient parents can teach a lot of things to kids through their patient behaviour. Learn more about the top 10 benefits of being a patient parent.
Being a parent requires various skills that one needs to develop an understanding about and thereby practice them. Among these, the most significant parenting skill possibly would be patience. This skill can also be the most difficult one to practice. However, in order to parent your kid in the most proper way, you need to be patient in handling your child`s attitude problems like temper tantrums amongst many others. Being a parent with patience benefits the kids immensely.
Patience Helps with Emotional Maturity
It is not easy to tackle the temper tantrums of a child. At times it gets on the nerves and become frustrating but it is important for a parent to have patience in dealing with such things. A patient parent can teach patience by setting an example in front of them. It can teach a child learn self-containment, ability to soothe oneself and resilience. These qualities help in the emotional maturity of a child.
Patient Behaviour is Always Rewarding
Kids often come demanding something or the other. Instead of yelling at them if a parent explains the reasons why it is not possible to fulfil the requests immediately helps the child in learning how to be patient. When parents pay attention to the tantrums of a child and match the explanations to the child`s level of maturity and age a child learns how to be patient and it also tends to strengthen the patient behaviour.
Strengthens the Tendency of Team Work Among Kids
Help the kids in resolving the problems that are frustrating them. There are times when a kid starts behaving in a weird way because of their inability to deal with certain situation. Instead of losing patience if a parent steps in and help the child solve problems, self-restrain and self-confidence can be inculcated in the life style of a kid.
In case both the parent and child get frustrated, take a breather, as it will help both of them stay away from the problem for a few minutes. Then come back and deal with the problem together. This patient and cooperative behaviour of a parent also prepares a kid for team work.
Teaches How to Be Patient
Parents should practice relaxation techniques as it prepares them for patience when the kids are trying it to the fullest. It in turn makes a parent more relaxed and patient. Parents can teach relaxation skills to their children as well. For example little kids love to daydream, if parents manage to spend a few minutes of quiet time with their kids and train them in making use of day dreaming as a technique to be patient then a child can be prepared for tough times ahead. This is possible only if a parent is patient and relaxed.
Strengthens the Tendency to be Calm Among Kids
Kids are impatient by nature. They have short attention spans. A patient parent can strengthen the patient behaviour of a kid. This can be taught by putting them off for short periods of time when they are demanding attention. Do not do this for long intervals and be sure to come back when you have promised you will. Your return to attending them will help in tackling with your absence in a patient way making them more patient.
Adolescents Learn How to Tackle Stress
It is always good if good teaching or modelling has taken place in childhood itself. When a child grows into an adolescent she will find it easier to hold herself during difficult or stressful situations. But parents have to keep one thing in mind that adolescents are even more sensitive than kids. It is due to the fact adolescents go through the initial stage of discovering their own identity. If a parent behaves in an impatient manner, it is very obvious that the child will learn the same and it might even hamper their initial stage of development.
Patience in Extreme Conditions Teach a Child the Value of Patience
There are times when an adolescent act out with extreme irritability or anger, they even turn self destructive. It is very difficult for a parent to consider the function of this kind of behaviour. But if the parent feels the need of addressing the root cause of this behaviour patiently then the parent`s patience will teach the child the value of patience.
Instil Self Esteem in Little Kids
Patient parents instil self-esteem in their kids with honest feedback. Empty praise never leads to positive behaviours. It is difficult to make a kid understand what are the pros and cons of a particular thing and requires lots of patience. But true praise always makes the kid feel better about them. Not only that, it also helps a kid hold oneself with authentic patience when such a necessity arises.
Helps a Parent Develop a Thorough Understanding
Children are expert in getting under the skin. This helps a parent in developing an understanding about the children`s motives and understanding. A parent has to be patient and ask the kid what is troubling her and what does she wants. By developing an understanding about the child, a parent becomes more patient in dealing with a kid. By understanding the needs of the kid, parents get closer to the kids, in turn strengthening the bond between parent and the kid.
Display Kindness and Stability in Future
A child who grows up in a relaxed environment without having to face yelling and disgust, grows into a person who display kindness and stability. It is very important on the part of a parent to develop patience and handle their little ones with care.
Showing patience with the little ones living with you pays off tremendously in the long run. They are kids just for a little while, patient behaviour of parents and the other senior members of the family help the little ones grow into a better adult.
Why is it important for parents to be patient? What can kids learn from patient parents? Which ways should parents follow to be patient parents? Discuss here.