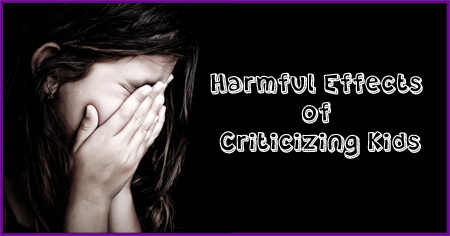 Criticising kids continuously can have long lasting harmful effects on their development. Read on to learn more about the ill effects of criticism on the development of kids.
Criticising kids has often been cited by psychiatrists as one of the most damaging ways of disciplining children. There are long lasting negative effects of harsh
criticism
on kids and some of these effects may last a lifetime. Here are some well documented ill effects of criticism on children

Negative Effect on Attachment Style

With too frequent and harsh criticism a kid may question the love that their parents hold for them. Some children grow up to feel unloved and unappreciated and these force them to look for love from other quarters. Children who are criticized badly throughout their childhood grow up to be control freaks, addicts to sex or substance abuse (alcohol, cigarettes, drugs etc) or narcissists who are obsessed about themselves. The attachment style and the perspective on relationships changes when one has faced a lack of warmth and love in childhood.

Development of the Shame Complex

With frequent criticism a child starts feeling deeply ashamed as he or she gets convinced that there is something wrong in the personality. Such children grow up with the innate belief that they ought to feel ashamed of themselves. This constant flow of criticism also encourages children to withdraw from social situations as there is a deep rooted
fear
of expressing emotions. These kids also grow up to very risk averse and are afraid of taking any bold positive step to enhance their lives. This kind of complex is referred to by psychiatrists as the sham complex.

A Case of Wrong Identity

As psychiatrics say there are two layers of the mind; conscious and unconscious. Any deeply affecting statement that is made in the early formative years of childhood (before the age of 6) often sinks into the unconscious mind. Unfortunately in most cases, criticism is one of the first things to sink into the psyche of the child.

The child absorbs the negative and self deprecating comments deep into the psyche and then unconsciously moulds actions to suit those comments. For example a child who has been told repetitively "you are not good in studies" becomes lazy and loses interest in studies. The child will withdraw from fruitful labour as the unconscious mind directs him or her with negative feelings. Such kids often need counselling in adulthood to help overcome their negative identity.

Dip in Self Confidence

This is easily the simplest and the most identifiable negative effect of harsh criticism in childhood. The loss of self worth in the early years of childhood is a huge emotional blow and the child often struggles to regain confidence back in adulthood.

Criticism saps away the belief and
confidence
in children and negatively impacts them in a way that causes them to doubt their identity and capability. Kids who are criticised too much often shun social interactions; miss out on making friends and extracurricular activities because they believe that they are not good enough to make any friends.

Development of Deep Emotional Wounds

Negative comments, humiliating words and criticism that is directed to
insult
are disastrous for children. These comments create deep emotional wound in the mind of kids and these wounds usually last for a life time. Any time a word, comment or a situation in adult life brings a reference or memory to the past then the wound may suddenly resurface making the disturbed child (who is now an adult) to react badly. Even if the person does not react references to those wounds bring a lot of emotional pain that is impossible to be captured in words.

Criticism is one of the most avoidable forms of interaction and these reasons should have convinced you of the ill effects of criticising your child.

Is It Alright to criticize kids?What are the harmful effects of criticising kids?How to avoid criticising kids?
Discuss here.