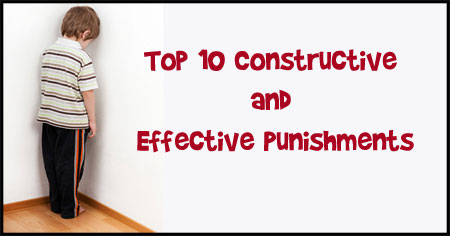 Hitting children and yelling at them for disciplining them can only spoil them more. Therefore, parents must follow some liberal yet effective ways to discipline them. Have a quick look at top 10 constructive and effective punishments for disciplining children.
In order to discipline your kids you need to be strict at times. Too much pampering would spoil your kids and in order to control this, punishing your kids is necessary. But the punishment should not include
physical abuse
or mental torture. Punishment should be in accordance to the wrong doings that kids sometimes do.Read on to know what the
punishments
are, that can be given to kids without really trouncing them.
Deny Favourite Toys
When you find your kids
misbehaving
, this can be the best punishment ever. Do not allow them play time if you find they are poorly handling their toys and it can break. Take away their favourite toys. It is natural that they will whine but you have to be very strict so that they do not repeat the same thing in future.
Make Them Sit Alone For Sometime
Some kids get involved in arguments too often and start fighting with their friends at the slightest difference of opinions. The best way to prevent this kind of
behaviour
is, as soon as you find this happening make your child sit alone for some time. Do not allow him or her to talk to anyone during that time. Make him realise that this is his or her punishment. It will give him or her time to rethink what are his or her faults and maybe he or she will apologize to you for his or her misdeeds. However, do not make your child sit alone for a long time and keep monitoring him or her when alone.
Deny Favourite Sport or Programmes
Sometimes kids do not listen and keep on watching their favourite programmes on T.V despite your calling them for dinner. If this happens, first switch off the T.V and keep the remote out of their reach. Do not allow them to watch their favourite sports or programmes until they finish their dinner.
Disallow Them for an Event
Kids always find excuses to skip their homework. Do not pay heed to such excuses. Warn them that if they do not do their homework on time they will be missing the opportunity to go to his friend's birthday party. If they listen to you then it is well and good but if they do not listen and think that it is a just word of warning, do not really allow them to attend the programme. Let them realise this is their punishment for not listening to the warning.
Stop Talking to Them for Sometime
This is the best punishment to treat a misbehaving child. Stop all kinds of interactions with them for some time. Let them realise that their undisciplined behaviour is not at all appreciated and they need to be sober in order to start conversations with everybody.
Correct their Misdeeds
This is a good way to punish kids. If kids are found doing certain things in the wrong way, make them repeat the things in the right way. If for example they shut the door hard then the next time tell them to open and close the door slowly and in the proper way.
Make Them Do Some Chores at Home
To bring back an undisciplined children on the right track do not allow them to do their favourite things. Instead ask them to do some chores during that time as a punishment.
Writing
This punishment would be useful when children do something wrong regarding studies. Each wrong the thing should be written 50 times. This will help the child remember and will prevent him to commit the same mistakes over and over again. This punishment can also be exercised if children do something wrong, they have to write several time that they will not commit the same mistake again.
Make Them Write Tables
Writing math tables again and again is one the things which kids hate doing. If you find your child misbehaving you can ask him or her to write tables. In this way you can help your child learn tables at the same time prevent him or her from misbehaving. You can maintain a separate table's book to make your child write tables when he or she misbehaves. But this does not mean that your child should learn tables only when he or she misbehaves. Make learning tables a part of everyday studies as well.
Take away their cell phone and do not allow them to contact their friends. Even if their friends call do not let them talk to them. It will be embarrassing for them and soon they will apologize.So there are many ways by which children can be punished. It does not need to beat them or
yell
at them unnecessarily. Instead it is better to handle them tactfully. The above ways can be followed to teach your children the proper discipline.
Which are the constructive ways to discipline children? How can parents punish children without hitting or yelling at them? What are the benefits of punishing kids in a constructive way? Discuss here.