Tips for Building Self-reliance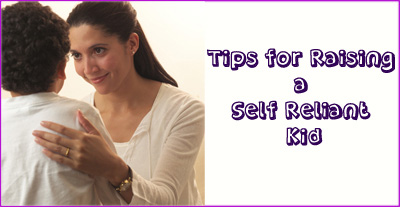 Teaching kids to be self reliant can help them in the long run. Kids learn to be responsible and independent if parent encourage them to be self reliant right from early childhood. They have the ability to take their own decisions by being self reliant. Here is how parents can inculcate self reliance in kids.
Self reliance is one of the important virtues which parents can help kids to imbibe. By being self reliant kids can handle any situation easily. Read on to learn about the dos and don'ts of building self reliance in kids.

The dos:
Parents can encourage their children

to be self-reliant in baby steps.

Children

can start by taking care of their daily routine like brushing their teeth, feeding themselves, tying their own laces, etc. as soon as they get the hang of it.




Children

should spend more time in free play when they can explore their own ideas and think for themselves.


When they are a little older, they can help with the chores like laying the table, watering the plants, etc.


If all goes well, they should be left to manage their own time when it comes to their academics and social life.

Parents

should only interfere if they feel their

children

are wandering off track.



Children

should be given responsibilities and held accountable if they do not fulfil their duties. This will give

children

a sense of importance and they will feel that their

parents

trust them to do the job.



Physical fitness and strength is an essential part of being competent and self-reliant.

Children

must be encouraged to do sport and other outdoor activity.


Allow

children

to set their own goals, unless you feel they are taking the easy way out and you know they are capable of much more.


Leave them alone for short periods of time so that they learn to entertain themselves.


Last, but not least, remember that you're not going to be around forever to hold your children's hands and protect them from all the pitfalls they might encounter in life. It is in their best interest to be self-reliant.

The don'ts:
If

children

want to try out something new,

parents

shouldn't hover around looking like they're waiting for disaster to strike or constantly giving them instructions about the 'right' way to go about things. Leave the

children

to their own devices, otherwise they'll grow up being scared of their own shadows.



Parents

shouldn't rush to their children's aid every time they come to them with a problem. Encourage them to think it out for themselves and if they're well and truly stuck, guide them to the answer. Avoid spoonfeeding your

children

. They'll never learn to think of themselves.


Don't set impossibly high standards for your

children

or load them with responsibilities they will find difficult to cope with. This could backfire and your

children

may feel that they are not capable of achieving anything.


Don't make your approval conditional on success. Praise them for their effort.


Don't label them 'stupid' if they haven't been able to handle responsibility or cope with a task assigned to them.
You may also be interested in: