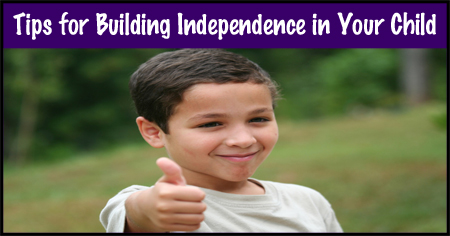 Inculcating sense of independence and self reliance in children during early childhood is important. It will help to prevent them from growing-up into lazy and irresponsible individuals. Read on to find some tips for building independence in your child right here.
Psychiatrist quote independence and self reliance to be two of the most desired qualities for professional and personal progress in life. Sadly most parents do not give enough importance to the necessity of
making kids independent
and end up crippling their children with over protectiveness. Still others are unsure about how to make kids independent. This guide will help you teach independence to your kids in the right way.
Talk to Your Kid about Independence
Getting your kid to desire being independent is one of the best things you could do as a parent. Your child must want to be independent and this can only happen if you start explaining its true meaning. Say things like "I am sorry I have treated you like a little kid when you are perfectly capable of handling big kid tasks". This will make your child feel grown-up and important and he or she will want to take on the tasks that you suggest.
Identify Suitable Chances
As a parent you have to be smart enough to figure out age appropriate tasks for your kids. There are many opportunities in daily life which can give your kid the chance in an independent way. Start off with small things like brushing teeth without mommy or daddy reminders, putting away toys after playing etc. graduate to things like packing own schoolbag, watering plants, helping wash fruits and vegetables etc. these tasks will gradually teach your kid to be independent as he or she will start feeling
confident
and efficient.
Avoid Overwhelming
Do not overwhelm your little one by putting too many things in line at the same time. For example, if you tell your toddler that he or she has to put away toys as well as help make the bed then it is bound to be overwhelming. Instead, list these two activities and ask your kid to choose the one that appeals the most to him or her. Giving your kid the power of choice can be a powerful motivator.
Take Out Time
Do not forget the fact that your kids are after all only kids and will require more time than you to finish their tasks independently. If brushing hair and brushing teeth takes 15 minutes more then start off the day at least 20 minutes earlier. Kids are bound to perform better when they feel that they are not being pushed or scrutinized minutely. Anyway performance is sure to improve when everyone is not racing against the clock.
Keep Negotiating on Compromises
Children being children, at some point they will start whining and complaining about the tasks that they are doing. It is important to avoid entering into a deadlock with your kids as this will antagonize them. Once when your kids express resistance in accomplishing a task then make a point of stepping in with offers of help. If you have two or more children then try turning the job into a sibling competition. The idea is get your kids interested by either making the task easier or more enjoyable.
Do Not Expect Perfection
Make sure that you understand that your children will not be able to execute tasks perfectly. If there is some problem, mistake, error then be graceful and kind enough to correct your kids without being judgemental or critical. With your positive
appreciation
and guidance your children will soon learn doing basic jobs on their own.It is important for parents to realize that
independence
is not something that children are going to learn overnight. Kids need to be guided slowly on this path under the patient supervision of their parents. Hopefully, these simple tips will help your child develop the much required qualities of independence and self reliance.
How to build independence in children? Why is it important to inculcate independence in children? What are the ways to deal with lazy and irresponsible children? Discuss here.