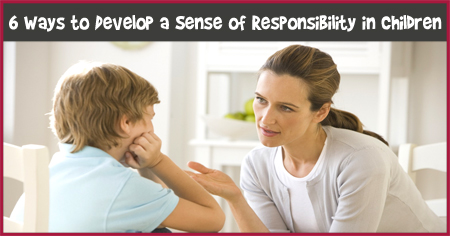 It is necessary to inculcate a sense of responsibility in children to raise them into successful individuals. Here are the 6 ways to develop a sense of responsibility in children which parents can follow.
Being responsible is universally agreed to be one of the most critical success factors in professional as well as personal sphere. Unfortunately
responsibility
cannot be learnt overnight and it takes a long time for kids to absorb this difficult yet beautiful habit. As always it is you, the parent who can teach your kids to be responsible and conscious towards their duties.
1. Start Early
You cannot suddenly scold your child for acting irresponsibly if you have not taught this skill right from the beginning. Start off teaching responsibility right from the toddler stage as this is one habit that is going to take time to take root. Give your 3 years old, simple jobs like washing apples before you cut them up for a snack. The earlier you start off the sooner you will be able to teach your kids to be responsible.
2. Involve Your Kids in Chores
Let your children help you freely in household chores. Kids generally do not think of housework as work. Smile at your little ones and invite them to share your work and they will be more than delighted. They may make your work longer but in the process you will be teaching them important things like teamwork, responsibility etc. sharing chores will also let your kid spend important
quality time
with you.
3. Guide your Children
It is important for a parent to understand kid's skill level and cater to it by assigning responsibilities that confirm to the skill level. For example, you can give your 5 year old the responsibility of watering the plants. First show your child where the watering jug is kept and then show how the plants are watered. Also explain the logic as to why plants need regular watering. Kids love doing parents tasks as it makes them feel more responsible and grown up.
4. Talk about Responsibility
Child psychiatrists often recommend parents to use the word "responsibility" in front of kids. Children who hear this word from an early age and learn to identify with it also quickly understand he different connotations of responsibility. When you give your kid's chores and tasks make sure that you tell your children that it is their "responsibility" to complete the given tasks. Children love hearing grown up words as it
makes them feel important
.
5. Be a Role Model
The best way your kids will learn to act responsibly is by observing you and the best person who can teach them the meaning of responsibility is you. Model responsible acts yourself by acting in appropriate manner at all times in front of your children. Say phrases like "I am going to put the dirty plates back into the sink from the table as it is my responsibility to do so after dinner". By observing your actions your children will slowly learn to be responsible and responsive to duties and obligations.
6. Compliment your Kids
The wonderful thing about children is that they tend to look at chores as wonderful new experiences. And the icing on the cake is that
kids love appreciation
so when you praise their work they tend to repeat those actions happily. Say things like "I love the way you put away your toys after playing. Now that is called acting responsible" or you could say "I like the way you have helped me in washing the fruits". Your
praise
and appreciation will go a long way in making your kids responsible.Now that you know these simple yet super effective tips, start applying them from today in order to make your children responsible and conscious of their duties and obligations.
Why is it necessary to develop a sense of responsibility in children? How to develop a sense of responsibility in children? What are the ways to deal with irresponsible and lazy children? Discuss here.