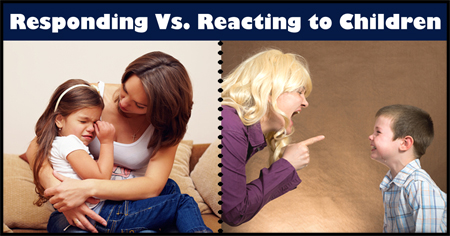 Reactions are quick and responses are thoughtful. Parents should choose wisely between whether they should react or respond to children. Read on to learn about facts related to responding and reacting to kids.
Everyone strives to have positive relationship with their children. It is important you respond to situations instead of reacting to them. This is not easy.Every parent wants to respond to their kids' activities. It is easier said than done. As a parent it is very important you understand the difference between responding and reacting to your children. If your child spills milk, breaks a glass or throws
tantrums
, the way you behave gives you results accordingly.
Reacting - What Is It?
Reactions are triggered by emotions and when you react to your child's act, your emotionally charged reply meets with your child's emotionally charged
behaviour
. For example, if your child is yelling, you yell out to make her stop. If children are screaming and having tantrum, you work hard to quiet them.If something causes you to emotionally response, you should need to recognize that emotion, pause, take a deep breath and then think. Remember, if your child is yelling,
yelling
back will only make things worse.
Responding - What Is It?
Responding gives your child the permission and guts to express their feelings and all kinds of emotions she is going through. Since your child is upset, this means something is not fair. It is okay to let kids be frustrated for few minutes and express empathy. Sometimes you do not even need to fix the problem.If you add reason to your response, you will be able to understand your child's feelings and thoughts in a better way. For example, if your child spills milk – your reaction would be "How careless you are" or "How could you be so careless". But, if you pause and say, "I can see that you accidently spilled milk. Let us take the sponge and clean the floor together". This would be responding to your child's act and is not going to hurt your child's feelings.
Why Responding Matters?
When you respond to
negative behaviour
, you let your child express her emotions. If the emotion is met with anger, she will fear to express frustrations or to make
mistakes
in future. Your children will look at you for help by understanding their feelings and thoughts and will not shy away from your guidance.
How to Learn to Respond
The main steps of responding are mindfulness and pause.
Mindfulness
This means being aware of yourself or watching yourself when something happens which might trigger any kind of emotional reaction from you. This will help you pay attention to how your mind reacts to situations.Remember, you do not have to act when you are having an internal reaction. Let the urge to act rise irrationally and then let it go. If you find it difficult, take yourself away from the situation and calm yourself down.
Pause
When you will pause and take a deep breath, you will watch the reaction go away. Now, think about an intelligent and compassionate response for the situation. Think about how you can strengthen your relationship, build a better team, make the situation better and calm down everyone including you.Give yourself some time and do not expect an overnight change in yourself. If you were not able to manage first time, think about what triggered your emotions even during the pause time. Work on that and things will get improved next time.Parenting is difficult. You meet different types of challenges every day. If you are able to take time and sort through your emotions and respond to your child's action, you will be able to create positive environment so that emotions get shared and celebrated openly in your home.
What is the difference between reacting and responding? Is it good to react harshly to what children do? What are the benefits of responding thoughtfully to children? Discuss here.