Manners and Discipline Topics..
6 Misbehaviours You Shouldn't Overlook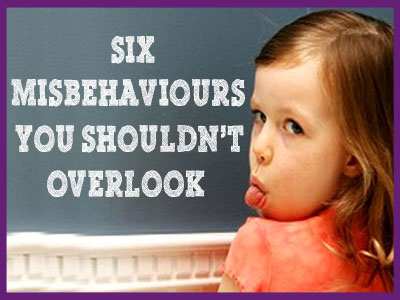 Ill-disciplined children can be very difficult to handle. Small misconducts, if left uncorrected, can lead to bad behaviour which then becomes extremely difficult to handle. Parents can nip misbehaviour in the bud by not ignoring small misconduct. Read on to know which misbehaviours should be corrected and how.
The truth is that good behaviour in kids does not come magically. You have to work on it, convince and persuade your kids to follow good manners and at the same time ensure that you don't overlook their misbehaviour. Do not ignore things just to be good in your child's eyes. Also, you need to have positive relationship with your child if you want to help him know what exactly is not acceptable from him.
The following are the 6 misbehaviours common in young kids. Ignoring them can lead to the level of misbehaviour ascending. Read to know how you should deal with their misbehaviour:
Interrupting your conversations –

Some children do this just because they do not like their parents talking to someone else, some do it to get their parents' attention while some have something exciting to tell immediately. Well, no matter what the reason is, you have to teach your child to wait and then talk to you when you are free. This will help him do not get frustrated easily. What you should do – You need to teach your child to sit quietly prior to your friend's visit or prior to making a call. You can ask him to play with his toy until you are finished. If your child interrupts you in between your conversation, you can stair and direct him to sit on a chair. There is no need to scold him afterwards, but tell him strictly that he will not get what he wanted if he repeated this behaviour.

Playing violently –

Do not allow any violent behaviour of your child during his playtime. Let him know that if he hurts his playmate, he should first feel how it would hurt if he hit him. You will have to keep an eye on him for some time. What you should do – Stop him on the spot. You can take your child to a side and tell him how it would feel if he was hit in the same way. You can also remind him when next time he goes to play with another kid.

Pretending behaviour –

Kids often pretend that they are not listening to you when they do not want to do something you want them to do or vice-versa. If you need to repeat yourself five to six times before your child grudgingly does as he is told, your authority over your child is diminished. If you ignore this behaviour your child can turn out disobedient. What you should do – Ask your child to look at you and respond when you ask him to do anything. Do not allow him to get away with ignoring your requests. Insist that he answer you each time you request him to do something. Employ punishments of some sort to prevent it from happening again.

Taking things without asking –

If you allow your 2 year old child to open the box of cookies and take as much he wants whenever he wants it, he will learn to do what he wants without asking or informing you about it. Before you know it, he will go anywhere he wants without telling you as he grows up. What you should do – Make some house rules and let your children know about them in proper detail. Make sure he asks or informs you before doing such things.

Attitude –

Even preschoolers show attitude which parents often ignore thinking that it will go by passing time. But this leads to children facing a hard time in making friends and getting along with teachers. What you should do – Make your child understand that you do not like his behaviour in specific condition. If it continues, you can walk away after explaining that his behaviour will not be tolerated, and that you will come back and/or listen to him only when he adjusts his attitude.

Exaggerating the truth –

Do not allow your child to lie whether it is to make him look better or to avoid doing a task that he does not like.What you should do – Sit with your child and let him know that if he lies, no one will ever believe him. Tell him the story of the boy who cried "Wolf, Wolf" and what happened to him to explain the negative effects of lying.
Taking care in communicating the repercussions of his behaviour is of utmost importance whilst dealing with a growing child who is eager to push against the boundaries of discipline you enforce upon him.
When does your child misbehave? How do you react when your child misbehaves? What misbehaviours should deal with very seriously? Discuss here.
You may also be interested in:
Back to Previous Page | More on Manners and Discipline Index