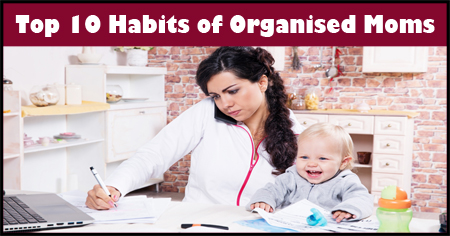 Being organised can help moms to prevent a lot of hassles taking place while carrying out daily chores. Read on to learn more about the things all organised moms do.

No, to all the curious minds out there, there is no 'Mom Code of Law' or handbook or guide when you are a mom. Especially, not when you are an
organised mom
. But then again, all moms are superwomen and very organised for the most part. In other words, there is no such thing as an unorganised mom. Here is a list of ten things that all moms do.
Here are ten things that every Indian mother does and it is sure relatable and feelings are mutual.

1. Housekeeping
Housekeeping skills on point, ladies? Yes. If there is one thing that moms can do, it is keeping their homes the way they want them and never failing to do so, no matter what. Come what may, a mother never takes a day off to do this. Having every corner of her home personalised by her touch is a must.
The very basics are all covered by a one-man mom army. From washing clothes or doing laundry every day to drying them out, folding them and putting them away in different cupboards,
mom
has it covered. You ensure that everything in your wardrobe is clean, fresh and ironed. Anything else is more than mildly unacceptable.

2. Early Morning Ritual
Every day begins with the early morning ritual. This is inclusive of
keeping yourself calm
and fresh and then preparing breakfast according to individual family members likes. Then you prepare yourself for work and wake the children up for school and hand them their lunch, wait for them to finish their breakfast and drop them off to the bus stop or directly to school.
If you are a
housewife
, you would probably drop them off and return home to a house full of pending work. Lunch to be cooked, chores to be done that take the entire day, slaving over a hot stove and still managing to get time off, to read the news or watch the favourite serial on T.V. to sum it all up.

3. Keeping A Note
Noting down on the calendar, on your mobile phone, a notepad or diary, the dates of upcoming events, due dates for payments, carpool or bus for the children's daily travel, appointments, bills, school fees, etc. This helps you keep track on how much you are spending, what needs to be done for the day, week or month and you manage the housing finance accordingly.

4. Cleanliness
Changing bed linen, pillow or sofa covers, curtains and having them washed every week is mandatory. There is no two ways about it with the organised mom squad. Cleanliness is a must. It aids the mind in not slacking when there's so much to be done.

5. Promptness
Organised moms have the gift of super speed with the completion of tasks being met almost instantaneously because their plates are always full. There is never a sit down moment.

6. Time Management
Time management is commendable. They are diligent workers that have their own hacks and secrets on how to get the job done easily and effectively. Organised moms work smartly. They time each task with accuracy. Nothing is done half-heartedly.

7. Patience
Organised moms are always taking on a full power work load that is usually very intensive. Not just at the office but even at home. Being a mom is a 24 hour job with absolutely no breaks. You are always on call and know your endurance is phenomenal.

8. Proactive
Working even on holidays is a thing with organised moms, so that there is no back dated work.

9. Discipline
The policy of early to bed and early to rise is a practice that cannot be broken.
10. Being Prepared
Evening preparation for the next day is a necessity.
So, that is all for ten things that all organised moms do. We cannot deny how true all of these are. There are no breaks on organised moms and if there is anyone who teaches us professionalism first hand, it is an organised mom.
What are the challenges faced by moms while handling the daily chores? How to be an organised mom? What are the benefits of being organised for moms? Discuss here.