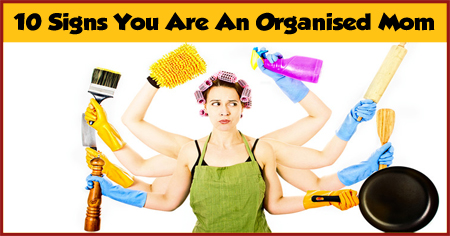 Being organised can help moms to walk the fine line of parenting with an ease. It is one of the important qualities which all moms should try to imbibe in order to raise happy and well balanced kids. Read on to learn more about the 10 signs of organised moms.

To all the mothers out there who probably do not admit it and over-work themselves endlessly on a regular basis and take no credit for it – you are highly functional! And let us face it... a home without you would be absolute chaos! So without further ado, here are 10 signs that you are an organised mom.
All mothers love the role they play as home makers and take great pride in it. With all the weight of the family resting on their shoulders,
mothers
may sometimes feel doubtful on what a wonderful job they are doing or feel like they are not doing enough to be balanced because they are so consumed in the stress of running a household. These ten points prove otherwise. So how do you know that you are an organised mom?
1. Time Management
This is totally your domain and you know it. You know exactly what to do when and the exact amount of time you should devote to each task.
2. Work Ethic
You do everything yourself because you want perfection and need to feel the familiarity of your work ethic.
3. You Have an Amazing Body Alarm

You wake up before anyone else and begin morning preparation by 6 a.m. every day or even before that without fail.
4. Schedule Is All
You are the boss of your own life and having everything ticked off of your daily check list means, it gives you solitude.
5. You Have Incredible Memory

You are so aware of your surroundings - when bills have to be paid, the upcoming parent-teacher conference, the fridge not having milk in it, birthdays, etc. You remember them all.
6. You Cannot Say "No" to Chores

Your life revolves around work and you hate things to be pending. Sitting idle is a no-no however much tired you might feel.
7. Multitasking
If there is anyone who can multitask like a pro, let us face it – it is you! A mother is an expert at handling several things at the same time and doing it quickly. You do not give yourself the credit that you deserve for this but it is a fact.
If you can balance out tutoring your children while flipping
Rotis
and keeping in mind the meeting you have to attend tomorrow, you are doing it right. Organised
moms
have the amazing capability to manage their jobs and house work at the same time and never compromise on the quality of either of these.
8. You Are Obsessive About Being Organised
You can be a complete control freak sometimes and are in denial of it but there is a low key acceptance. You hate seeing things out of place, dirty or untidy. A bed that is not made could result in all hell breaking loose because it is like an eye sore for you.
You may sometimes colour co-ordinate or put things in order according to size or date. Especially, if its work from the office. Chances are; you even maintain a planner or diary to stay on top of it all.
9. You Are a Neatness Freak

Okay, its confession time. Even a sock on the floor or a dog ear fold on the page of a book or an untidy kitchen space that prevents you from cutting your Sabji in peace because you feel the urge to clean up first, means you are a neatness freak.
This, however, is not a bad thing! It just means you like clarity of mind when you work and expect that
family
members should also contribute to your organised mannerism. There is nothing wrong in wanting your children to be
responsible
adults like their mother.
10. You Know It

You have the super human ability to somehow always know where everything is no matter how untidy the house is. Your children could be searching the house for hours but you spend five minutes in finding things.
If you are still not convinced that you are impeccable in organisation, you are so wrong. Organised moms do it all. Being an organised mom is a tough job and it takes a lot of skills and devotion. Only a mother would understand what goes into this tediousness. So give yourself a pat on the back for your super skills.
Why is it important for moms to be organised? What are the characteristics of organised mothers? How can moms learn to be organised? Discuss here.