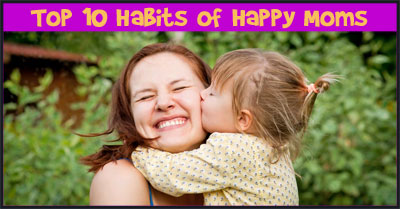 It is very important for moms to be happy and have good and healthy parenting habits to raise healthy and happy kids. Here are the top 10 habits of happy moms.
Most moms feel that no matter what and how much they do, they are not able to please everyone. Well, if you want to know and be a happy mom if you follow certain habits.
Majority of women forget about themselves and do not even take care about their health and happiness once they become mom. However, it is not difficult to keep the love flowing and be happy, if you keep few things in mind. For this, you need to know about some of the habits that can help you stay happy even if you are a mom. Remember, only a happy mom can keep her kids happy and contented.
Habits of Happy Moms
Have a quick look at the top 10 habits of happy moms.
1. Cuddle, Hug and Kiss your Kids
Now they are very young and so you should not miss any chance of cuddling, hugging or kissing your child. This will automatically get reduced when they will grow up. Do not miss any chance because this will make you feel happy and contented as well.
2. Spend Time Separately with Each Kid
Try to separate your kids and enjoy spending time with each one individually. With no sibling fight and no interruption, you and your child will have good time together. It is, in fact, good for both of you.
3. Spend Some Time with your Husband
Take some time out and think when was the last time you spent some quality time with your husband. May be it was before you became a mom or may be even before you were pregnant. Well, this is not healthy for your relationship and it may harm your happiness in the long run. You can have your husband hanging around and help you in some household chores so that work gets completed easily and quickly and you both have some time for each other.
4. Eat and Sleep Well
Being a mom means excessively busy. So, it is very important you take care of your mind and body properly. Eat well-balanced meals and never skip breakfast even if you find yourself slightly overweight. Always keep in mind that good and sound sleep is also equally important as proper food. Make sure you get enough sleep so that you feel fresh another day.
5. Exercise Regularly
Exercise will not only help you get back in shape, but also get you freshness. If possible exercise in an open space so that you get some fresh air as well. It will make you feel good and also self-indulgent.
6. Get Some Me-Time
Many moms feel guilty if they leave their child with another person to have some fun and relaxation. Just keep in mind that it is very important to cut out time away from your kids. In fact, this will energize you and make you feel good spending time and carrying responsibilities related to your child and family.
7. Let Others Help You
Even if you think that you can handle all things singlehandedly, it is good to take some help from family and friends time and again. This will help you have a chance to go out with your husband on Friday night or take a trip out of the town on weekend. You simply need to say "please" and trust the person completely.
8. Get Some Fresh Air and Sunlight
Having the whole and sole responsibility of your child and family can make you overwhelmed often. Pause and think when you had gone out in the fresh air last. Take some time out and get sunlight. Spend some time in the lap of Mother Nature. They are known to be mood enhancers and you are definitely going to get benefited.
9. Feel Contented with What You Have
This is one of the biggest and easiest of mantras to be a happy mom. Do not compare your child or anything related to her with other kids. Let your child develop her own talents and perceive her own interests to grow and progress in life. If you want to be a happy mom, you should not compare your child or make her compete just because you want to prove something in front of your society.
10. Have a Little Fun in Life
Happy moms take time out and go for a haircut or a facial or pamper themselves by buying gift or flowers. The fundamental thing is that you should love yourself and do at least one thing daily to stay happy.
In addition to the above tips, all parents want to do their best for their children. In order to do right, sometimes they lose temper or bribe their kids with candy at times. It's okay to do something wrong occasionally. Forgive and forget those moments because they are only going to make you unhappy and lose the chance of being happy at present.
If something happened that you think was not right, let it go. Sometimes you can even hangout with your friends and giggle and behave like school girls. It will make you feel good and refreshed, for sure. Remember, you are a person apart from being a mom and you deserve to be happy.

Why is it important for moms to be happy? Which habits should be followed by every mom? How can busy moms take care of themselves? Discuss here.