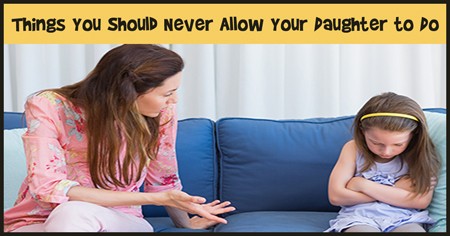 Even though you have always thought that sons and daughters are to be treated equally, there are some things that you should never allow your daughter to do to save her from pervert minded people. Read on to learn about them and how to make your daughter stronger.

When you are raising a daughter, you must remember that she need to be treated in a different way and this does not mean that you have to deprive your daughters from anything. Instead, your steps of not allowing her do specific things will make her understand the difference between right and wrong and also save her from unforeseen events.
Things Daughters Should Not be Allowed to Do
Here are few things which you should never allow your daughter to do.
1. To Feel Bad of Being Woman
A Woman makes everything complete. This world is incomplete without women. A woman plays multiple roles and always takes care of her family. So, do not allow your daughter to feel sorry about being a
girl
especially when she thinks she or her doings have not been respected.
2. To Let Her Hide Her Feelings
Girls are by nature going to hide things from parents. Make your
bonding
strong so that she shares her feelings with you. This will help you understand what and how your daughter takes things in her life.
3. To Text, Mail or Show Revealing Photos
Make it clear to your daughter that wearing revealing dresses or showing them to others will only lead her to trouble. Make her understand that smartness helps achieve substantial success in life. Wearing short and revealing dresses will only make her land-up in trouble. Instead make her understand the importance of dressing up appropriately.
4. To Be Confuse About What The Word 'Strong' Means
When girls are said to be
strong
, they think they should not cry and become physically strong. Let your daughter understand that a truly strong woman is completely aware of her multitudes and she is not afraid to see the soft in the tough. Make sure that you train her to be
safe
.
5. To Scarify Her Dream Just Because She is a Girl
There are certain areas where only boys are expected to excel. However, today girls have excelled in every walk of life. If your
daughter
is good at something that suits boys, do not force her to let that go. Being a champion is hard, but it is important to value the magnificence.
6. To Accept Any Decision Forcefully
Daughters usually compromise with lot of things considering their parents' decision or will. Do not allow your daughter to say 'yes' to everything. Teach her to always be fair and support truth. If she does not feel comfortable doing something or simply does not want to do, she should say 'no'.
7. To Be Dependent On Anyone
Girls are trained to depend on men right from the time they have sense in life. Teach your daughter the importance of financial independence. Educate her so that she can earn for herself. If your daughter wants to remain single, do not force her to get married. When she is financially independent let her decide when and whom she should get married to.
8. To Wear Skin Revealing Dresses in Public
Explain to your daughter the significance of dressing decently. Smartness is not that comes by showing your skin, but showing your intelligence and skill.
9. To Pity Herself
No matter how different or weird your daughter feels she is, do not let her feel ashamed of herself. Let her understand that she is loved unconditionally by you.
10. To Become Sensitive to How People React to Her
Girls get overwhelmed when other people react to their looks or attitude. Explain to your daughter that how appealing you are to others is not the measure of your worth as a person.
Above all, be a role model for your daughter and always be available for support and advice.
Is it necessary to forbid daughters from doing certain things? Why is it necessary to forbid daughters from doing certain things? How to raise a daughter? Discuss here.