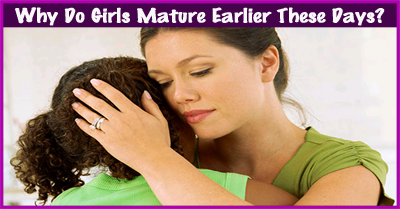 Early puberty is one of the biggest concerns of parents these days. Many parents are worried as girls are maturing earlier nowadays. Read on to learn about the common cause of early puberty and find tips for dealing with early puberty in children, mainly in girls.
A common trend that is been widely seen among growing young children is early puberty. Girls earlier entered puberty at the age of 15 or more. Now, girls are entering the age of puberty at the age of 7, 8 and 9. Studies have shown that
girls
are maturing at an alarming rate.
There could few reasons behind this change in the young bodies. There are studies that indicate distinct factors for such a change. There could be environmental reasons,
obesity
, and changing trends in lifestyle.
Signs of Early Maturity
The early signs of
puberty
in girls are development of breasts, growth of pubic hair and underarm hair. There is likelihood of girls developing a change in their mental development with the beginning of menstruation.
Effects of Early Puberty
Early maturity in girls has become a matter of concern for parents and its impact on health in the later years should not be ignored. There are both mental and physical aspects that have an impact due to early puberty.
Studies show that early puberty may accelerate aging, increase the risks of uterine and breast cancer. Entering puberty at an early age increases the levels of female hormone estrogen. Emotionally, the body is too young to match the physical development. This can also create conflicts in the mind leading to
depression
and stress. There are chances of young girls to engage themselves in underage sex. There will be a gap between the emotional and psychological levels and their developing body.
Causes of Early Puberty
Various studies regarding early puberty point to certain factors that become reasons for early puberty. Not only girls, but boys too are seen to enter puberty at an early age. Some of the factors are discussed below:-
Environmental Exposure
Researchers have found that there are possibilities for certain chemicals, not necessarily unnatural to affect the normal hormone growth. Bisphenol A or BPA has caught the attention of many researchers, which is a petro chemically derived ingredient in polycarbonate plastic. This acts as a medium for exposure to many estrogen-mimics.
Obesity
Obesity exposes girls to more estrogen through the fat tissue that store and produce them. Girls tend to have higher levels of the leptin hormone that cause early puberty and increases the estrogen levels.
Stress and Physical Inactivity
Stress too has been indicative for early maturity. Some reasons for
stress
may be due to problems within the family. Physically active body maintains the body, both physically and mentally. There ought to be more concrete reasons to prove such causes for early maturity in girls.
Vitamin D Deficiency
Vitamin D deficiency has also been considered to be reason for early puberty. Such a deficiency in the human body increases the chances of risks for heart diseases and cancer.
Other Reasons
Certain studies have also considered the change in lifestyle and food habits of young generation. Baby food formula also contains potential negative hormonal effects. This is based on the research on meat and dairy products which are animal products that are injected with hormones and antibiotics.
Tips for Parents to Deal with Early Puberty
Parents should be aware and alert in learning and observing changes in their children. Behavioural patterns accompanied by physical changes may reveal the transition of your child to adolescence. During such a phase your child will need your support and guidance. With the many conflicts and questions in her mind your child will find it hard to seek answers or go about her way.
Being aware of the causes for early maturity in girls, parents should bring in changes that relate to puberty at the apt time. There is every possibility to avoid causes for obesity, environmental exposure, physical inactivity, deficiencies, etc.
At what age should children ideally enter puberty? What are the causes of early puberty in children? Why do girls mature earlier than boys? Discuss here.