Raising Children Topics..
Getting Lost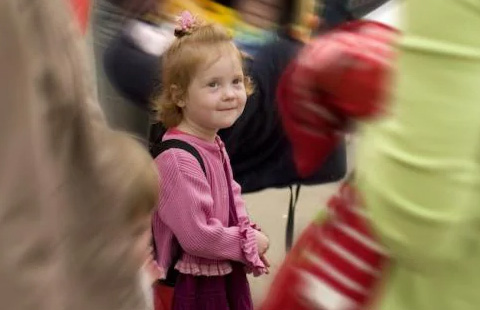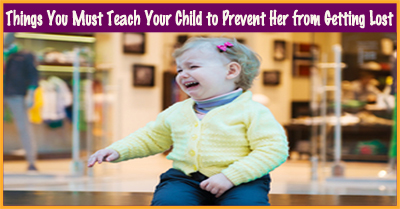 A child separated from her mother is very traumatic experience for her. A child can easily get lost in a crowded place or a mall when parents are busy browsing things. Teach your child what should be done when she finds herself in such situations. Learn more about the things you must teach your child to prevent her from getting lost.
One of the most frightening experiences for a child is going to a store with his mother, and getting lost. It happens all the time, and many of us have vivid memories of going through the same thing ourselves. Yet, even though we know that getting separated from your child is something that can very easily happen, we are so unprepared for it and readily rely on the goodwill of strangers to console our crying child until we are reunited with him.

The next time you take your child out with you, play by a few rules, and make sure your child understands them.

Although you may think it is a good idea for your child to have a name tag, experts say this is not advisable, because your children are likely to trust a stranger who knows his name.

Point out a spot where your child should go and wait for you in the event that you do get separated. One of the best meeting spots is the cash register, because it is where the staff will always be situated. In addition, you don't have to change the meeting stop at every shop - meeting at the cash register can be a standard rule, no matter which shop you are at.

If the shop has various cash registers in various locations, don't make things complicated for your child. Just ask him to wait at the cash register closest to him, or the first one he sees. After that, it is up to you to find him.

If you go with your child to any other crowded place, be sure to point out the security and other staff, who your child can approach for help. The staff should be in uniform, so point out the uniform, identify the colour of the shirt, the pants, the hat, so the information sinks in.

The minute you realize that your child is missing, notify a member of staff. He would be familiar with the floor plan of the shop, and would know where the exits are. He would also be able to immediately block the exits so no children leave. The staff can then make an announcement over the PA system, and notify other staff members to keep a lookout for your child.

Make sure that your child knows that if he approaches someone for help, in no circumstances must he leave the store or step outdoors.

Your child should know that you should always be within his eye range, and the minute he looks around and realizes that he cannot see you, it is okay for him to yell out for you.

If you, as a parent, know that you are in a situation where you cannot pay full attention to your child, and if your child is too young to figure out things for himself, for example, if he is too young to be able to find his way to the cash register, make other arrangements. It is all too easy for your child to wander off while you are busy trying to find those incredible trousers in your size. If you are on a shopping trip with your child, keep your trip as brief as possible. Leave lengthy browsing for when your child is not with you.
You may also be interested in:
#ContestAlert
(45214 views)
Back to Previous Page | More on Raising Children Index
Discussion Forum - Recent Posts
Has your child ever gotten himself lost? What measures can parents take to prevent this? Have you taught your child about things he can do to get back home?

view more >>
DISCUSSION FORUMS ON
Articles
RE:Lessons From Children
hello editor,
sometimes its right, and sometimes its wrong also, childre ... - anudas read >>

RE:Lessons From Children
hello editor,
the adult definitely learn lots of things from kids, and n ... - ajinkya read >>

RE:Lessons From Children
hello editor,
kids are very innocent and they dont know who is smart per ... - niraja read >>

RE:Lessons From Children
hello editor,
sometimes its right to say we adult learn from childrens a ... - umesh read >>