Raising Children Topics..
Laugh 'Till You Drop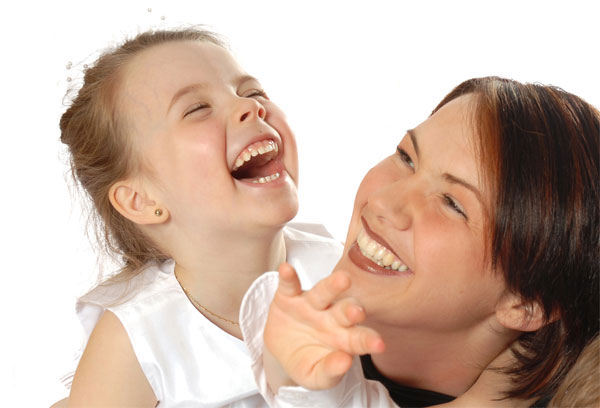 It is said that a smile increases our face value. How true! All of us like to see a cheerful person. A sense of humour helps us bond with our

children

. In addition, according to research, laughing boosts the body's immune system and is a great healer. Each genuine belly laugh releases positive chemicals into our blood stream and reduces stress to a great extent.
Children

should
be encouraged
to look at the

funny

side of everything. They have a natural inclination to act little crazy and have fun. Unknowingly, we try to stop this behaviour, when we should be encouraging it!
Here are some ways to increase laughter in our lives.
Play games with your children
A game of "hide and seek", " I spied you" or "Blindman's buff' is thoroughly enjoyable. Even when you don't have time to play, just hiding under the dining table or behind the kitchen door when they come looking for you is sure to evoke peels of laughter. Have you ever noticed that even infants like to be tickled? You can challenge your children to make you laugh while having a straight face.

Buy joke books
There are some very simple joke books available for children. Check them out. Tales of wit have come down through centuries like the stories of "Akbar and Birbal" and "Tenali Raman". Subscribe for comics like "Archies" and read them with your children. "Tom and Jerry" CDs are a great hit even among the elderly. Share appropriate cartoons with children from the newspapers. Make up short limericks and share jokes with them. Funny anecdotes can be repeated over and over again.

Visit the Circus
If there is a circus show going on in your city, make it a point to take your children at least once.

Join a Humour Club
Humour Club has branches throughout the world. For a very nominal fee anyone can become a member in the club. The Humour Club conducts meetings once a month. It also encourages members to tell jokes. Children who are shy benefit from the Club, since they are often asked to contribute jokes. Usually kids are given a small prize for their efforts. This boosts their self-confidence.

Put funny pictures on the wall
Get lots of funny face stickers and put them on the refrigerator, car and even in your child's pencil boxes. These create a light and fun atmosphere.
A person who is optimistic and cheerful and who can at laugh at himself is the one who is popular and is liked by everyone. It is said that the next best thing to solving a problem is to find some humour in it. The Bible says, "A merry heart has a continual feast". Reinhold Niebuhr says, "Humour is a prelude to faith and laughter is the beginning of prayer". The astounding success of the "Oprah Show" has been attributed to her timely humour. Great comedians like Charlie Chaplin are loved by one and all.

Everyone's life has ups and downs. A sense of humour will help ease the jolts. Tricky situations and intensely personal questions can be handled with a touch of humour.

Go ahead and laugh your head off!
You may also be interested in:
#ContestAlert
(45214 views)
Back to Previous Page | More on Raising Children Index
Discussion Forum - Recent Posts
Does your child have a sense of humour? Does he enjoy laughing a lot? Do you and your child find a lot of reasons to laugh together?

view more >>
DISCUSSION FORUMS ON
Articles
RE:Lessons From Children
hello editor,
sometimes its right, and sometimes its wrong also, childre ... - anudas read >>

RE:Lessons From Children
hello editor,
the adult definitely learn lots of things from kids, and n ... - ajinkya read >>

RE:Lessons From Children
hello editor,
kids are very innocent and they dont know who is smart per ... - niraja read >>

RE:Lessons From Children
hello editor,
sometimes its right to say we adult learn from childrens a ... - umesh read >>