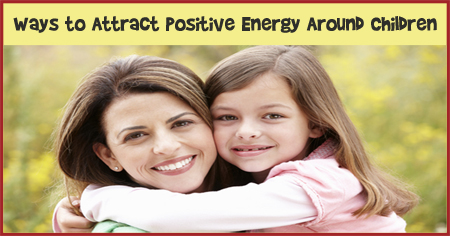 Positive vibes help children to grow-up into healthy, happy and well balanced individuals. Have a quick look at some tips for attracting positive energy around your children.

Positive Energy or Chi as it is called in Feng Shui is responsible for attracting good fortune, positive events and wish fulfilment in life. As a parent it is perfectly natural that you would want your kids to have the best that life can offer them. With a little effort and by following some simple tricks you will be able to attract
positive energy
in the life of your children.
De-Clutter

Positive energy is negatively affected by clutter and congestion. If you want to fill your kid's lives with positive energy then your first job should be to remove all clutter from your home. Set up a weekly de-cluttering day in which you throw, give or recycle all unnecessary and unwanted stuff that keeps piling up at home. If your kids are too young to clean up after themselves then make sure that you do this for them. The best thing is that your kids will learn the skill of neatness from you.
Music

Music is one of the best therapeutic forces in the world and it has an immensely positive effect on the mind as well as body. According to research; listening to
music
can reduce
stress
, frustration and the negative forces of the mind. Listening to the right kind of music can also increase concentration, focus and physical well being. Make sure that your children develop a taste for listening to fine musical compositions by Masters like Beethoven and Mozart as this will help fill their lives with positive energy.
Gardening

Being around living growing things has a very positive regenerative effect on the minds of children. It has been scientifically proved that children who were exposed to activities like gardening from their early years develop a more humane and kind approach as adults.
Gardening teaches kids the skill and
patience
needed to nurture life and watching plants and herbs grow soothes their mind. Gardening will also wean your kids away from detrimental activities like too many video games and unsuitable TV content.
Practice Gratitude

Gratitude brings about a happy content feeling in the mind and this in turn attracts positive energy. Teach your kids the art of gratefulness and they are sure to mature into healthy content adults.
You need to sit down with you children once a week and list down all the things that you are grateful about. Then ask your kids to make their own lists and read them aloud. This activity will immediately generate a positive vibe in the minds of your children as they realise the many things that are blessed with.
Shed All Negative Thoughts

Anger, resentment, jealousy and the desire to control others are just some of the negative forces that suck away the positive energy out of your kid's lives. You need to teach your children to let go off their negative feelings so that more space is available for the positive energy to work its wonders.
Negative thoughts are difficult to eradicate completely so what you can do is to teach your kids to counsel themselves by self motivation whenever their minds are hit by negative urges.
Spread Love

Love is the antidote to all negative elements. Spread love throughout your home by warm and friendly conversation, hugs and kisses and verbal demonstration of your love as a family unit.
The knowledge that parents love them and dote on them can be the biggest support for a child. A mind which receives and acknowledges love will automatically shed off its negativity to morph into a positive and happy frame.
Now that you know the secrets of attracting positive energy make sure that you try them out at the earliest.

Why is it necessary to attract positive energy around children? Which activities can help to attract positive energy around children? What are the effects of negative vibes on children? Discuss here.