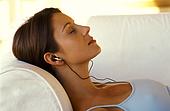 Down in the dumps? Instead of turning to smoking, drugs or alcohol, turn on the radio - and teach your kids to do the same.
Natasha was fairly prone to depression, and would get upset often. One day when she was feeling miserable for no apparent reason, she turned on the radio. To her surprise, they played an old favourite of her - Lots of Chocolate For Me To Eat, from the classic My Fair Lady. "I heard that song again after almost 20 years!" she said. By the time the next song started, Natasha realized that she was feeling much better. She then decided to burn a CD of her all-time-favourite 'happy' songs, as she calls them. Now every time she feels a little down, she just listens to her happy music, and feels better almost instantly. "It never fails!" she exclaims. Over the years she has added to her collection of 'happy music', and feels that her music ranks amongst her most precious possessions.
The next time you feel depressed, turn on some light, classical or whatever music makes you feel good. You will feel your mood lift instantly. The best music to achieve this is generally music you are familiar with, and with which happy memories are associated. Many people enjoy old, joyous tunes that bring back memories of their childhood.
Old English musicals generally have exceptionally uplifting music. Think back to movies like The Sound of Music, My Fair Lady, Singing in the Rain and so on. Listening to soundtracks from movies such as these is sure to make you feel better instantly. So if you don't have old, happy music in your collection, make sure you build on it.
Different people have different ways of coping with depression or unhappiness. Some light a cigarette, some turn to alcohol or drugs, while others deal with it more constructively - by exercising, listening to music and so on. Teach your children that ups and downs are a natural part of life, and teach them to opt for constructive ways of dealing with their lows.
Listening to sad, depressing tracks will not make you feel happier, but it will make you feel better about wallowing in misery. Anyone who has been through heartache knows that listening to other people sing about their own heartbreak brings about an instant sense of empathy. Once again, this will not lift your mood - it will just bring about a heightened sense of awareness of your own feelings. You are entitled to feel bad after a breakup, and it is but natural that it will be some time before you completely recover. So if you want to indulge yourself by listening to sad, depressing music for a few days, go ahead and do whatever it takes to make you feel better. Initially, listening to sad music can make you feel better as you feel as though someone out there knows exactly how you feel and has been through the same things as you have. However, do this for an extended period of time, and you will only hamper your recovery. Give yourself a few days to grieve, and then make a conscious effort to move on. One of the ways you could do this is by switching over to happy music.
Not many of us understand or appreciate the true power of music - and the impact it can have on us. Those who can play a musical instrument swear that nothing relaxes them as much as strumming out a tune every now and again. And if you cannot play an instrument, be thankful that you can listen to one, and make the most of what the wonderful world of music has to offer.