Paschimottanasana is one of the most difficult yoga asanas which can help to improve human health to a greater extent. This asana is great help to diabetes patients and have numerous other benefits too.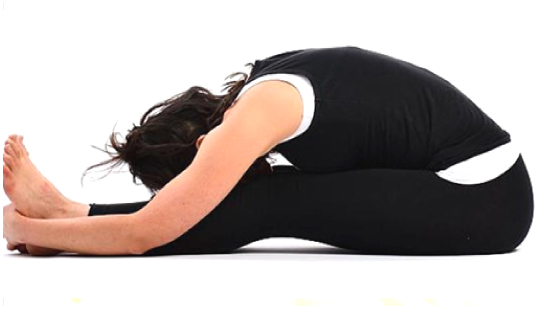 Paschimottanasana asana looks simple, but is in fact one of the most difficult asanas to do. This asana is also known as Seated Forward Bend, or Intense Dorsal Stretch. This is one of the classic Hatha Yoga asana. It helps to work out the entire body. It improves flexibility of body and helps in managing disorders like high blood pressure and diabetes. It is very good for strengthening back and spine. Its name is based on the word 'Paschim' in Sanskrit which means West direction. This is so because the front of human body is referred as East and back is referred as West. This asana particularly focuses on the back side of the body and so it is named as Paschimottanasana. Let us now take a look at the way in which this asana is practiced.

Method

1. Sit on a mat with your legs stretched straight out in front of you.
2. Breathe OUT. Slowly bend forward, trying to touch your feet. Don't bend your knees.
3. If you feel a constriction while bending, straighten up slightly and then try and bend further forward.
4. Don't push yourself too hard. You may not be able to get very far if you are a beginner. Don't get impatient and push yourself too hard. You will only injure your muscles. Just bend forward as far as you can go.
5. It is important that you hold this pose. There is no point in just bouncing back and forth.
6. Exhale, while returning to normal position.
Things to Remember

Do this
yoga
asana on an empty stomach. Make sure that you empty your bowels as well before doing this asana. In case if you are having your meals ensure that there is a gap of at least four to six hours between the meals and yoga practice. It will help you to have enough of energy to practice this asana as the food will get properly digested. Preferably all yoga asanas including this asana should be practiced in the morning but if that is not possible it can be practiced in evening also. If you have any health problem, you must consult your doctor before practising this yoga asana to find out if it suits you or not.
Benefits of Practicing Paschimottanasana

Have a quick look at the benefits of Paschimottanasana.
Stretches the back and spine


Stretches the shoulders


Stretches the hamstrings


Beneficial for the kidneys, liver, ovaries and uterus. (It is thus a must for women. It also helps ease menstrual discomfort.)


Beneficial for diabetics and improves digestion.


Beneficial for managing high blood pressure


Improves flexibility of body


Helps to fight stress and mild depression


Beneficial for dealing with problems like anxiety disorder


Helps to deal with fatigue and headache


Very beneficial as a post delivery fitness regimen


Helps to lose weight and deal with problems like increased appetite


Helps to deal with infertility and problems like insomnia and sinusitis
Don't Attempt This Asana If
You have back problems, asthma or diarrhoea.


You are pregnant


You have a back injury
Since Paschimottanasana is difficult to practice, it is better to be practice under the guidance of a certified trainer. This asana is very good for toning the nerves of the spinal cord and improving blood circulation in back. Regular practice of this asana will not only calm your mind but also cleanse your Nadis and boost your Kundalini Shakti.