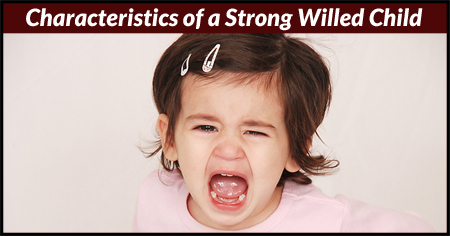 Strong willed children are difficult to handle. But, such children can benefit if their characteristics are positively channelized in a right direction. Learn more about the characteristics of a strong willed child.
All children have been strong willed some of the other time but truly strong willed children show some qualities consistently. These persistently strong willed children portray persistent temperament which is noticeable right from infancy. These kids often referred to as spirited children.
Characteristics of a Strong Willed Child
Below mentioned are the commonly found behaviours and characteristics of a strong willed child.
1. They Display Intense and Angry Outburst
While most children display strong outbursts now and then the strong willed children display persistent tantrums which do not subside for a long time.
2. The Strong Willed Decide their Own Speed
If you give permission to a strong willed to go to the park, you will notice that they simply fly out of the door. But ask a strong willed to go to the market and it may take an hour to convince. The strong willed children move at their own pace. They may eat and talk fast but move slowly in all other matters that may not interest them.
3. They Can Go into Endless Argument
Strong willed children cannot give up when they disagree, they will argue on forever. Their persistent stubbornness will not allow them to take no for an answer. In the end you will give up as they will simply tire you out.
4. They Have to Have an Answer
There is no reasoning with the strong willed children. They cannot simply be told why they cannot do something. They have to have an answer why.
5. They May Not Go by Your Expectations
Strong willed will simply refused to do what she does not want to do. In the end you will just burn yourself out.
6. The Strong Willed are Bossy
The strong willed have a very definite vision in the mind of how things should be and they will go to any level to make it happen. They have little hesitation in telling their peers as to how they should behave. Similarly, they do not hesitate in telling the adults of what is expected out of them.
7. The Strong Willed are the Rule Makers
Do not expect a strong quilt to go by your rules as to when they should wake up in the morning or turn in for the night. They will simply come up with the excuse that they are not sleepy. They are the rule makers and will turn down any opinions, commands or suggestions from the authorities.
8. The Strong Willed are Impatient
Do not expect your strong willed child to be patient while waiting in the doctor's clinic, or in a queue at the grocery shop or even for a video game to share with friends or siblings. They lack patience.
9. Insistent on Getting What They Feel They Deserve
The strong willed children are unable to differentiate between need and want. If they want to play outside in the snow or rain, there is nothing stopping them. If they want to eat something special for a meal, you cannot convince them. They feel that they are not getting enough, even if they are getting the most.
10. They Will Negate Warnings
They will negate warnings that they are not interested in listening to. If you tell a strong willed child to be careful, "take the umbrella," or "wear a sweater," they are not likely to listen, if it does not adhere with their needs. They have selective hearing as per their needs and will tune out to anything that is not important to them.
It is not easy to manage a strong willed child and be patient all the time. It is tough to parent a strong willed and be calm and maintain your composure all the time. You may need to further look into two aspects to deal with the challenge of raising a strong willed child. One, adapting methods that help you to maintain your patience, composure and understanding with a strong willed and two, how to address the challenge and behave with a strong willed child.
What are the common traits of a strong willed child? How to deal with a strong willed child? In which fields can strong willed children excel? Discuss here.