Carrying out certain traditional activities on the occasion of Dussehra can help you to bring success, good luck and prosperity in your life. Here are some fun activities that you can carry out with your children on Dussehra.
Dusshera festival is one of the happiest and holy occasions for Hindus. It marks the end of Navratri festival. On this day Visarjan of the idol of Goddess Durga is done. This day is considered to be one of the most auspicious days of the year. It is believed that on this day only good, fun, happy and exciting things should be done in order to invite peace, good luck and prosperity in life. Here are activities that you can carry out with your kids to celebrated Dussehra and bring happiness and prosperity into your house.
Top 10 Fun Activities to Celebrate Dussehra
Here is the list of top 10 fun activities to celebrate
Dussehra
with your kids.
1. Doing Saraswati Pujan
Doing Saraswati Pujan is one of the most important aspects of Dussehra celebration with kids. Saraswati Pujan is nothing but doing Puja of books and the symbol of Goddess Saraswati. It is one of the important Indian traditions that teach children to respect their books and treat them next to Goddess Saraswati. In this way they learn to value their books and value the good things that they get to learn from these books.
Puja
is done by placing the books and the symbol of Goddess Saraswati on a clean
Chowki
or
Chaurang
and then offering flowers,
Haldi-Kumkum
, rice and lighting a diya and essence sticks in front of the arrangement. You can see the symbol of Goddess Saraswati in picture presented below.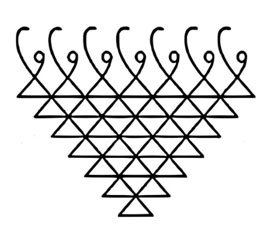 2. Making an Effigy of Ravana and Shooting It
The significance of making an effigy and shooting it is promising oneself to destroy all the bad qualities from within himself or herself. The effigy of Ravana symbolizes all the bad qualities. Make and effigy of Ravana and get a simple bow and arrow that is available in toy shop. Once the effigy is ready, gather along with your family members and give a chance to everyone to shoot it one-by-one. Before you start this game do not forget to teach your children the significance of this activity. In some cities of India, ready-made Ravana effigies are easily available.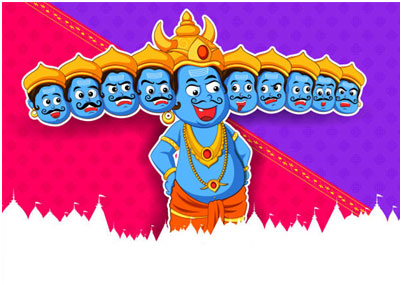 3. Exchanging Apta (Bauhinia) Leaves with Friends and Family Members
Exchaging Apta or Bauhinia leaves with friends and family members is also one of the oldest traditions of Dussehra celebration. These leaves are considered as the symbol of gold. These leaves are exchanged with family members and friends in the memory of great Maratha warriors who distributed gold and other soils of war amongst the people. This activity signifies good values like service and respect.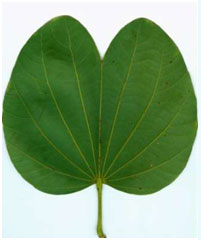 4. Story Telling
You can organise a story telling session by inviting your child's friends over at your home. You can tell a story behind Dussehra festival to your child. To find a story on this festival click on the following link:
Importance of Vijayadashami (Dussehra)
5. Making Rangoli
Making Rangoli is fun and exciting activity for children. You can use traditional
Rangoli
colours or use petals of different flowers to make it even more exciting for children. Making Rangoli is said to invite prosperity, peace and happiness in the house.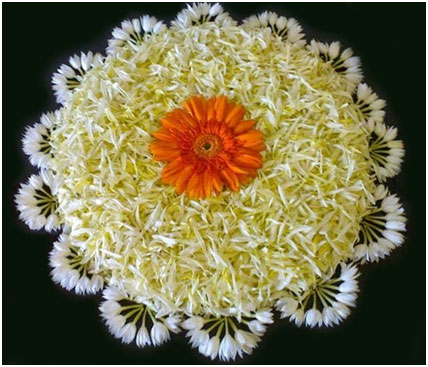 6. Giving Gifts to Loved Ones
Getting simple gifts like a
Diya, a Pen or a Pencil
for loved ones can make this occasion even more special. Giving gifts brings good luck to the ones who are at the giving end as well as the ones who are at the receiving end.
7. Making Sweets
Making sweets is one of the important aspects of celebrating any festival in India. So make simple sweets like Kheer with your children. Click on the following link to find Kheer recipe here:
Kheer Recipe
8. Visiting Fair
Fairs are organised across India on the occasion of Navratri and Dussehra is the last day of this fair. If you check you will surely find a fair organised in your neighbourhood on this occasion. Do not forget to visit it as your children can see and enjoy various traditional and cultural things which may not be available in any other amusement parks.
9. Dressing-Up in Traditional Outfits
One of the interesting ways to make this festival even more colourful and exciting is by dressing-up in traditional outfits. If you have a girl child, make her wear Saree and if you have a boy child make him wear Dhoti Kurta or Kurta Payjama.
10. Decorating a Kalash
Kalash is used during various Pujas that are carried out on the occasion of Dussehra. So, carry out the activity of decorating a Kalash with your child. Provide your child with different decorative materials and glue and allow him or her to use his or her creative instincts.
Carrying out these ten or any of these ten activities will add more charm to your Dussehra celebration. It will not only bring happiness and good luck in your house but also will give you an opportunity to teach many new and different things to your child.
What kind of activities can be carried out with kids on Dussehra? How to teach the importance of Dussehra to kids? Why are different activities carried out on the occasion of Dussehra? Discuss here.