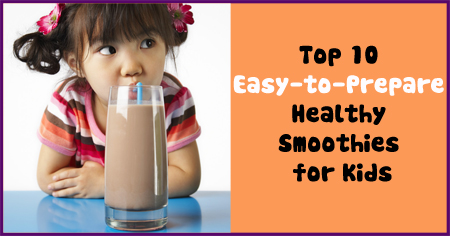 Smoothies make perfect breakfast and children love them as well. These are fast to prepare and fresh and filling for your child also. Read on to learn about 10 best smoothies for kids that you can make easily and quickly as well.
Smoothies are becoming very popular among kids these days. Moms also prefer them because in this way they are able to feed their children essential fruits and raw vegetables in the way kids like. One of the best parts of smoothies is that they can be made and served very quickly.
Smoothies help you to serve
healthy drinks
to your children without making them aware of that. Above all, there are no hard and fast rules regarding making of smoothies. You can use milk or yogurt as the base depending on the taste of your children. In addition, you can make use of natural sweeteners instead of sugar while making smoothies and save your child from the disadvantages of consuming excess of sugar.
10 Best Smoothies for Kids
Have a quick look at the top 10 best smoothies for kids.
1. Strawberry and Banana Smoothie
This smoothie is perfect to kick start your child's day. Normally children do not like to eat anything before going to school, but since experts are of the opinion that children should have proper and
healthy breakfast
before going to school, this smoothie is one of the best for your child. You can add plain yogurt instead of milk especially if your child does not like milk. This smoothie will provide the right quantity of vitamin C and protein for your child.
2. Watermelon Smoothie
The natural sweet taste of
watermelon
makes the best and lovable smoothie for kids. You can enhance the taste with a little kick by adding raspberry jelly to it. Make sure you add the jelly and crushed ice in the glass and then serve smoothie to let your child have the real thrill of the smoothie.
3. Eggnog Smoothie
With the onset of summer children start avoiding eating anything for breakfast. Eggnog smoothie is one of the best options for summer mornings and even evenings. This smoothie is
high in calcium
and so ideal for the apt development of bones and teeth of your little angel.
4. Soy Banana Smoothie
Soy banana smoothie is very fulfilling and thick and can prove to be one of the best alternatives for those children who do not like dairy products in the natural forms.
5. Blueberry Blast Smoothie
You can add baby spinach, frozen berries (including strawberries, raspberries, blueberries and blackberries) in low fat milk, yogurt and honey to give it a wonderful taste keeping it extremely healthy. If your child is overweight and you are worried about her heading towards obesity, this is just right for your child.
6. Good Morning Smoothie
This smoothie is again a good start for the day. Even during summer children do not prefer to sit whole day in one place. This is going to provide the essential elements for their bodies as well as keep them energetic and hydrated also. Add baby carrots, orange juice and frozen mango chunks to yogurt and honey to give it the best and healthy taste.
7. Peanut Butter Banana Smoothie
Some children do not like the taste of peanut butter. By adding it to the smoothie with flavoured yogurt or
milk
, you can stay assured that your child is getting all the benefits of the ingredients without making her feel the real taste.
8. Blueberry Yogurt Smoothie
Children love to drink and eat things in different colours. The blueberry smoothie will not only make them excited about the different colour, but also provide them a delicious and healthy drink.
9. Pomegranate Smoothie
Kids love the taste of pomegranate and they are extremely healthy containing essential ingredients for perfect health. Depending on the taste of your child you can add more or reduce the quantity of milk in the smoothie.
10. Fruit and Nuts Smoothie
Nuts are great way to fulfil the requirement of protein, vitamins and other necessary nutrients for the right development and growth of your child. Along with fresh and seasonal fruits you can add nuts to the smoothie to give it an enhanced taste and make it healthier as a drink.
To get the maximum benefit of smoothies, the best way is to prepare them yourself. All you need is your imagination, guts for experimenting with fresh fruits, raw vegetables and nuts. Add yogurt or milk and sometimes only water and crushed ice will make the difference. You can help your children get on the right path of obtaining good health in the best and delicious manner.
Smoothies can be made much healthier by adding and experimenting with fruits and vegetables. It is not just about kids, but nutritious and healthy smoothies have become cherished morning ritual for many adults also today.
Which are the best and healthy smoothies for kids? How to make smoothies instantly for kids? When should be smoothies served to kids? Discuss here.