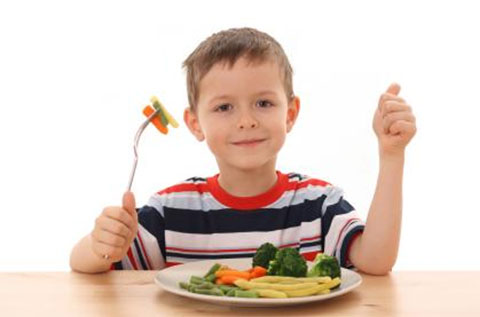 Often, toddlers and young kids do not want to eat vegetables. For parents, it becomes a difficult task to make their children eat healthily. It is very important for parents, that their child eats a good and healthy diet because it is very necessary for their growth and healthy development. Kids are at an age where their body is growing every day, which is why it becomes so imperative for parents to ensure that children get a healthy dose of nutrients every day as well. These nutrients, which they mainly get from the food they consume in their everyday diet, is what fuels the growth their body and mind goes through.
Children are often very active. After school, they are itching to get out of the house, meet their friends and play. Not only do they need energy for that, but they also need a healthy and fit body that can keep up with the various activities that their peer and the other children of their age may play. This strong body, as well the necessary energy, comes from a varied diet that ensures their body is getting the different nutrients it needs in the form of vitamins, minerals and proteins etc…
Read on to learn simple and proven ways to make your child eat vegetables.
When it comes to persuading your child to eat vegetables, it is advisable to be determined, but if you are pushy, things might get worse as they may just end up not wanting to even try anything at all. Just remind yourself that your purpose should be to make your child like most vegetables so that they are able to make healthy choices on their own in their life.
So, try to help start your child develop healthy eating habits early on so that they begin to have a healthy relationship with food early on. A big part of instilling such a healthy relationship with food is to make it known to them that maybe sometimes healthy food tastes a little less 'yummy' than junk food or fast food, but at the end of the day, healthy food is what will make them feel good and energetic from the inside. They should know that while food that you eat for taste is good every once in a while, but ultimately it is in their best interest to eat a majority of food that is healthy and fulfils their nutritional needs before they indulge in treats.
10 Simple Ways to Help your Child Like and Eat Vegetables
Here is how you can help your child like eating vegetables.
1. Set an Example
Research shows that children usually model the eating habits of their parents. That is natural, not only eating habits but children learn most of their habits from their parents. So the best way to encourage your children to eat healthy food would be to eat healthy food in front of them, show them how eating healthy food can be truly joyful and that there are always ways of enjoying food that is healthy, it can be tasty too! So, if you opt for lots of vegetables and fresh fruits as well as other healthy eating options, your kids are going to like them too. Moreover, healthy eating is going to benefit both, you and them, no matter what the reason would be to switch to it.
2. Make Sure Your Child is Hungry at Meal Time
Children get cranky when they are hungry, but they also get less fussy when they are hungry. It is very natural for all of us to find food to be more delicious when we are hungry, meals are much more satisfying when we have been looking forward to it. Your children, too, will find healthy food a lot more tasty if they are eager for it. On the other hand, if they have snacked too much, or have filled their stomach and are not hungry, they will hesitate to eat fast food also, much less healthy food. For them to like healthy food, you will have to make sure that your child does not opt for any filling snack or a lot of junk, at least 2 – 3 hours prior to the meal. Children eat well and what they are served when they are hungry.
3. Make a Schedule
Healthy eating does not only refer to healthy food itself but also healthy eating habits. Children need to eat something every three to four hours. So, it is advisable to make a schedule and let your child know what she is going to have for the next meal or snack time. This will help them be mentally prepared for their next meal. It is also always a good idea to have regular timings for their food, as the body gets used to expecting food at certain times and starts preparing the body to absorb the food at that time. When it does not get food then, the enzymes the stomach produces can lead to indigestion and acidity, which will be painful and harmful for your child. Try to give them light snacks in between meals, so they don't get overfed but also don't have an empty stomach. For snacks also you can prepare something healthy at home and add vegetables to them as well.
4. Cut Down on Fast Food
Children obviously get attracted to fast food and there are many reasons behind that. The biggest one being, they simply taste good to them. But fast food is not good for them. It does not have any nutritional value, and consuming them also blocks foods that are nutritious because children get full from fast food. Your child may often demand fast food because they like it, and they may not know any better as they are not at a stage yet where they understand the value of healthy food or even health. However, if you do not allow fast food items in your house and take children out once in a while for that, your children will understand that fast food can be consumed on rare occasions. That fast food is not something to be had daily. They will value the occasions where they can eat fast food and enjoy it also more than they would if they had it frequently. This will automatically draw them towards eating healthy food including fruits and vegetables at home.
5. Educate Your Child
Even if your child is not old enough to understand vitamins and minerals, you should tell her which of the vegetables is good for bones or blood or any other important part of our body. When your child will know what a specific vegetable does when eaten, she will definitely start eating it and after some time she will start liking it as well. Children are curious, they are still figuring out the world and are fascinated by everything around them. Parents should take advantage of that and use this curiosity to educate them about what foods are healthy and why is it necessary to have healthy food as much as possible. Once they realise the value of healthy food, they are much more likely to opt for food that is healthy and after a while, they may even enjoy it!
6. Plan Meals Beforehand
It is always good to plan what you are going to cook beforehand so that you have enough time for the preparation. This will help you avoid cooking anything on short notice and will also save you from serving something unhealthy to your child. Another benefit is that if you will plan meals in advance you will be able to pay attention to cooking a balanced meal. Planning meals beforehand also ensure that you have all the ingredients and know where those ingredients come from, and are locally sourced and are at their most fresh and hence most nutritious form. If you have all the ingredients, you won't have to switch to a less healthy option at the last minute or resort to ordering food from outside. Planning meals also help you track down exactly what nutrients are covered in that meal, and you can accordingly adjust the later meals so that your child has a varied diet and covers all the food groups and nutrients their body needs from their meals.
7. Involve Your Kids
Children like the meal that they help prepare or even serve. Engage your child not only when cooking, but also when you go buying vegetables and groceries. The more involved they are in the meal they are about to eat, the more invested in it they will be. The more invested they are, the more likely they are to value it. They will be less fussy and more excited to eat a meal they have helped in making, in whatever way possible. If you have some space in your backyard or even on the terrace, start a kitchen garden and teach your children how to plant and harvest. This will make them have a sense of pride and will make them more enthusiastic and cooperative during mealtimes as well. They will also realise how much effort truly goes into making the food they eat and will think twice before rejecting or wasting something.
8. Make Food Enjoyable
If your child is young you can relate healthy foods to fun things that your child recognises and loves. When you serve them healthy food while doing something they find fun and enjoyable, they will make the association of that food being fun too. So it is a good idea to feed them while they are watching their favourite show, or when they are playing a game they really like. After a while, they will start finding the dish enjoyable on its own too. You can also turn feeding vegetables into a game so that your child has a sufficient amount of greens for the day. You can even quiz them! Every time they get the correct answer, they will get to eat a very healthy treat. That way they will start believing healthy food is the prize, and they won't be wrong.
9. Reward Good Behaviour
It is human nature to get encouraged when praised. Encouragement, positive association or reinforcement, whatever you may call the concept, it is one that will help you make sure your child eats something that is healthy. So, whenever you find that your child has behaved well, especially during mealtimes, you should reward your child. For every time they eat a healthy dish without fuss or willingly try out a new vegetable, praise them and reward them for it. You will find that praising your child has helped them to keep trying new vegetables, as they are encouraged by all the positive feedback they have received. You will also realize that your child rates food positively often because they associate healthy food with the good things they receive in return.
10.
Have Patience and Keep Trying
Some children are difficult as compared to others especially when it comes to eating vegetables. However, you should not give up trying. Instead, have patience and put in more effort with a positive attitude. Try to solve a picky eating habit as early as possible. It is important for parents to realise that children don't realise what is good for them in the long run and what is not, they are likely to simply eat things that taste good to them. Parents should have a little patience, as getting frustrated or giving up and just letting them eat what they want, will not help anyone.
When you are trying to make your child eat vegetables, you should not forget that children do not see the world as adults do. They are not aware of health and about the impact of food on health. So, you need to make them understand the importance of green vegetables by using their style. This will make your effort more effective.
How to include green vegetables in kid's diet? How to make vegetable recipes interesting for kids? How to feed kids who have picky eating habits? Discuss here.