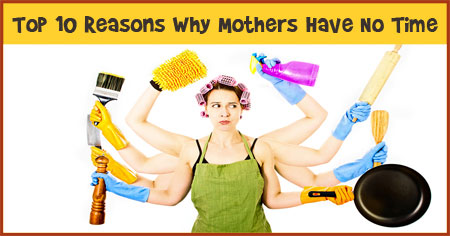 Mothers have to devote 100% of their time for nurturing and upbringing children. As such most of them have no time and completely forget about themselves. Here are the top 10 reasons why mothers have no time.

The job of a mother is said to be tougher than any other task. Raising a child is not easy. It is not the only job that mothers have either. They have to do a plethora of other things inside and outside the house, especially if she's a
working mother
.
Mothers hardly get time to devote to themselves. Research says, an average mother gets about 31 minutes to herself in a day. So what are the reasons why mothers have no time? Read to find out.
1. Keeping Children Safe
Mothers are mostly busy being vigilant about their kids, especially if the kid is an infant. Infants can put themselves in danger all the time. Infants are not sensible about what is harmful; they can put anything they find in to their mouths. Mothers therefore, have to be vigilant 24/7 to ensure that their
infants are safe
and do not put themselves in any danger. This activity is all consuming and hardly leaves any time free for the mother.
2. Feeding Children
Mothers also have to think about what to feed their children. Children tend to be extremely fussy when it comes to
food
. They refuse to eat anything that does not appeal to their taste buds or even are attractive to their eyes. Mother have to make sure that the food they give is healthy and nutritious, otherwise their child will not get sufficient nutrition required. What to feed their kids is a headache that consumes every mother's thought.
3. Household Chores
Housework also takes a lot of time. Even if they have helping hands there are certain things they have to do themselves, like keeping the house in order. If no help is available then it is more taxing as
housework
consumes all her time.
4. Shopping for Groceries
They must also shop for groceries. Even if online stores are available, mothers at times have to visit the grocery store to personally check and buy things for the house.
5. Helping Kids with Homework
Mothers are required to help their kids with their
homework
. Even if no help is required kids prefer that their mothers at least sit with them while they are doing homework. This will also ensure that the kids actually properly do their homework.
6. Dropping and Picking Kids from School
Some mothers even have to drop and pick up their kids to and from school. This also takes away a lot of time. Even the act of waking them up and getting them ready for school is stressful. Kids are notorious in the morning and sending them to school on time is a hassle.
7. Balancing Career and Family
Working mothers have to go to their workplace and do their job. She likely spends her whole morning getting her child ready for school and then she has to do the leftover housework, run to her office, do her job, come home and again get busy with housework. The only time she rests is when she is finally in bed after a really long day.
8. Social and Family Commitments
Mothers also have other commitments. They must visit their parents, their relatives, attend necessary ceremonies. Though they are occasional but they rob the mother of her much needed "me time".
9. Managing Stress and Tension
When kids grow up a mother might have some time to herself, but she spends most of it worrying about what they are doing, if they are safe, are they eating properly etc. This mentally exhausts her.
10. Balancing Motherhood and Marital Life
A mother is also a wife to someone and she must do things for her husband too. She has to think about his food needs, ensure that he can go to office on time, etc.
All this leaves hardly any time for a mother to relax or do some activity which she would love to. But it is a must for mothers to take out some time for themselves after carrying out these activities. Mothers must take care of themselves to stay healthy and fit because healthy mothers raise healthy kids and families.
How can mothers take out time for themselves? Why is it essential for mothers to take out time for self-care? What can happen if mothers do not take right care of themselves? Discuss here.