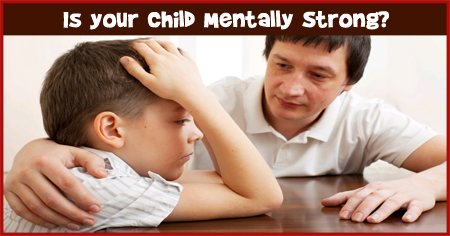 Making kids mentally strong is essential so that when they grow-up they are prepared to face all the challenges. Let us take a look at the tips for raising mentally strong kids.


Raising kids who are mentally strong by birth is a challenge for the parents. A good upbringing can make the kids eminent personalities whereas a poor upbringing can spoil even the smartest of the kids. Parents should teach kids to eliminate negative thoughts and teach them to be practical and realistic. Parents should teach their kids to be disciplined in whatever the circumstances are. Here are some of the ways discussed how to raise kids who are mentally strong.


Let Your Kids Make Mistakes

Mistakes will let your kid learn things in the right way. Stop being overprotective to kids; let them face the hardships of life, only then they will learn to take up challenges bravely. Teach them that failures are a part of life and they should not be embarrassed of failures. Teach them ways to avoid repeating the same mistakes over and over again the next time when they try to do something better.

Let Them Feel Uneasy

Your child can become mentally strong only when she knows by heart that she is capable of dealing with any problem. If you find your kid struggling hard to complete her homework, you should not complete her homework. Try to solve her problem by teaching her the right way to deal with it. And guide her in such a way that she completes her homework on her own. Let her face some discomfort, only then she will get the strength to fight for her own cause.

Model Yourself

The best way to teach your kids to be mentally strong is to model yourself. Show your kids the ways to dealing with the toughest situations of life without losing your cool. Teach them to fix their goal and ways to achieving the goal with confidence and hard work.

Honesty

Teach your kids the values of honesty. There is no need to fear if they walk on the paths of honesty. This will also help your kids to be mentally strong as they will know that they are not doing anything that is against the moral rules.
Dealing with Emotions

Teach your kids how to deal with negative emotions like anger, hatred and depression. Once they are capable of controlling their emotions it will be easier for them to take up newer challenges in life. This will boost up their self confidence which in turn will make them mentally very strong.

Accept Responsibility

Making mistakes and accepting the results without putting the blame on others needs courage. Parents need to build in this courage in kids to admit their faults. If your kids try to put the blame on others rectify them instantly. Do not allow them to give any sort of excuses but allow them to explain themselves and listen to your kids patiently before reacting.

Teach Proper Disciplines

Teaching proper disciplines to behave productively even in the adverse situations makes kids mentally strong. It also helps them to take the right decisions even when they are mentally upset. An ill mannered kid can never take the right decisions in life because she may not become confident enough to deal with problems when she grows-up.

Differentiate Between the Good and the Bad
Your kids should understand the differences between what is right and what is wrong. This will prevent her from going to the wrong path intentionally. Once they know that they are on the right track and nobody can blame them for anything they will automatically feel the mental strength.
Eliminate the Negative Thoughts

It is normal to have negative thoughts and feeling depressed which can make kids mentally weak. It is the responsibility of the parents to eliminate these negative thoughts from the child's mind. Words like "you can do it", imbibes mental strength in kids.
It takes a lot of hardships for the parents to make their kids mentally strong. Mentally strong kids can take up any challenges in life; can tackle any problems skilfully. So teach your kids to keep aside the negative thoughts and be more practical.



How to raise mentally strong kids? Is it necessary for kids to be mentally strong? What can parents do raise emotionally stable children?
Discuss here.