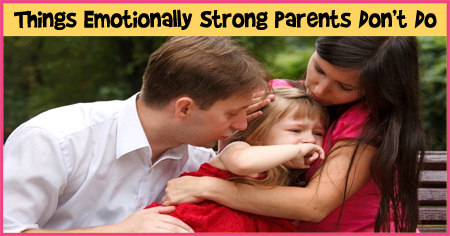 Being emotionally strong is very important for parents to raise emotionally stable kids. Let us take a look at the things which emotionally strong parents avoid doing.


Being emotionally strong means having control over one's feelings and whims. Tackling kids in the most efficient way needs much consciousness on the parts of the parents. Many ups and downs come in the way of rearing a kid. Parents need to handle these problems with might and honesty. Here are 8 things that emotionally strong parents refrain from doing.

They Do Not Bother What Others Say
People will give you instructions at every point of time whether you want it or not. The best way to deal with these is to avoid these people politely. Some people enjoy watching others in distress, and in disguise of helping you they will make you suffer more by trying to scare you. They will show you harmful consequences if you do not follow their footsteps. So avoid the company of such people. No one knows your kid better than you do. So follow your own instincts when it comes for the well being of your kid.

They Do Not Get Frustrated Easily
Emotionally strong parents stay away from frustration as much as possible. Even if their kids are scoring badly in
academics
they do not lose hope easily. Instead they encourage their kids to do better.
They Do Not Cling on to Their Past
Experiencing negativity in life is very common. But you should know to accept it as a part of living and should not allow your past negativity hamper your present and future. Emotionally strong parents know how to handle this.

They Do Not React Out of Rage
Emotionally strong parents know how to keep their calm and remain composed even when in a rage. They know how to suppress their anger without expressing it to others. Instead of rebuking kids out of
anger
they try to fix the issues calmly.
They Do Not Go to Unnecessary Competition with Others
Emotionally strong parents know that each child is special in their own way. And every child does not possess the same
talent
to excel in every fields of life. So they never compete with others. They believe their child is special in his or her own way and so they keep meaningful expectations from their children.
They Do Not Engage in Unnecessary Arguments
Emotionally strong parents know how to stay away from meaningless arguments. They try to ignore rude comments from others. They try to maintain their own dignity and avoid such people whom they do not like. They do not end up showing false likings to people whom they do not like.
They Do Not Say "No" to Changes
Strong people do not fear to accept changes even though the changes sometimes become painful. But change is inevitable in life. Nothing stays forever. So it is wise to accept the changes to have a better future. They possess the might to accept challenges. When it comes for the well being of their kids they welcome any change with open hands for the betterment of their children's future.
They Do Not Believe In Taking Revenge
Emotionally strong people do not believe in
solving problems
by taking revenges. Instead they do something that will result in giving a guilt feeling to the wrong doers. This is more effective than lowering oneself to the level of the wrong doers and following their footsteps.
Being emotionally strong in times of emergencies is a great achievement. Taking any drastic step when in a mentally unbalanced state may cause to be very harmful both for yourself as well as for your kids. So before taking any decisions try to maintain your cool as much as possible. Look at the pros and cons of any situation before implementing it in your own life.
How can parents be emotionally stable? What are the characteristics of emotionally stable parents? Which habits should be avoided by parents for being emotionally strong? Discuss here.