Raising Children Topics..
Drawbacks of Overprotective Parents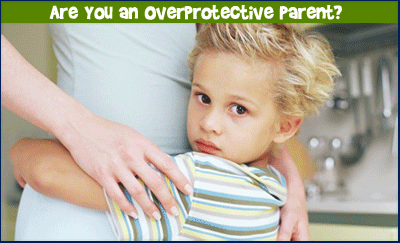 Overprotective parents unintentionally harm their children. By being overtly protective they do not let their children grow into a confident and independent adult. Children learn from their mistakes, and by being overprotective parents suppress this learning process. Such parents should change their attitude. Learn how.
Is my child safe?
Sonali Sharma will not send her eight-year old son on the school bus because she has heard that the bus drivers drive rashly. Preeti Mishra does not allow her twelve-year old daughter to sleep over at her friends' houses because she feels that she is not sure if other parents will provide adequate supervision. Lynn D'Souza says she gets the jitters every time her son climbs onto the jungle gym in the park because she is convinced he will fall and hurt himself. Mukesh Mehta did not allow his daughter to go on a school picnic to the beach for fear that she may drown.
When a child is born, it seems so fragile, feeble and tiny that it is only natural for parents to feel. Parents feel responsible for these tiny creatures that they have brought into the 'big, bad world' and intend to be their guardian angels for the rest of their lives. Parents want to shield their children from all conceivable harm, but for how long and to what extent? Parents need to remember that children do grow up. They cannot expect their children to hold 'mummy or daddy's' hand forever as they make their way through life. Children do not tiptoe through life, they romp, they run, they jump, and they explore. Given this scenario, parents should accept that scratches, cuts, bruises, and broken limbs are all a part of childhood. Parents who constantly run interference between their children and the real world are actually doing more harm than good.

Inappropriate fears
This does not mean that children are the best judges of the risk involved in any activity or that parents should not be cautious. But how does a parent know if he or she is being unnecessarily fearful for his or her child's safety? Parents who view every physical activity as being potentially dangerous; those who only feel reassured when their children are under their watchful eyes; those who are more anxious than their children that something will go wrong; those who hover over their children constantly giving instructions; those who rule out all activities that have an even remote possibility of resulting in an accident; those who feel that their children cannot cross a road without being run over or go out alone without being abducted are parents who could be said to have inappropriate fears.

Downsides of being Overly Protective
Parent's fears for their children's safety, if extreme, can have an adverse effect on their children's confidence and self-esteem. By molly-coddling a child, a parent is only making the child more dependent and inhibiting her attempts to learn to do things by herself. Overprotective parents unintentionally send out a message to their children that they are incapable of handling things by themselves. In addition, the parents' fears transmit themselves to the children who, in turn, begin to perceive dangers lurking in every new activity and experience. It has been observed that children have fewer falls, tumbles and injuries when left to play by themselves than with parents constantly cautioning them, and ready to leap forward at the slightest sign of danger. Parents who fear that an activity may be risky should warn their children beforehand rather than while they are engaged in the activity. Else, the warnings merely serve to transmit the fear to the children and distract them, leading to a greater probability of an accident.
When a child does something on her own for the first time, it is a great accomplishment, even if it is something as insignificant as learning to ride a bicycle. Parents who wrap their children in cotton wool, in a manner of speaking, are denying their children this pleasure.

Over-protectiveness with older children
Older children most often do not perceive parental overprotectiveness as stemming from love and concern. They believe that their parents just do not trust them to be sensible and responsible. Older children can react to their parents' excessive fear in one of two ways: compliance or resistance. If parents voice their fears in terms of doubts, e.g. "Are you sure you can do it?" or give them dire warnings of the worst case scenario, it can result in the children giving up the idea or activity altogether because they too begin to doubt their capability. On the other hand, children can react with defiance.
Parents of such children begin to lack credibility in their children's eyes because they seem to have an extreme view that the world in general is a dangerous place. They feel that they are denied the normal pursuits of their peers merely because their parents have unfounded and baseless fears. Such children react with resistance because they believe that their parents perceive them as being accident-prone and having poor judgement.

How to be less overprotecting: Establishing lines of communication
Overprotective parents should change their attitude if they want their children to grow up as independent, confident adults. If a parent suspects that he is excessively protective, fearful and inhibiting, then as a first step, he should confirm his doubt by asking the other parent for an opinion. In the case of a single parent, he can share his concerns with someone equally concerned for the child's welfare or even other parents. This will act as a reality check. While he need not adopt other people's opinions as gospel truth, the advice and information will help him make an informed decision about what is safe for his child.
The second step he should take is listen to his child. He should try to convey to his child that his caution stems from concern for the child's safety and not from a lack of trust in the child's competence. He could discuss the dangers of the activity with the child and advise him what to do in case of an emergency. He should make judgements based on an assessment of the child's overall competence and judgement.
Despite adopting these measures, there may still be several occasions where a parent may still deny his child permission to participate in an activity. But this is a parent's prerogative and has the weight of experience and superior judgement behind it. What is safe and acceptable for one child may not be so for another. At the end of the day, parents are the best judges of what activities are acceptable for their children in terms of safety. However, the child will realize that while she may be denied this particular pleasure, there will be other activities that will be permissible. What is safe and acceptable will always be a bone of contention between parents and children, but the important thing is for parents to realize that sometimes they just need to let go.
Back to Previous Page | More on Raising Children Index
Recent comments (302 comments)
Name: Neil
Country: India
Im 20 and my mom is extremely overprotective.she gets worked up with even the smallest of things.i am not allowed to go down for a walk after 8.30.i havent travelled alone in a train.i dont do drugs.i dont engage in any other activities.i love playing football but that too i have stopped playing because the guys are always busy doing other things.it hurts me a lot because this overprotectiveness has turned against me and i have no confidencea at all.i feel scared to do things and i have become double minded.i cant take decisions.my mother is the same.i have always wanted to ride bikes but since we couldnt afford one i never learnt to ride.but thats okay with me.i dont go anywhere.boys of my age are independent,confident and can do things on their own.and look at me,i have literally started to hate myself for what i have become.i am always criticized by my father's family.im so fed up with this.my father says im not big enough.how long can i take it?how long will this go on?i respect everyone.i can lie,i can cheat,like other guys do but i never do it.i know im not so stupid to not understand things but they just dont trust me at all.this feeling i have inside me.i feel so inferior.they say im not fit to survive in this world.and its cruel and im too simple.im a fool.well,then its their fault that i feel so low.please someone help me.my email id is - nilabh.wingrove@gmail.com.im always available.Thanks! i want to get better and change my life.change myself..become a better,confident me.
Name: J. J.
Country: Brazil
Hi. I'm from Brazil and i've been taking a look at sites that discuss this issue. I've always been overprotected since I can remember. I've got a very low self-esteem and I am dumb. Yes, I am. I don't have friends (actually, i do, but they live so far away from me). I'm a sad person. I have been looking for help in forums, sites etc. but nothing helps. I CAN'T do anything other people can in every way. Anything! I'm 16 (about to turn 17) and i can't keep living like that. Every day i think about suicide, but i lack the courage to do it. I love them, and know they OVERLY love me. They overly protect me. I NEED SOME HELP. I assure my case is a bit different from the other ones. Thank you all. My e-mail: ze.joaquim@yah oo.com.br
Name: Art
Country: U.S.A.
Being from an overprotective mother I can relate to alot of stuff. My dad wasn't overprotective as much as my mother was. My mom was raised in a house where she had to do what her father told her to do as he was in charge of the house. So I guess that's where she got the over-protectiveness from and threw it on us. Now my mom did let us do alot of stuff like join after school events like choir, band, etc. The only thing is that she was against the types of girls my brother was interested in which were the goth kind back in middle school. She used to call them devil girls and this was before the waterboy came out. My brother rebelled as he didn't want to do what my mom wanted like go to college after high school. So he moved out with his girlfriend a few years back and they live together with their two kids. Me on the other hand obey my parents, its not really that hard to do. I've wanted to rebel but really can't see myself doing so. I was raised to honor your father and mother and respect your elders. Show your parents that you can earn their trust and as you get older you will get trust in return.
Name: Christine
Country: USA
i am working with a mother who believes her child is alergic to everything. the child has never had a reaction, but things like not letting the child have cake at a party because diabetes runs in the family (she doen't bring an alternative either). any suggestions?
Name: Desperate
Country: USA
my parents are soooo overprotective!!!! i can't do a lot of stuff normal people can do like my friends. example- my mom and dad won't let me get on instant messeanger because they think i am incapable of not giving out personal information, talking to people i don't know without blocking them and acting my age!! my dad comes in to see what i'm doing every 5 minutes !! i ean its like i'm 6 years old. well i'm not i'm much older!!!please help me!
Name: Meggy
Country: USA
my dad is so overprotective. i can't do anything. i'm 16, and i asked to do something with a guy my age and he freaks. tonight i went out with my boss for ice cream and we stopped at super k for a few things she needed. he got all mad! i even told him we were going to super k but he didn't think we'd be gone that long. what is gonna happen to me when i'm out with a 48 year old woman who is like a mom to me? he knows her well, too. i can't do anything, i can't ride with my friends anywhere, and i can't drive anywhere besides a 1 mile radius around my house. it's crazy. could anyone gimme some suggestions?? my mom doesn't live here, so i can't go to her. at least tell me some side effects, i'm very shy and i feel this may be why. help!!!
Name: nikita
Country: Middleeast
i have a 12 year old girl and hence, this is to all those girls here (it seems most are from usa)- they say that their parents dont let them freak out with gals n guys cos they are "over protective". well they mistake their carefulness as over protectiveness. just as familiarity breeds contempt - familiarity also breeds intimacy. the teens is a period of discovery and curiosity - once this phase is over, everything just gets right. the parents are just trying to protect you from the hurt and humiliation that goes with any wrong step. even i too used to go crazy when my mom used to be extra-cautious but now when i am a mom, that too of a 12 year old girl, i am able to understand her paranoia about me. going to a movie with a guy is very fine but i would like to ask the girls in this site, to tell me very honestly that dont the guys try to get too close for comfort, trying to grop the girls taking advantage of the darkness - be honest. its not their fault either - ti's their curiosity that gets the better of them. not all the time they are lecherous - most of the time they are curious. this is just a small example. believe me girls, smooching & petting at this age is real fun & exciting but you know what, when you grow out of this and you eventually do, when you reach maybe your early twenties and you look forward to steady partners, this kind of past is no fun to remember - you'd wish it had never existed. not only this, there are thousands of instances when strangers have taken advantage and tried to molest you - there are lots of freaks out there who think just because you are going thru a phase, they can take advantage of you. we live in a country where free mixing is legally prohibited and any sexual crime is brutally punishable, even then there are guys who try things here although society is comparatively safe here - there is no dope, no open sex and even then i think thrice before sending out my daughter and then in places like india, usa, i am sure parents have every reason to be paranoid where sex and dope are rampant. even home parties are nothing but a place for drugs, sex & liquors - tell me if i am wrong because i know i am not, i have seen them at close quarters coming from a parentage belonging to the hi-fi society. i knew how some of my friends were going about and those days i really hated the curfews but today, looking back, i feel good - i am thankful to my mom & dad cos today i dont feel dirty & used, i have a successful career in comparison to those friends of mine - i am able to look myself in the mirror and respect myself. these very so called friends of mine would be making fun of me and would be trying their best to get me to sneak off for such "fun activities" - its a different issue i never had the guts to defy or hurt my mom & dad. and i know, even though my daughter doesnt like me setting curfews for her, someday, like me, she will be glad too. i m sure all of you girls out there would be too. hence, dont have regrets for losing out on freak out fun - rather concentrate on your academics and nurturing your talents - tomorrow when you have a successful career, you are able to think more wisely and clearly, i am sure, you will find out lots of ways to have fun - as of the moment, have fun with your family and a set of very close friends who prefer real clean fun - then you know your parents are also going to trust you with them to go out for movies and shopping, within decent hours ofcourse - night life is not decent girls or boys - even boys should have a set timing to come and go. once you are into a career, night life will automatically become a part of your life - have fun then. right??
Name: Melody
Country: USA
i am 15 years old. my parents don't let me do anything and all i can do is stay in the house and watch tv.she let's me go out once in a while. my two sisters got pregnet and i guess they don't truth me or atleast thats how i feel. i don't even like to talk to them and i find myself wish i was somethibg else. help me please cause i think i just can't take it anymore.
Name: Antonietta
Country: Canada
help! my mom is to overprotective! i can't believe this iam 13 years old and she says i have to have alt least some friends to go to the movies with this guy i really like and he just asked me out but i dont want to ruin it. help if u have any advice e-mail me at toni_vizzaccaro@ hotmail.com
Name: mike
Country: USA
im such a trustworthy kid, who abstains from sex, drugs and alcohol. i sucumb to all of my parents demands because hay are reasonable, but now the have created a curfew, thats completely irrational. while my friends are having a great time im home, dreaming of the great time im missing. i dont understand why they wont just let come home an hour later.
Name: LUCY
Country: USA
what if you have these problems at the age of 22? then how do you handle this? you're old enough to do what you want but still don't want to piss off your parents? then what?
Name: Sara
Country: USA
listen, yes, parents can be overprotective....so talk to them!!!! all you kids are asking for help, so why not ask your parents since they care so much. i use to have really really strict parents. parents that would not let me basically have friends. and the friends i had they had to know every detail of their life and practically control theres to. what i did was sit down and talk to them!!! show them how what they are doing is affecting the way your leading your life. stuff like curfews (reasonable, and remember, a 9-10 o'clock curfew for 15< is not bad compared to the 6 o'clock curfew i had)is not that bad. just think, what if your parents were like mine and you couldn't play sports, or have friends, you had to be in bed by 9 and get a 4.1 gpa or higher. "what if"....now instead of reading this go...right now, take your parents into a living room of some sort and talk to them!!! tell them, not in you statements but in i statements (it's proven that if you don't blame them, you'l have a 50% better chance of them listening and not ignoring you for what they consider whining). hope this helps :-) i'm now 17 and for 15 yrs i had been like a prisoner emotionally and physically....break free by talking to your parents once and for all!
Name: Changita404
Country: USA
i am 18 years old and my parents are very over protective with me. i have to be in bed by 9pm. during the week days which i think that's ok because if not i feel very sleepy. but they don't let me go out with my boyfriend that much. i have been with my boyfriend for one year and two months now and the only times i have gone out with him were like two or three times over the past. my dad haves a drinking problem and i feel like i cant ever talk to him jus because of that, my mom really understands me with what i go through she is a real sweet heart. the last time that i went out with my boyfriend we were going to go to the movies but my dad wanted me to take my brother, i didn't want to take him because i thought that it was not right that i am old enough to go out by my self so i told my dad that we were going to go to get some ice cream and that i didn't know what time we were going to get back i just left and we went to this coffee place, then we went to the park and from there to subway and we didn't come back until like two hours later, then my dad made it seem like my brother really wanted to go with us and my brother usually goes just for me but i think he gets bored with us and he also made it seem like i told him that i was going to come home early which i didn't. i just feel like ignoring my dad and to get a job as soon as possible to collect money and move out when i am done with high school. i don't know what to do can some one please help me, contact me at this email add it would be great_changitapresi osa@aol.com
Name: helpme21
Country: USA
im 17 years old and will be 18 in a week. my parents arent as bad as some of yours, but theyre still hard to deal with. i have a 10 curfew on weekdays and a 12 curfew at night, but im ok with that, i guess. i cant be on the phone past 11 and if i am, my parents get all angry with me. also, they dont respect my privacy. they went through my things a while back. i also lied to them for the first time ever and they made a huge deal about it. it was that i was going over to my boyfriends house when his parents werent there and they freaked out. i didnt see a problem with this because they had once let me do it with my other boyfriend. so then they didnt let me see him. so i snuck out. so they grounded me. and then there hasnt been an incident since. so i asked my mom if i could go to the beach with my friends and my (same) boyfriend. i said "i dont want you there at all." and she said "ok. then i wont bother you." "alright," i said. earlier today she mentioned taking along a friend of hers and i was completely confused. i said "i thought you werent gonna go." and she said "no i said id stay out of your way." this exploded into a huge arguement where she accused me of being childish and then proceeded to mock me. whos the adult there, might i ask? so i want to move out. and thats not a new thing. ive wanted to move out for about a year now. ive never supported myself and i feel that its high time that i did. whenever i mention it to them they say, "youll be gone soon enough." not enough for me. i need to know what independance is like before im thrown out into it not knowing what to do. i want to leave, but i dont want to hurt them anymore. someone please help me. ive tried talking to them about it, but they get all irrational and say things like "its not supposed to be like that." if i cant talk to them about it, the only thing i can do is leave, right? just go and not tell them anything? but i cant do that because i want to go to college and i need help with the money there. i need something to help me with this. some one reply to me at isis5123@aol.com!! help me, please...
Name: some1
Country: Other
my parents are really overprotective and i know i can't do anything about it. i'm 14 and i have a boyfriend. i'm not allowed to go to his house when his parents aren't home, even if we're with a group of friends. i'm not alloud to go to any guys house when his parents aren't home, even if it's a party with a lot of people. i wouldn't be allowed to go even if his older sibling is there. my boyfriend and i are allowed to go to the movies or other places without a parent there but i can't go to his house w/ a parent. i don't see the difference. how are we supposed to get any privacy? i'm not even alloud to hang out with him after school even with a group of friends...there again, i don't see the difference between that and th movie thing. and the worst part was my mom's excuse was "guys can't just be friends" and that's when i got so pissed that i went out on her. my parents told me that's the way it's gonna be untill i'm 18, that i can't go to a boy's house w/o their parents. i'm not even alloud to watch r rated movies...i mean, i can see a few only if they're rated r for violence. i can't wait till i can drive and get a car. then i'll be able to drive to school and then do whatever after school. i might be at my boyfriends house and just say to my parents that i decided to hang out with my friends a little at the ice cram shop after school...or i'll say im gonna go pick up my boyfriend so we can go to the movies, and i'll just to his house...and/my /parents/wont/ know.
Name: Hayley
Country: USA
my parents are very overprotective!i am 13 and they won't let me date. i now can't see pg-13 movies because they think they should be r. my mother won't let me go anywhere alone, not even to let me go ride my bike.she thinks something bad will happen to me. when will our parents let us grow up? i think that's the question that we all really need answered.
Name: Gett'n Betta!
Country: Canada
i'm 15 and this past march i got a serious boyfriend. i'm daddy and mommy's little girl so they were so damn frustrating that they all of a sudden decided i couldn't go to my boys house anymore since he lives outside of town. i went to a party and they were nice enough to give me a 11pm curfew (unusual) anywho, i didn't drink and they knew all the info i was outside home at 10:45 and inside at 11:00 exactly. i did exactly what they said they then decided that i couldn't go to anymore parties outside town, only in town ones guess what?? no one has parties in town, duh!!! anyways this summer i was determined to move out a 16. well in the past 2 months i talked to my mom twice about it and she talked to my dad. it's alittle betta and i decided to stay for awhile until they piss me off enough. just talk to them and don't be afraid to cry, scream and be mean because you need to get your point across. i did and i've never fought with my parents,it worked. okay betta go now, luv gett'n betta!!*
Name: Shanda Skeeters
Country: India
what do you guys think of curfews? im doing a debate in speech and i would like to know what you guys think.
Name: Liana
Country: USA
i am a 14 year old and i think that my parents are too overprotective. when i had a boyfriend and i wanted to go to the movies with him, they wouldn't let me go even with friends. i'm not allowed to go to parties with boys or even talk to boys. my dad is the worse parent out of the two whenever i ask him when i am allowed to go out with a group of friends, he just pretends he can't hear me or he makes me feal like i'm or sumthing. i've tried talking to him about a million times but he just will not let me grow up. all is that i'm asking from him is to give me more freedom, because when i grow up i'll be scared to go out on the streets.
Name: Bevtoya Bunch
Country: USA
sometimes parents go too far when it comes to their children . we were not brought in to this worl with a instruction manual so they have to do what they think is best but at the same time they need to realize that children do grow up and if they want them to be responsible adults then they need the chance to become one god bless you all.
Name: Bevtoya Bunch
Country: USA
i feel as though parents have a right to be over protective with their children it is their job to know their child where abouts but at the same time . i think they cango to far with it i believe parents fear that there childrenare not safe so they unintetionally take things a little far , but parents need to trust their kids more and as they get older they should be allowed to have more freedom going to bed at nine oclock is for and eighteen year old and some parents are un reasonable my were they treated me like i was an infant my dad evenwas concerned about me being downstairs in my own house alone (talk about crazy) but they lossen up a lot eventhough my realtionship with my dad is not good he has to trust me and yours have to trust you hang in there . i did
Name: HTBJumper
Country: USA
i'm 15, and i'll be 16 in three months. at first, my parents wouldn't let me date, but i found a really nice guy, and now my parents alow me to date him. my mom is so worried that i am going to get pregnant or have sex with my boyfriend, i've tried to tell her, i'm capable of stopping things before they get that far. i don't want to have sex, i don't want to get pregnant or have a family. my boyfriend has the same views on these issues. my mom won't let me go over to his house, even though i wouldn't go unless his mom, dad or siblings were there, and she knows it. this christmas break she doesn't want us to leave the house, and when i asked her if i could go to my boyfriends house (his parents and siblings all there) she got mad at me and told me i was a spoiled brat. then she hit me when i got angry and told her that maybe i got mad only at her for saying no (i didn' shout or scream) my mom thinks i'm worse then i really am, and my curfew on the weekdays, during school, is 3:15, not in the morning, but in the afternoon, straight after school. i'm not alowed to go out on weekends. my mom also told me that my relationship with my boyfriend is sleezy and cagey, just because when i first started to like him, before we were a couple, i wasn't sure of my feelings for him, and she thinks i lied to her about how i actually felt. she doesn't trust me because i wore make-up to school once (yeah, no makeup or jewelry to school) its really frustrating. i'm not even allowed to go for a walk in the park, directly behind my house, with him, even if they can see me. i really want my freedom, i want to move out. thanks to my mom and sisters, i cringe at the word 'family' and dread spending more than an hour with them. i want to be closer to my mom, she is always looking for things to say she doesn't trust me, and she doesn't want me around any more than i want to be around, so why doesn't she just give me what i want. i haven't even rebelled, not even close, and she calls me a "shit child" i go to bed some nights listening to my mom talk about me, and its never good things she has to say. i love her dearly, i just wish she would loosen up!
Name: Sonia
Country: USA
i just found out i'm not the only one stuck in a cage like dis. iam 15...going on to be 16. i'm letting my parents rule over every aspect of my life now because i'm trying to be patient. i have this faith that when i'm 18...they'll atleast give me the freedom that a normal 15 yr old is suppose to have. i'm listening to these 12 yr olds going to the movies, the mall, and their friends house. and here iam leading a 6yr old life. i get depressed a lot and i cry a lot b/c of my parents' overprotectiveness, but then i have this optimistic view that when i'm 18..they will loosen up a little bit. i tried to talking to them...but they tell me to go away. iam sooo afraid of my parents! i tried talking to them, but i'm gonna let them rule over me now. i understand they do this out of love, but it is actually torturing me. like right now, i seriously feel like throwing up. the last movie i saw was casper..and its killing me. they could do all they want now...but i will stand up 4 myself when the time comes. but any advice 4 me?????????
Name: Sonia
Country: USA
eventhough i have a problem and cant help myself...but waiting till iam 18...heres an advice for all of you. when you talk to your parents, dont blame them for not giving you the freedom you want..because that ticks them off more. instead start a conversation like..."mom, dad...could you please hear me out. i dont wanna make u mad...but i really wanna tell you how i feel..and i'm suffering greatly". they will listen to u if u dont come to "blows" with them. and for those of you who are allowed to go out..but are complaining about the littlest things u're not allowed to do...dont complain.you should be happy they letting you go out. you need to start appreciating and think of the kids that have no freedom at all.
Name: Dan Johnson
Country: India
faggots



Funny Video on Safe Driving Video
Discussion Forum - Recent Posts
Are you an overprotective parent? Have you completely clamped down on your child's freedom? Do you know you could be making him dependent?

view more >>
DISCUSSION FORUMS ON
Articles
Theatre Class
I personally don' t find it interesting. However, recently I had to take my ... - Ravina Singh read >>

Lesson from Children
Obviously adults can learn a lot from kids particularly their helping tende ... - Rishabh R read >>

Good Habits in kids
It is important for kids to develop good habits like spending time on homew ... - Sonia Sharma read >>

sleeping position
I always prefer to sleep on my stomach. I find this position very soothing ... - Deepun read >>