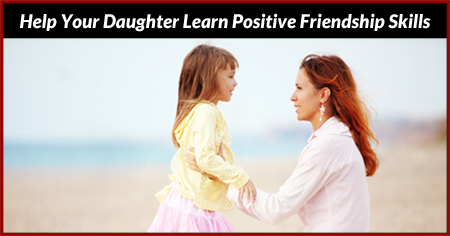 It is the attitude towards friends that helps build healthy friendship. Here is how you can help your daughter make friends that would last long with these tips.
When your daughter comes to you and looks upset about things with her close friend, it is quite possible that you let go things thinking this is natural and very obvious. Well, here you need to be a little bit attentive and ask her about how she can resolve the issues with her friend and make the friendship last for longer.
If your little one shares with you about the troubles within her friendship area, it is a sign that she has begun to trust you. If she gets proper attention and support from you, she will certainly maintain this throughout her life. Sometimes your daughter might just want to talk about what happened and she simply wants you to listen to her. She might be able to deal with it after that.
Helping Daughters Deal with Friendship Problems

Here is how you can help your daughter to deal with issues with
friends
.
Watch
If you watch your daughter and her behaviour and attitude towards friends, you will be able to give her positive advice when something goes wrong. By observing her you can save her from shyness or bossism and help her have a healthy
friendship
with her playmates. Do not forget to praise her if you find any kind of positive change in her. You can also step in and help your child if she is finding it hard to cope with any problem.
Listen
Young
girls
are very fickle minded and they change friends and form new groups very often and very easily as well. Although, it might seem to you an immature behaviour, it is not good for her social set up in future. Listen to what happened and try to explain to her that things like this are natural and happen often in life. You can share your own experiences and help her take constructive decision.
Teach her Drawbacks of Jealousy
If you find that she or her friend is jealous, ask her to walk away and stay cool for some time. You can also ask to keep distance with friends who are jealous. By the time you can boost her confidence so that she understands her friend's feelings and tackles similar problems efficiently in future. Jealousy is quite destructive especially among young girls.
Help Her Make New Friends
If you have moved to a new place, you can help your
daughter
make new friends by making her join activity groups matching with her interest. For example if your daughter is interested in dance, make her join a dance class so that she finds friends of similar interest out there and enjoys life. If your child does not have any specific hobby, you can make her join scout or guide group of girls. Common activity with similar aged girls will help her open up.
Girls are emotional and sensitive. So, when dealing with them you need to be patient and tolerant. It is good to check any kind of negative behaviour as soon as possible. Counselling helps a lot especially in the case of girls. You can help her deal with problems by simply talking it out.
No matter what age your daughter is at present; do not solve problems for her. Let her take decisions with the help of your suggestions and experience. You should only give her time so that she understands herself and what exactly she wants from friendship.
What kind of issues do girls usually have with their friends? How can girls deal with friendship problems? How can parents help daughters in making new friends? Discuss here.